CALAMARES RECIPE
AJINOMOTO AJI-SHIO® SEASONING MIX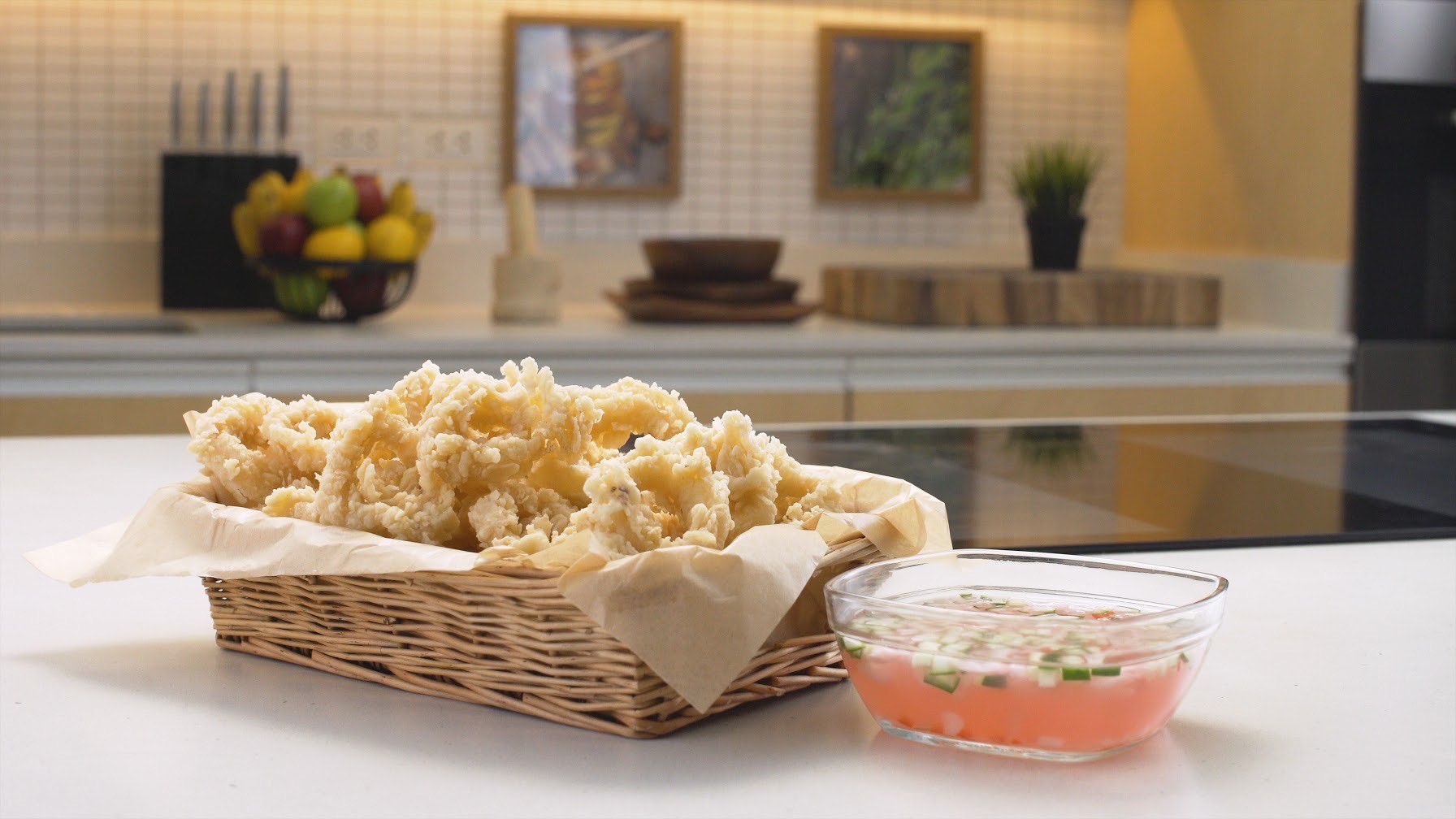 Ingredients
2 pieces (2g) Eggs, beaten
1/4 teaspoon (1g) Cayenne Pepper
1 kg (1000g) Squid, cut into rings
1 cup (110g) Flour
1/2 cup (60g) Cornstarch
1 pack (18g) AJI-SHIO® Pepper Seasoning Mix
1 liter (1000ml) Cooking Oil
NUTRITION INFORMATION
Nutrition Facts
Calories per serving
80.9
Carbohydrates (g)
3.1
Proteins (g)
3.9
Fat (g)
5.9
Dietary Fiber (g)
0.1
Calcium m(g)
16.4
Iron (mg)
0.4
Sodium (mg)
171.6
Preparation time: 30 minutes
Cooking time: 30 minutes
Procedure
COMBINE. In a bowl put together the beaten eggs and cayenne pepper. Add squid, mix well and let it stand for at least 20 minutes for better absorption of flavors inside the squid.
MIX. On a separate bowl, mix the flour and cornstarch.
SEASON. Season with AJI-SHIO® Pepper . Mix well.
DREDGE. For a crunchy texture, dredge squid rings in the flour mixture. Make sure that all parts are evenly coated.
DEEP-FRY. In a pot with hot oil, deep – fry squid for at least 2 minutes or until golden brown.
SERVE. Serve with your desired sauce or dips and ENJOY!
Makes 44 sticks (5 pcs of squid per stick)
Cost
Recipe Cost: Php 414.91
Cost per Serving: Php 9.43
Selling price per stick: Php 25.00
Profit for 44 sticks @ 5 pcs squid rings per pc: Php 685.00
% Mark – up: 165%
% GP: 62%
Cooking Tips
Cook over high heat so that the squid will be tender in less than a minute. It may not be brown, but it yields the most tender rings. Meanwhile, if you go over the recommended time, it will become "rubbery rings" so avoid cooking extended time.
Product Used