CHICKEN BALL IN CURRY SAUCE RECIPE
AJINOMOTO® BRAND GINISA FLAVOR SEASONING MIX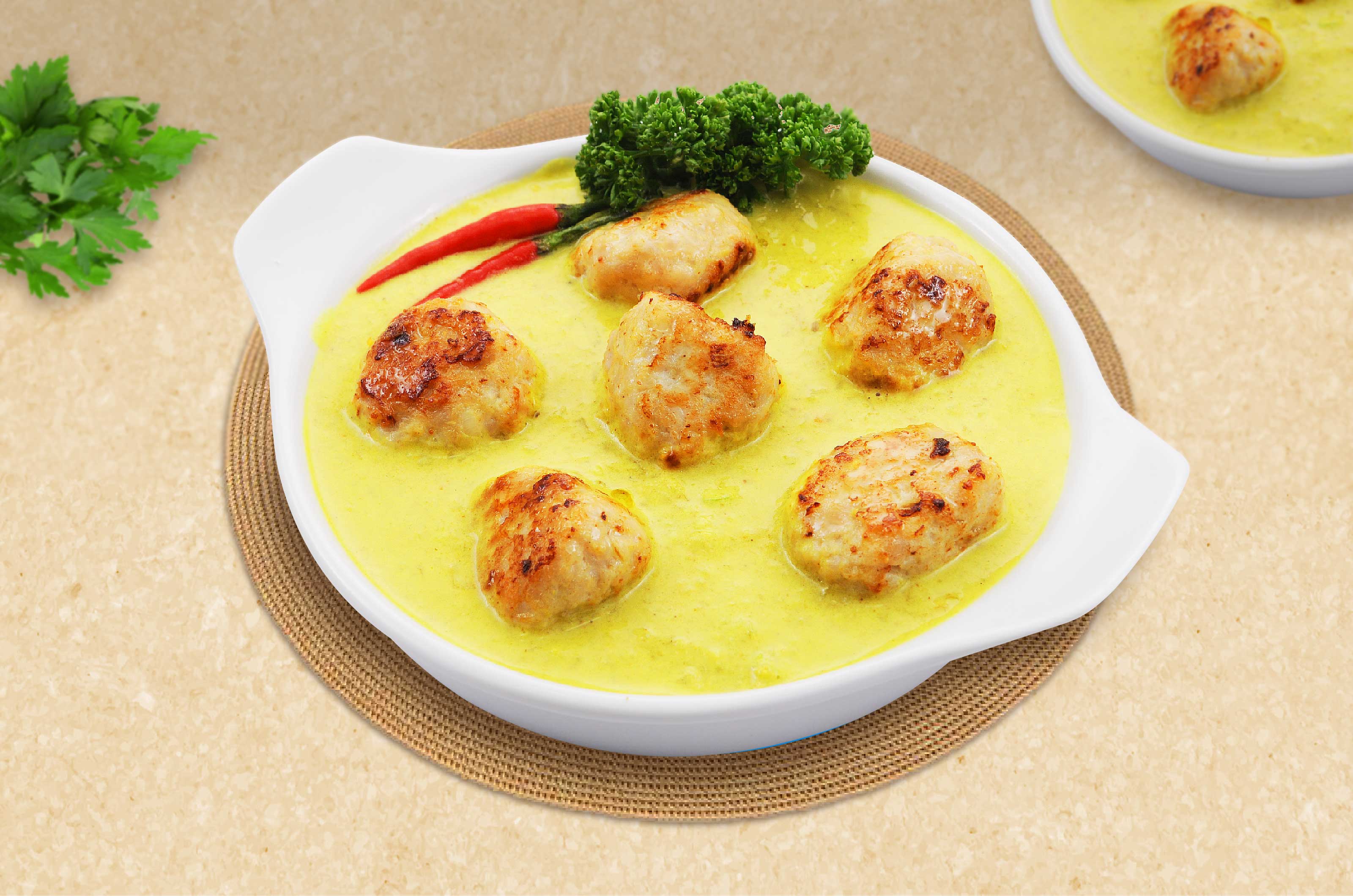 Ingredients
Curry paste
1 teaspoon (5g) ginger
1/2 cup (75g) onion, red
1/8 cup (15g) garlic
1/2 piece (.5gs) chili, labuyo
1 piece 1/4 cup (40g) lemongrass
2 teaspoons (5g) turmeric powder
2 teaspoons (5g) curry powder
1 tablespoon (15g) cooking oil
Chicken Ball
1 cup (250g) chicken, ground
1/2 teaspoon (0.5g) cumin, powder
1 piece (60g) egg
1/4 cup (15g) breadcrumbs
1/2 pack (3.5g) AJI-GINISA® Flavor Seasoning Mix
2 tablespoons (30ml) cooking oil
NUTRITION INFORMATION
Nutrition Facts
Calories per serving (kcal)
485.6
Carbohydrates (g)
6.2
Proteins (g)
16.0
Fat (g)
44.2
Dietary Fiber (g)
1.2
Calcium (mg)
42.9
Iron (mg)
4.9
Sodium (mg)
1855.4
Good to Know Nutrition Facts!
Fresh pork belly offers not only high-quality protein from the lean cuts but also substantial micronutrients including fat-soluble vitamins and minerals.
However, Pork belly is high in fat and calories, so make it as a special-occasion dish and avoid putting it on your menu on a regular basis.
Preparation time: 20 minutes
Cooking time: 10 minutes
Procedure
Curry paste:
POUND. Using a mortar and pestle, mix all ingredients and pound everything together until paste-like.
Chicken Ball:
MIX. In a large mixing bowl, mix in all the ingredients, except the cooking oil, and add 1/2 pack of AJI-GINISA®.
FORM. Make a ball shape from the chicken ball mixture, 25 grams each piece.
SEAR. In a hot pan, add in 2 tablespoons of cooking oil and sear the chicken balls until brown and set aside.
Sauce:
SAUTÉ. In a hot pot, add 2 teaspoons of cooking oil and saute the curry paste until all the aroma of the spices comes out. Then, add in water, coconut cream, and chicken balls.
SIMMER until desired consistency is achieved.
SEASON. with fish sauce and the other half of AJI-GINISA®. Serve hot.
Makes 3 – 4 servings
Serving size: 3 pieces Chicken ball (75g) 1/2 cup curry sauce (140g)
Cooking Tips
In pounding the ingredients, you may use a food processor if mortar and pestle is not available.
Product Used