CHICKEN POTATO SALAD RECIPE
AJINOMOTO® BRAND GINISA FLAVOR SEASONING MIX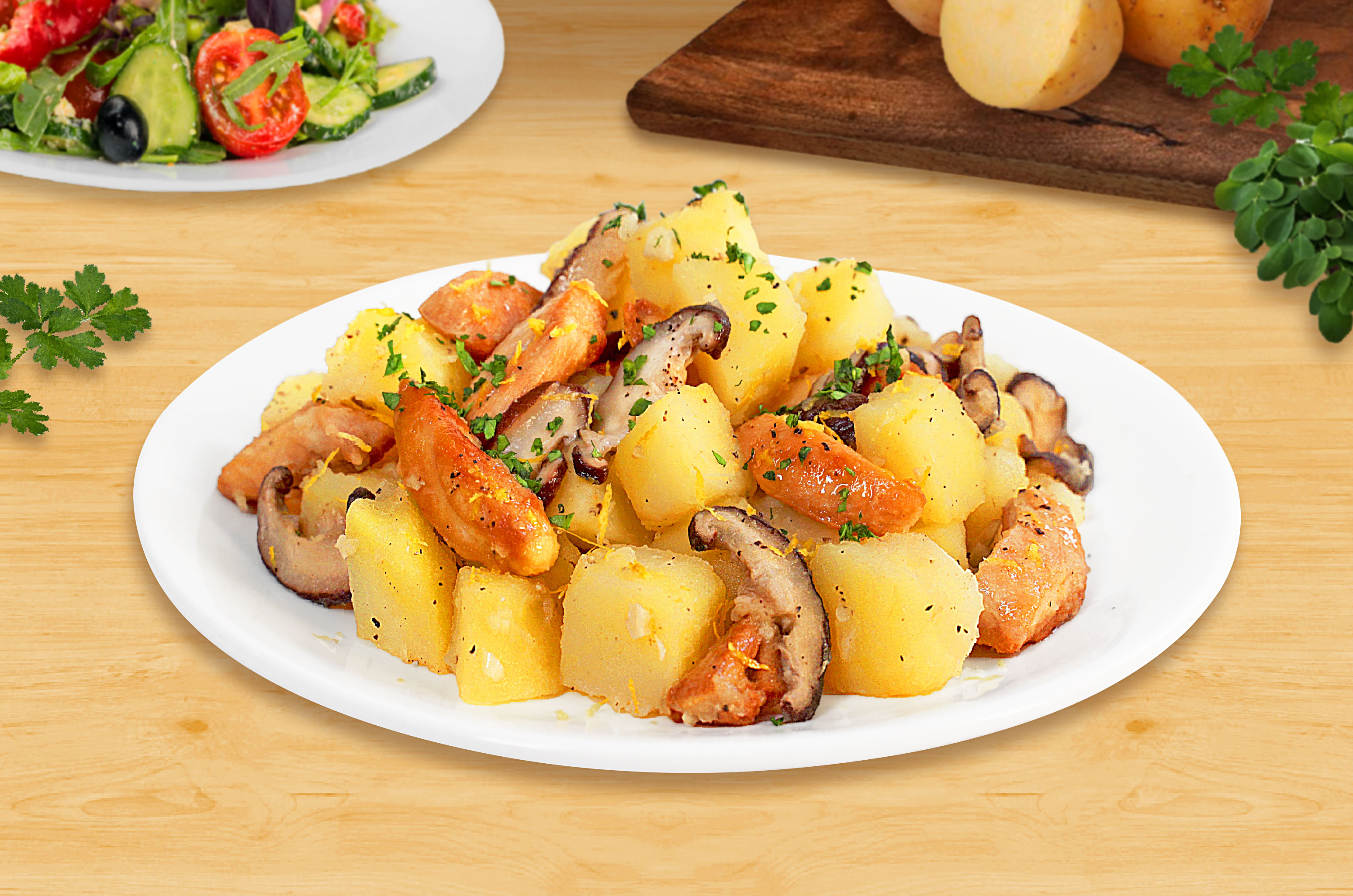 Ingredients
2 cups (750ml) Water
2 cups (420g) Potato, peeled, cubed
2 Tbsps (30ml) Olive oil
1/2 cup (105g) Chicken thigh fillet, sliced
1/4 cup (65g) Shiitake mushroom, sliced
2 tsps (10g) Garlic, minced
1 pack (7g) AJI-GINISA® Flavor Seasoning Mix
1/4 tsp (1.25g) Ground black pepper
1 Tbsp (15ml) Lemon juice
1 Tbsp (10g) Cilantro, chopped
1 tsp (5g) Lemon zest (optional)
NUTRITION INFORMATION
Nutrition Facts
Calories per serving (kcal)
77.2
Carbohydrates (g)
1.2
Proteins (g)
3.9
Fat (g)
6.4
Dietary Fiber (g)
0.4
Calcium (mg)
5.1
Iron (mg)
0.4
Sodium (mg)
287.2
Good to Know Nutrition Facts!
Potatoes are fat-free source of carbohydrates, fiber, potassium, Vitamin B6, and Vitamin C.
Preparation time: 10 minutes
Cooking time: 15 minutes
Procedure
BOIL. Pour water into a pot and bring to a boil. Add potatoes and boil until tender, but not mushy. Drain water and rinse with cold water. Set aside.
SEAR. In a pan, heat oil and sear chicken until the surface turns brown. Add mushroom and continue searing for 2 minutes.
SAUTÉ. Add garlic and sauté for 1 minute. Add boiled potato.
SEASON. Add AJI-GINISA® and pepper. Cook for 1 minute.
SERVE. Transfer to a plate. Drizzle with lemon juice. Add cilantro and lemon zest. Toss, serve and enjoy.
Makes 6 servings
Serving size: 1/2 cup (120g)
Cooking Tips
Make sure to rinse boiled potato in cold water (preferably ice water) in order to stop it from cooking to avoid mushy potato.
Product Used