CRISPY CANTON
SARSAYA® OYSTER SAUCE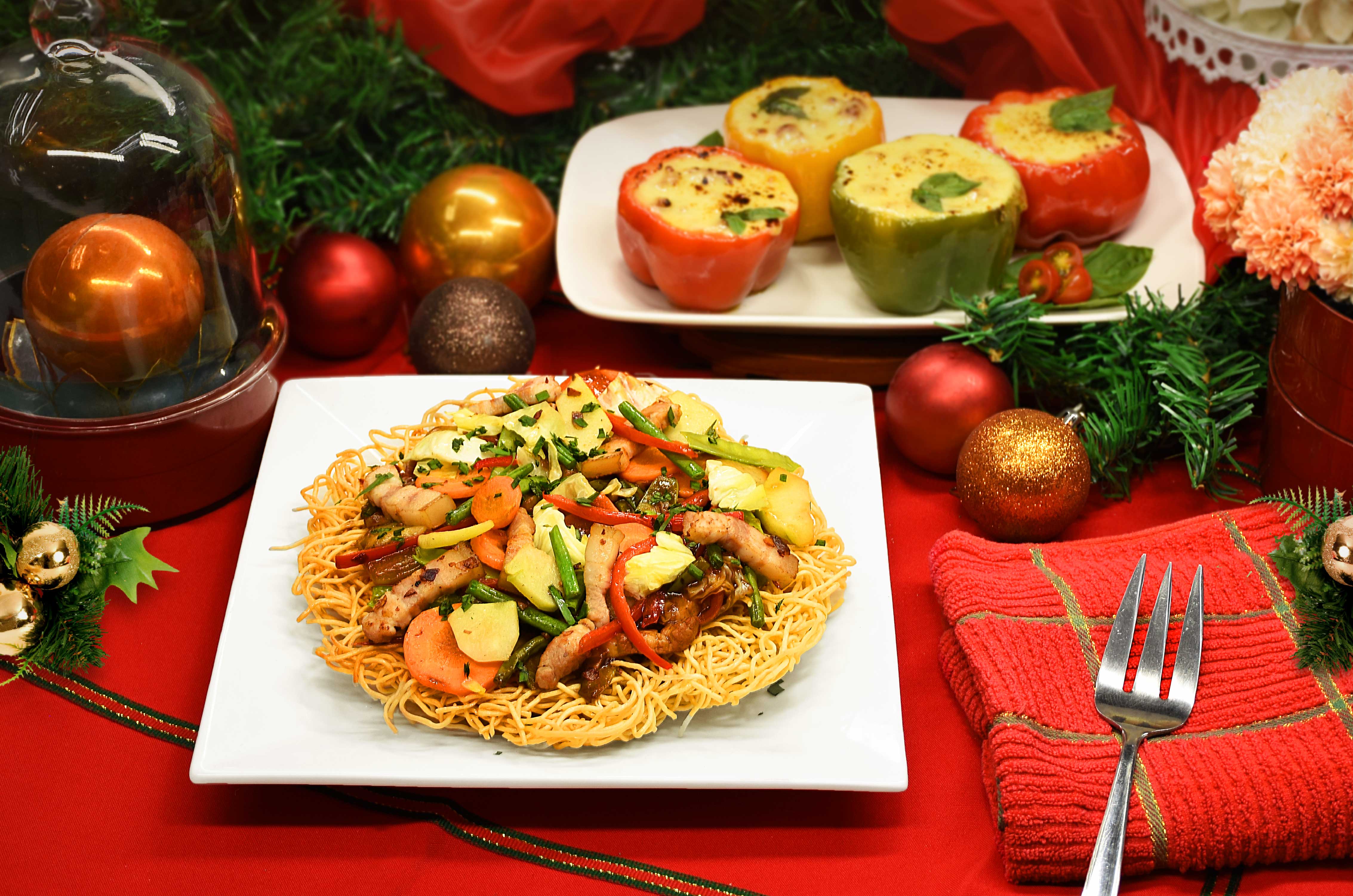 Ingredients
1 pack (1100g) (500g dry) Egg noodles (Canton),
boiled and softened
2 cups (500g) Cooking oil
1/4 cup (60g) Onion, chopped
2 Tbsps. (30g) Garlic, minced
1 cup (200g) Pork liempo, chopped
2 Tbsps. (30ml) Soy sauce
1 1/2 cups (360ml) Water
2 packs (60ml) SARSAYA® Oyster Sauce
1/3 cup (80g) Carrots, round slices
1/2 cup (120g) Cabbage, chopped
1/3 cup (80g) Chicharo (Snap peas)
1/3 cup (80g) Sayote, strips
1/3 cup (80g) Red bell pepper, strips
1/3 cup (80g) Green beans, cut into 1″ length
4 Tbsps. (60ml) Cornstarch slurry (2 Tbsps Cornstarch +
2 Tbsps. Water)
NUTRITION INFORMATION
Nutrition Facts
Calories per serving (kcal)
199.7
Carbohydrates (g)
5.8
Proteins (g)
13.3
Fat (g)
14.0
Dietary Fiber (g)
1.8
Calcium (mg)
36.1
Iron (mg)
1.1
Sodium (mg)
744.8
Good to Know Nutrition Facts!
Consuming 1 cup of egg noodles is equivalent to consuming 1/2 cup of boiled white rice.
Preparation time: 15 minutes
Cooking time: 25 minutes
Procedure
FRY. Using a stainless net strainer, deep fry egg noodles in hot oil until brown and crispy.
SAUTÉ. In a pan, heat oil. Sauté onion, garlic, and Pork. Cook until pork is browned.
SIMMER. Add soy sauce, water, and SARSAYA® Oyster Sauce. Simmer for 3 minutes. Add carrots, cabbage, chicharo, sayote, bell pepper, and green beans. Simmer for another 3-5 minutes. Add slurry to thicken the sauce.
SERVE. Transfer to a  serving plate, assemble it nicely and top with vegetable and sauce mixture. Serve and enjoy.
Makes 12 servings
Serving size: 1/2 cup (80g) Noodles + 3/4 cup (160g) Toppings/Sauce
Cooking Tips
When frying noodles, make sure that the noodles are drained well from excess water to avoid oil splatter.
Product Used