Crunchy Squash and Malunggay Croquettes
AJINOMOTO® BRAND GINISA FLAVOR SEASONING MIX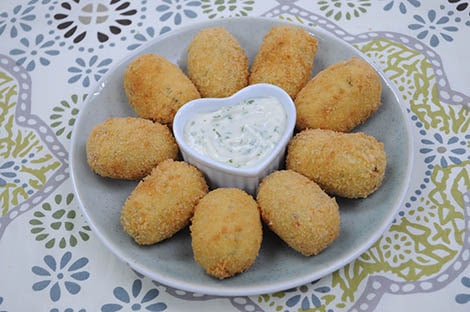 Ingredients
1-2 pieces (255 grams) potatoes, mature, boiled and mashed
1/4 cup squash, grated
1/4 cup malunggay, chopped
2 medium size egg, chicken
1/2 cup cooking oil, palm
1/2 cup all-purpose flour
1 cup Japanese bread crumbs
Dressing:
8 tablespoons mayonnaise
1 tablespoon + 1 teaspoon garlic, minced
1/4 teaspoon salt, iodized
1/8 teaspoon pepper, black, ground
2 teaspoon parsley, fresh, chopped
1 pack (7 grams) AJI-GINISA® FLAVOR SEASONING MIX
Preparation
Preparation and Cooking Time: 30 minutes Makes: 4-5 servings.
Serving size: 2-3 matchbox-sized with dressing.
Procedure
COMBINE AND SEASON. Combine mashed potatoes, squash, malunggay, and egg. Sprinkle mixture with AJI-GINISA® FLAVOR SEASONING MIX.
SHAPE AND COAT. Form mixture into nugget-sized portions. Dredge in flour, dip in beaten eggs and then roll in breadcrumbs.
FRY until golden brown.
COMBINE. To prepare dip, combine and mix mayonnaise, garlic, pepper, salt, parsley. Serve hot.
Cooking Notes
Maintain proper oil temperature at 300-355 °F to minimize oil absorption while frying the croquettes.
NUTRITION INFORMATION
Nutrition Facts
Calories per Serving
302
Carbohydrates (g)
2
Proteins (g)
5
Fat (g)
21
Product Used