DANDAN STYLE GLASS NOODLES
AJI-NO-MOTO® UMAMI SEASONING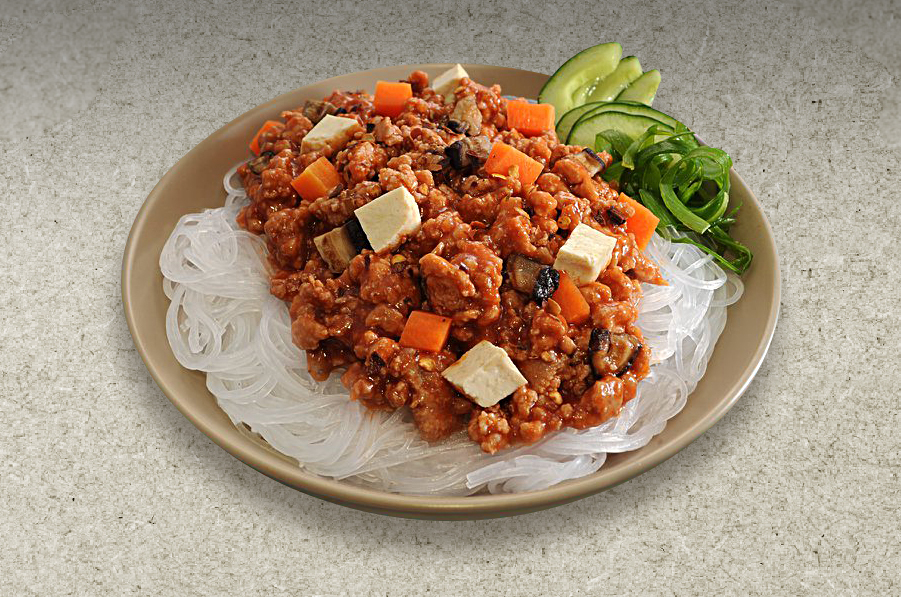 Ingredients
Glass Noodles 
1 Tbsp. (15ml) Vegetable oil
1/4 cup (60g) Garlic, chopped
1 cup (250g) Sotanghon noodles, soaked, drained
Dandan Sauce
1 Tbsp. (15ml) Vegetable oil
1 cup (200g) Onions, sliced
2 Tbsps. (30g) Garlic, minced
1/2 cup (125g) Pork, ground
1/4 cup (60g) Carrots, cut into small cubes
2 cups (500g) Shiitake mushrooms, fresh, coarsely chopped
3 Tbsps. (45ml) Tomato paste
1 1/4 cups (300ml) Water
1 1/2 Tbsps. (20g) Sugar, brown
2 packs (60ml) SARSAYA Oyster Sauce
1/4 tsp. (3g) Chili flakes, dried
3/4 cup (100g) Leeks, thinly sliced
1/2 cup (125g) Tofu, cut into small cubes
1 Tbsp. (15ml) Sesame oil
1 cup (200g) Cucumber, unpeeled, seeded, thinly sliced
NUTRITION INFORMATION
Nutrition Facts
Calories per serving (kcal)
329
Carbohydrates (g)
47
Proteins (g)
7
Fat (g)
13
Dietary Fiber (g)
1
Calcium (mg)
74
Iron (mg)
3
Sodium (mg)
657
Good to Know Nutrition Facts!
Glass noodles are a good substitiute for rice (1 cup of cooked noodles = 1/2 cup of rice).
Preparation time: 25 minutes
Cooking time: 10 minutes
Procedure
SAUTÉ. In a pan, heat oil, sauté garlic until fragrant then add noodles, mix well. Remove from the pan then set aside.
SAUTÉ. On the same pan, add and heat oil, sauté onion and garlic until translucent. Add ground pork, carrots, and shitake mushroom. Cook until tender.
SIMMER. Add tomato paste, water and let it simmer until sauce thickens.
SEASON. Add sugar, salt, SARSAYA® Oyster Sauce, and dried chili flakes. Mix well. then add leeks, tofu, and sesame oil. Cook for another few minutes.
SERVE. Transfer to a serving plate. assemble the cooked noodles, top with sauce then garnish with sliced cucumber. Serve and enjoy.
Makes 7 servings
Serving size: 1 1/2 cups (148g Noodles, 106g Sauce)
Cooking Tips
If you want a spicy profile, you can adjust the quantity of chili flakes or you may add hot sauce.
Product Used