Fried Ice Cream
CRISPY FRY® SEASONED CRUMBS®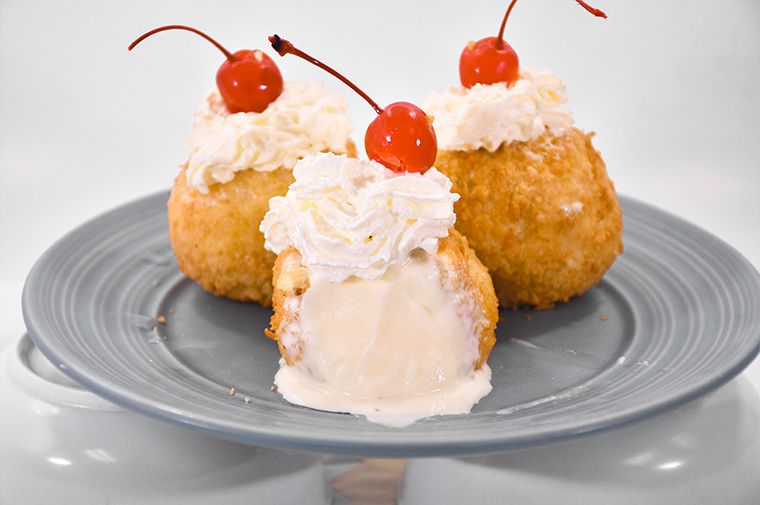 Ingredients
1 Tub (1000 ml) Ice Cream, any flavor
2 cups (80 grams) Cornflakes Cereal, crushed
3 pcs med.size Egg whites, beaten
1 pack (100 grams) CRISPY FRY® Seasoned Crumbs® All-in-One Coating Mix
2 cups (500 ml) Oil, cooking
1 tsp (4.6 grams) Cinnamon, powder
NUTRITION INFORMATION
Nutrition Facts
Calories per serving
775.3 Calories
Carbohydrates (g)
36.3 grams
Proteins (g)
5.5 grams
Fat (g)
67.2 grams
Dietary Fiber (g)
0.7 gram
Calcium m(g)
154.4 milligrams
Iron (mg)
1.3 milligrams
Sodium (mg)
503.1 milligrams
Good to Know Nutrition Facts!
Tomatoes & Tomato Products are the major dietary source of the antioxidant lycopene, which has been linked to many health benefits, including reduced risk of heart disease and cancer. (PIA)
Preparation
Makes: 9 servings
Procedure:

SCOOP and FREEZE ice cream into 27 equal sized balls. Place on baking sheet and freeze until firm for about 1 hour.
COAT evenly with cornflakes then freeze for another 30 minutes. Roll ice cream balls in egg whites and coat with CRISPY FRY® Seasoned Crumbs® All-in-One Coating Mix.
DEEP FRY ice cream balls 3 pcs at a time for 3-5 seconds or until golden brown.
SPRINKLE with cinnamon on top. Serve and enjoy.
Cost
Recipe Cost: Php 276.03
Cost per Serving: Php 30.67
Cooking Tips
You can top fried ice cream with whipped cream,chocolate sauce and cherry to elevate presentation.
Product Used