GINATAANG MANOK AT PAPAYA
AJI-NO-MOTO® UMAMI SEASONING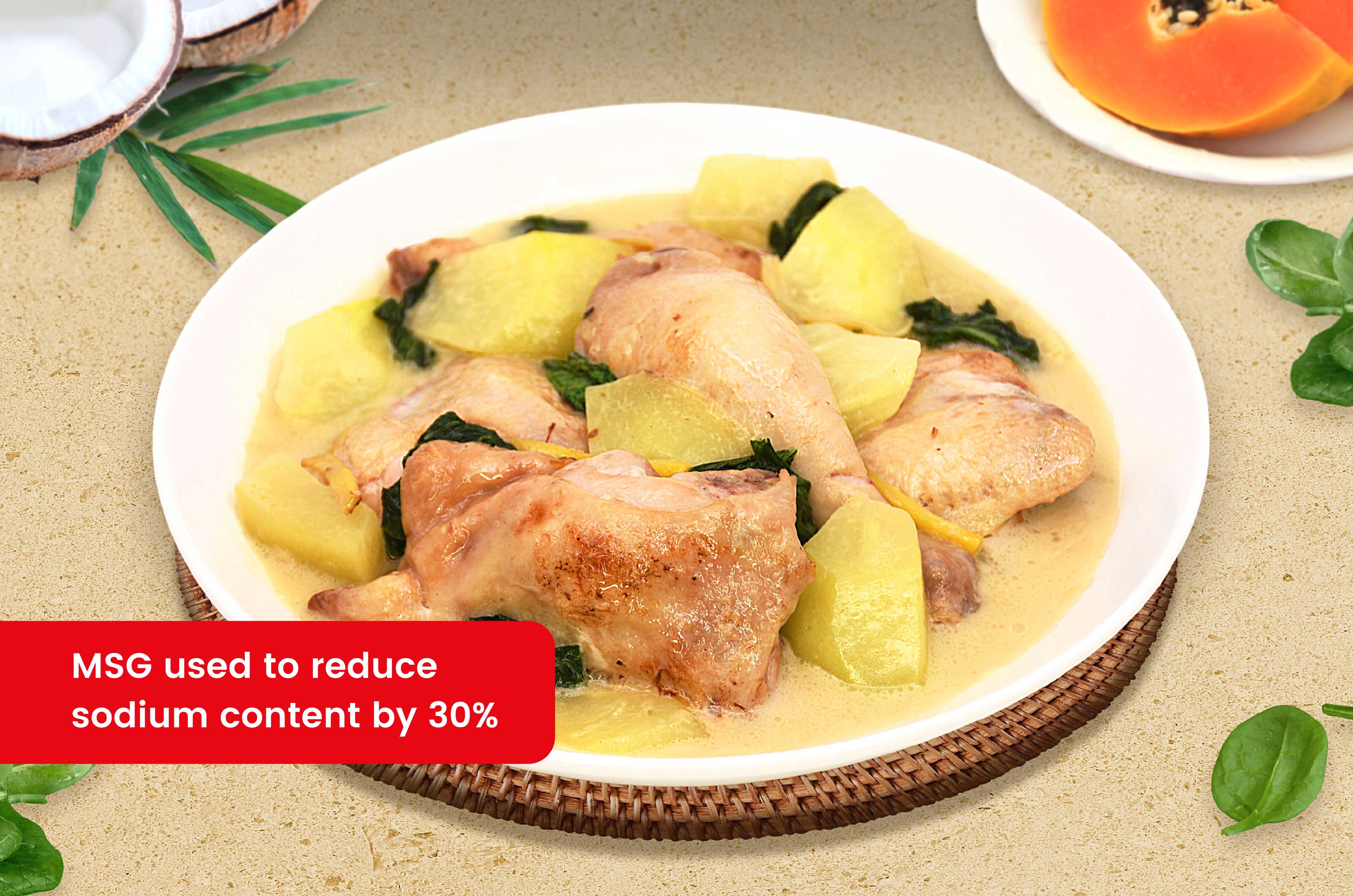 Ingredients
1/4 cup (60ml) Cooking oil
1/4 cup (60g) Onion, chopped
1/4 cup (60g) Garlic, chopped
1 kilo (1000g) Chicken,  cut into serving pieces
2 Tbsps. (30g) Ginger, strips
2 cups (200g) Papaya fruit, unripe, wedged
4 cups (100g) Spinach, leaves separated
2 cups (500ml) Coconut  Milk
2 Tbsps. (30ml) Fish sauce
1 Tbsp. (15g) Sugar, brown
1 pack (11g) AJI-NO-MOTO® Umami Seasoning
2 pcs. (10g) Pepper, chili, fruit (sili labuyo) (optional)
Reduced sodium by 30%
Original seasoning/condiment: 2 tsps. (approx. 11g)
NUTRITION INFORMATION
Nutrition Facts
Calories per serving (kcal)
345.6
Carbohydrates (g)
6.1
Proteins (g)
25.5
Fat (g)
24.8
Dietary Fiber (g)
1.1
Calcium (mg)
55.6
Iron (mg)
5.6
Sodium (mg)
378.0
Good to Know Nutrition Facts!
Coconut milk is a healthy substitute for individuals that are lactose intolerant. It also contains Zinc, a nutrient that helps your immune system and is also important for wound healing.
Preparation time: 10 minutes
Cooking time: 15 minutes
Procedure
SAUTÉ. In a pan heat oil, saute' onion and garlic until fragrant. Add chicken and cook for  5 minutes. Add ginger and papaya and cook for another minute. Add spinach and then cook for another minute.
BOIL & SIMMER .Add  coconutmilk,boiland then simmer.
SEASON. Add fish sauce, sugar, AJI-NO-MOTO®, and pepper. Cook for another minute. Add hot chili before turning off the fire.
SERVE. Transfer to a serving plate, serve and enjoy.
Makes 10 servings
Serving size: 1 cup (163g)
Cooking Tips
If you want a lighter coconut milk alternative, you can always dilute it by using 2 parts coconut milk and one part water.
Product Used