GINISANG PECHAY AT TUNA
AJI-NO-MOTO® UMAMI SEASONING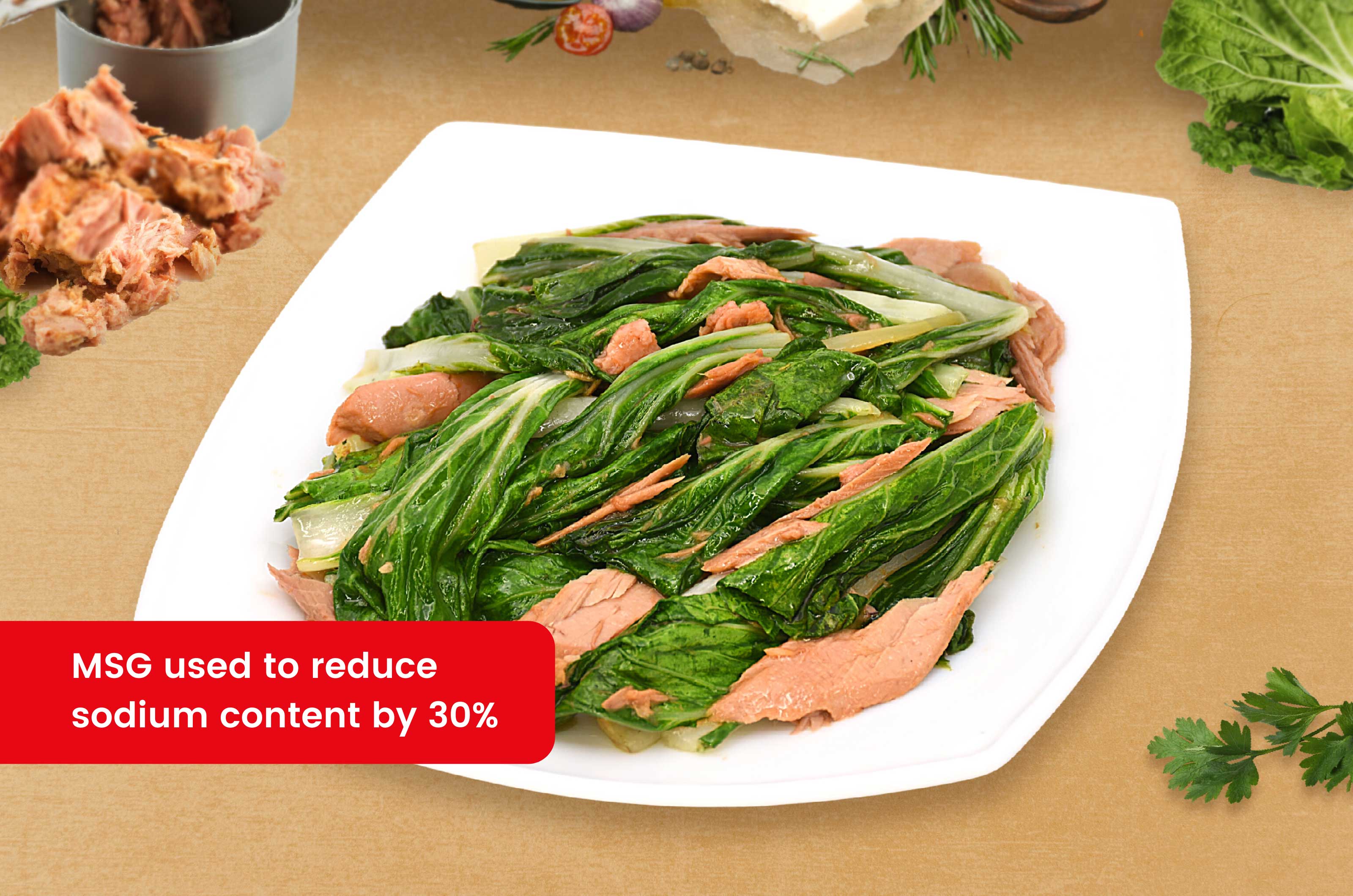 Ingredients
2 Tbsps, (30ml) Cooking Oil
1/4cup (60g) Onion, chopped
1/4cup (60g) Garlic, chopped
1 can (200g) Tuna in can, drained, flaked
1 bundle (100g) Pechay, leaves separated
1 cup (250ml) Water
1 /2pack (5.5g) AJI-NO-MOTO® Umami Seasoning
1 Tbsp. (15ml) Fish Sauce
1/8 tsp. (0.35g) Ground black pepper
Reduced sodium by 30%
Original seasoning/condiment: 1/4 cup (60ml) Fish sauce
NUTRITION INFORMATION
Nutrition Facts
Calories per serving (kcal)
128.0
Carbohydrates (g)
3.5
Proteins (g)
5.0
Fat (g)
10.5
Dietary Fiber (g)
0.5
Calcium (mg)
30.9
Iron (mg)
0.9
Sodium (mg)
309.8
Good to Know Nutrition Facts!
Pechay is high in folic acid which is very helpful in boosting your energy levels.
Preparation time: 5 minutes
Cooking time: 10 minutes
Procedure
SAUTÉ. In a pan heat oil, saute' onion and garlic until fragrant. Add tuna and cook for 1-2minutes. Add pechay and cook for another minute.
SEASON. Add water, AJI-NO-MOTO®, fish sauce and pepper. Cook for another minute.
SERVE. Transfer to a serving plate, serve and enjoy.
Makes 8 servings
Serving size:
Cooking Tips
Separate Pechay stem and leaves during the cooking process. Cook stem first for a minute before adding the leafy part in over not to overcook your greens.
Product Used