GINISANG SAYOTE
AJI-NO-MOTO® UMAMI SEASONING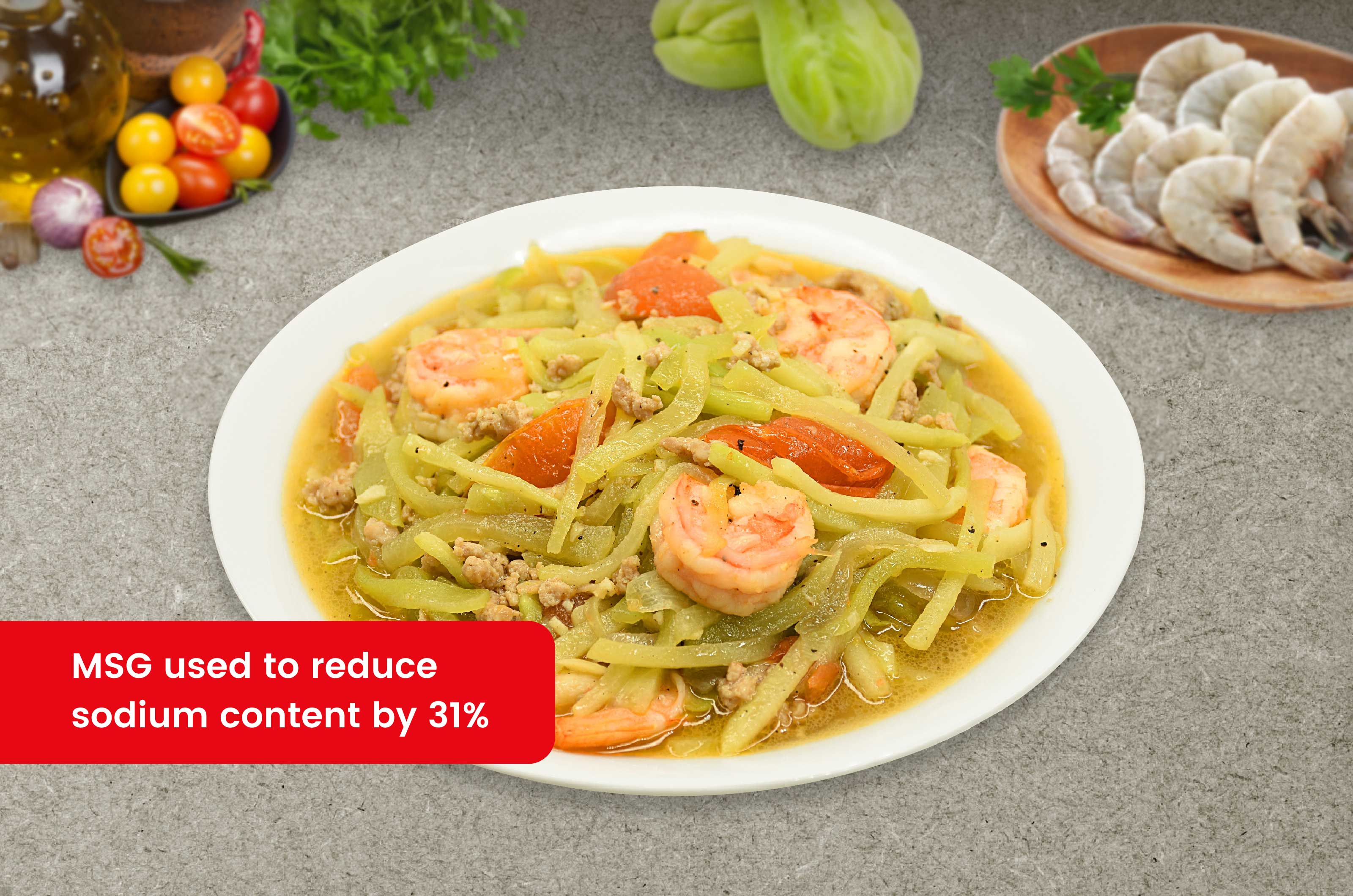 Ingredients
2 Tbsps. (30ml) Cooking oil
1/4 cup (60g) Onion, chopped
2 Tbsps. (30g) Garlic, minced
1/4 cup (45g) Tomato, cubed
1/2 cup (100g) Pork liempo, sliced
1/2 cup (100g) Shrimp, chopped
1 1/2 cups (250g) Chayote fruit, sliced
1/4 cup (60ml) Water
1/2 pack (5.5g) AJI-NO-MOTO® Umami Seasoning
4 tsps. (20ml) Soy sauce
2 tsps. (10ml) Fish sauce
Reduced sodium by 31%
Original seasoning/condiment: 1 tsp. (5g) Salt
NUTRITION INFORMATION
Nutrition Facts
Calories per serving (kcal)
104.8
Carbohydrates (g)
4.1
Proteins (g)
5.4
Fat (g)
7.2
Dietary Fiber (g)
0.5
Calcium (mg)
32.2
Iron (mg)
0.7
Sodium (mg)
325.3
Good to Know Nutrition Facts!
Chayote squash is high in many nutrients especially Folate (Vitamin B9), which helps in the prevention of birth defects.
Preparation time: 15 minutes
Cooking time: 20 minutes
Procedure
SAUTÉ. In a pan, heat oil. Sauté onion, garlic, and tomato. Add pork and shrimp. Cook until pork turns light brown.
SIMMER. Add chayote fruit and water. Simmer for 5 minutes.
SEASON. Add AJI-NO-MOTO®, soy sauce, and fish sauce. Cook for another 5 minutes.
SERVE. Transfer into a serving plate or container. Serve and enjoy.
Makes 8 servings
Serving size: 1/3 cup (75g)
Cooking Tips
In sautéing, use the back of the ladle to crush limp tomatoes in order to extract its flavor through its juices.
Product Used