GINISANG TAHONG AT BOK CHOY
AJI-NO-MOTO® UMAMI SEASONING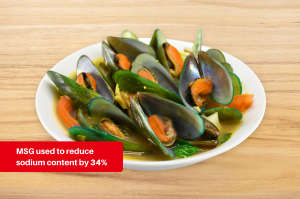 Ingredients
2 tablespoons (30ml) Oil
1 tablespoon (15g) Garlic, mushed
1 tablespoon (15g) Ginger, mushed
1 tablespoon (15g) Onion, minced
1 cup (250g) Tomatoes, chopped
1/3 kilogram (300g) Tahong
1 1/2 cups (375ml) Water
1/2 teaspoon (2.5g) Ground black pepper
1/2 pack (5.5g) AJI-NO-MOTO® Umami Seasoning
3/4 teaspoon (3.75g) Salt, Coarse
1 bunch (150g) Bok Choy
NUTRITION INFORMATION
Nutrition Facts
Calories per serving
152.0
Carbohydrates (g)
10.2
Proteins (g)
7.7
Fat (g)
8.9
Dietary Fiber (g)
1.1
Calcium (mg)
124.0
Iron (mg)
2.4
Sodium (mg)
588.2
Good to Know Nutrition Facts!
Mussels are rich source of Protein which is good for muscle building .It is also rich in Omega-3 fatty acid that supports your heart's health .
Preparation time: 5 minutes
Cooking time: 15 minutes
Procedure
SAUTÉ. Heat oil in a pan, sauté garlic and ginger then add onion and tomatoes. Cook until soft and fragrant then add Tahong until it renders out its own liquid and shells start to open, add water.
SEASON with pepper and AJI-NO-MOTO® . Add salt to taste. Mix well.
SIMMER. Cover and simmer for at least 5 to 10 minutes, add bok choy and continue simmering until vegetables are cooked. Serve and enjoy.
Note:  Salt from original recipe is equal to 2 teaspoons.
Makes 6 servings
Cooking Tips
In buying mussels, choose a tightly closed shells because it indicates freshness and good quality .
Product Used