INSTANT NOODLES PAD THAI RECIPE
SARSAYA® OYSTER SAUCE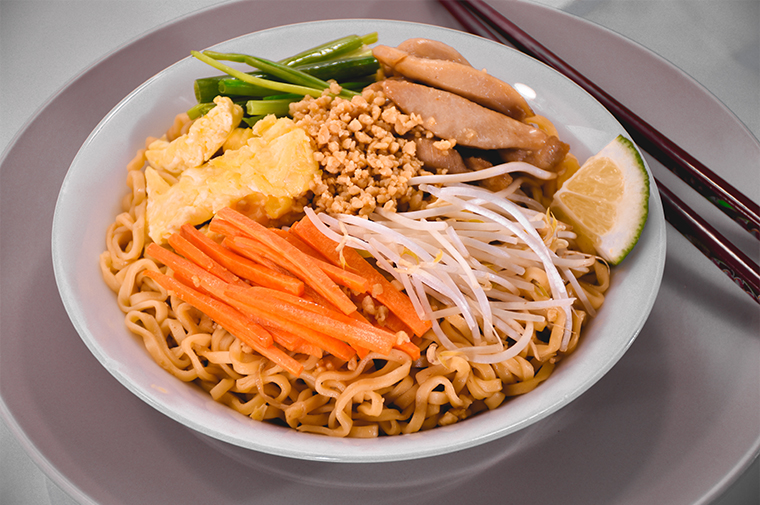 Ingredients
1/3 cup (85 grams) Sugar, brown
2 Tbsp (30 ml) Fish Sauce
1/4 cup (65 ml) Tamarind Concentrate
1/4 cup (65 ml) SARSAYA® Oyster Sauce
2 Tbsp (30 ml) Lime, juiced
1 tsp (5 grams) Red pepper flakes
5 packs (750 grams) Instant Noodles, boiled and drained
3 Tbsp (45 ml) Oil, cooking
3/4 cup (168 grams) Chicken Thigh Fillet, thin slices
3/4 cup (178 grams) Carrots, strips
2/3 cup (88 grams) Bean Sprout, washed
2pcs med.size Eggs, chicken, beaten
1/4 cup (45 grams) Spring Onions, strips
1/2 cup (75 grams) Peanuts, toasted, chopped
NUTRITION INFORMATION
Nutrition Facts
Calories per serving (kcal)
459.5
Carbohydrates (g)
58
Proteins (g)
12.5
Fat (g)
19.5
Dietary Fiber (g)
1.4
Calcium m(g)
64.5
Iron (mg)
1.2
Sodium (mg)
1944.1
Good to Know Nutrition Facts!
Pad Thai contains noodles, chicken meat, egg, and several vegetables making it a complete meal given in right proportion. INPT yields energy from noodles, protein and fat from chicken meat and eggs, and micronutrients from various vegetables incorporated in the dish. (PFEL)
Preparation time: 15 minutes
Cooking time: 20 minutes
Procedure
COMBINE sugar, fish sauce, tamarind concentrate, SARSAYA® Oyster Sauce, lime juice, and red pepper flakes. Mix well. Set Aside.
SAUTÉ chicken, carrots, bean sprouts, and egg. Add noodles.
MIX sauce mixture. Add spring onions.
TOP with chopped peanuts and serve.
Makes 10 servings
Serving size: 1 cup (75g) Noodles & 1/2 cup (50g) Toppings
Cooking Tips
You can explore different toppings for this dish such as fish fillet, fried tofu for variety of taste and texture.
Product Used