LASWA (NEGROS)
AJI-NO-MOTO® UMAMI SEASONING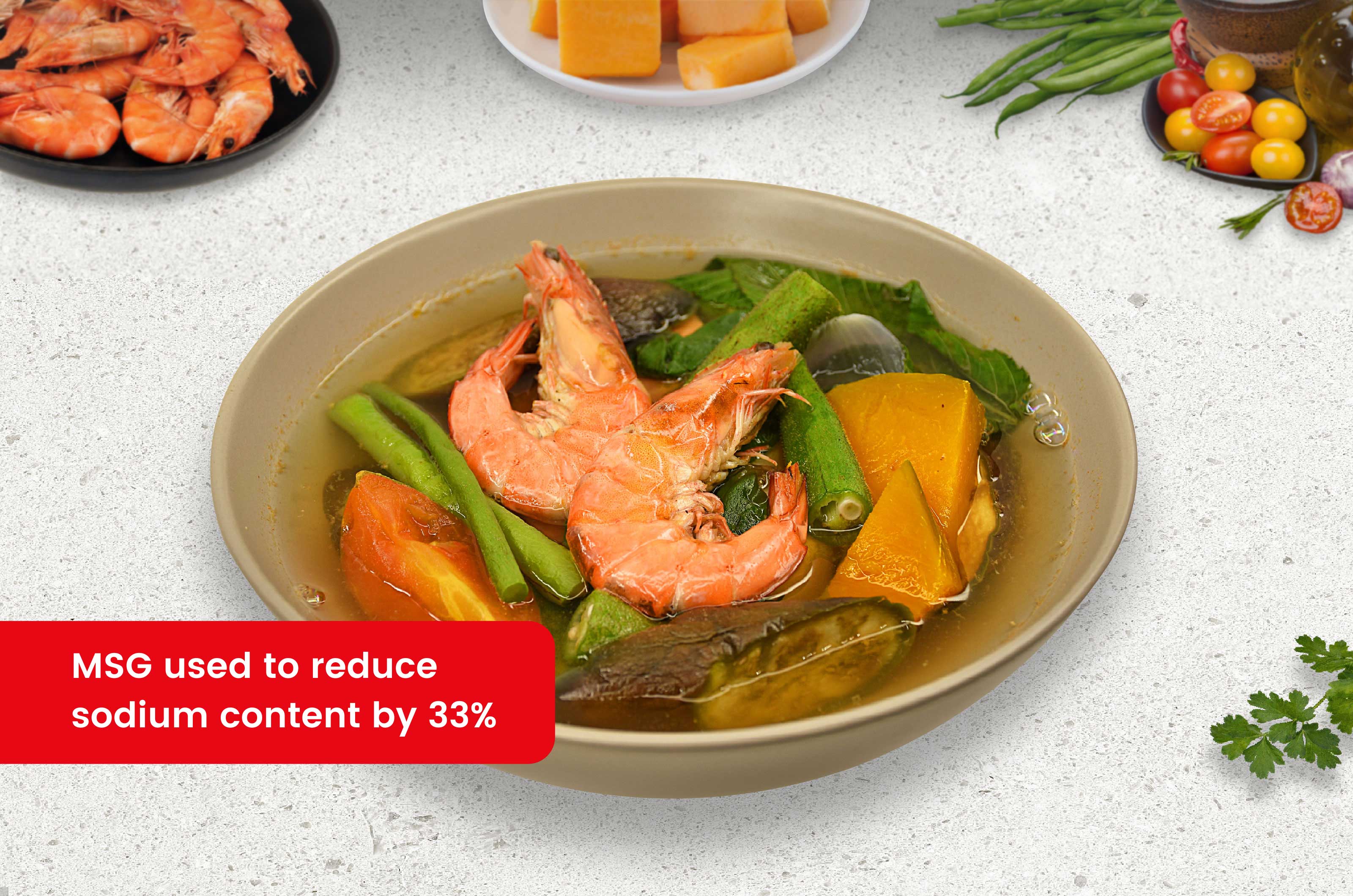 Ingredients
4 cups (1000ml) Water
1/4 cup (35g) Onion, quartered
1/2 cup (50g) Tomato, quartered
1 cup (120g) Squash, 1/2 inch thick
7 pcs. (100g) Shrimp
5 tsps. (25ml) Fish sauce
1/2 pack (5.5g) AJI-NO-MOTO® Umami Seasoning
1 cup (100g) Sitaw, 2 inches long
1 cup (100g) Okra, 2 inches long
1 cup (80g) Eggplant, 2 inches long
1 cup (100g) Alugbati leaves
1/2 cup (80g) Saluyot leaves (optional)
Reduced sodium by 33%
Original seasoning/condiment: 2 Tbsps. (30ml) Fish sauce, 1 tsp. (5g) Salt
NUTRITION INFORMATION
Nutrition Facts
Calories per serving (kcal)
50.9
Carbohydrates (g)
6.5
Proteins (g)
5.1
Fat (g)
0.5
Dietary Fiber (g)
2.0
Calcium (mg)
134.4
Iron (mg)
3.1
Sodium (mg)
384.0
Good to Know Nutrition Facts!
Vegetables contain a lot of Dietary Fiber, Vitamins and Minerals that help in keeping our immune system strong.
Preparation time: 15 minutes
Cooking time: 20 minutes
Procedure
BOIL. In a pot, add water, onion and tomato. Let it boil. Add squash and shrimps. Let it boil.
SEASON. Add fish sauce and AJI-NO-MOTO®.
BOIL. Add sitaw, okra and eggplant. Let it boil for one minute. Add alugbati and saluyot leaves. Let it boil for one minute.
SERVE. Transfer to a serving bowl and serve while hot.
Makes 7 servings
Serving size: 1 cup (250g)
Cooking Tips
Add your leafy greens just a minute before you switch off the fire to preserve its natural crispness and nutrients.
Product Used