MEATBALL KALDERETA RECIPE
PORKSAVOR® ALL-IN-ONE SEASONING MIX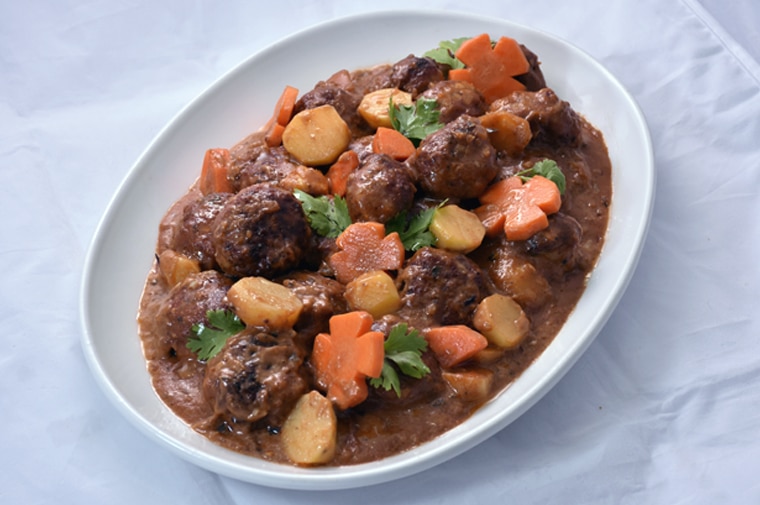 Ingredients
1 1/2 cup (250g) Pork (Ground)
1/2 cup (100g) Beef (Ground)
1 tablespoon (20g) Garlic (Minced)
3 tablespoon (50g) White onion (Minced)
1 pack (8g) PORKSAVOR ® All-In-One Seasoning Mix
1 teaspoon (7g) Salt
1 teaspoon (7g) Pepper (ground)
1 cup (100g) Carrots (minced)
1 cup (500ml) Cooking Oil
1 tablespoon (15g) White onion (chopped)
1 tablespoon (15g) Garlic (Chopped)
2 tablespoon (25g) Tomato paste
2 tablespoon (25g) Liver Spread
400ml Water
1 1/2 cup (250g) Tomato Sauce
1 cup (175g) Cheese (quick melt) grated
1 tablespoon (15g) Pickle Relish
1/2 cup (50g) carrots (diced)
1/2 cup (50g) Potato (diced)
1/2 cup (30g) Mixed bell pepper (diced)
NUTRITION INFORMATION
Nutrition Facts
Calories per Serving (kcal)
605
Carbohydrates (g)
42.7
Proteins (g)
24.2
Fat (g)
37.5
Dietary Fiber (g)
6.3
Fat (g)
180
Fat (g)
4.9
Fat (g)
1084.8
Preparation and Cooking time: 30 minutes
Procedure
MEATBALLS:
MIX AND SHAPE. In a large bowl, mix ground pork, ground beef, garlic, onion, PORKSAVOR ® salt, ground pepper and carrots. Scoop at least 2 tablespoons (25 grams) and form into a ball.
FRY. In a hot pan, pour oil and fry the formed meatballs. Strain excess oil and set aside.
SAUCE:
SAUTÉ. In a hot pot, pour oil and saute onion and garlic until fragrant. Then add tomato paste, liver spread and saute for a minute.
BOIL. Add water and tomato sauce. Bring to a boil then add cheese.
SEASON with salt and pepper to taste.
MIX AND SIMMER. Add meatballs and simmer for another 10-15mins. Add pickle relish, carrots, potato and bell pepper. Let it sit for another 5 minutes.
SERVE.
Makes 5 servings
Serving size: 100g meatballs and 120g sauce with mixed veggies
Cooking Tips
Don't like eating chunky liver? You can simply turn it into a paste before putting it into your sauce as a substitute for a liver spread! It does not just add flavor to your dish but it also contributes to the sauce's consistency!
Product Used