One-Minute Vegetable Stir-Fry
SARSAYA® OYSTER SAUCE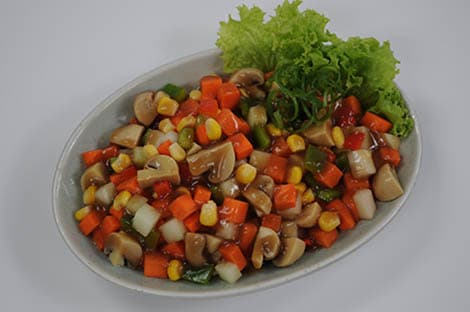 Ingredients
1 tablespoon cooking oil, palm
1 cup carrots, small diced
1 cup chayote, small diced
1/2 cup red and green bellpepper, small diced
1 can (115 grams) whole champignon mushrooms, quartered
1 can (250 grams) whole corn, kernel
2 teaspoon sesame oil
2 tablespoon soy sauce
1 pack (30 grams) SARSAYA® Oyster Sauce
1 medium size lettuce, iceberg
Preparation
Preparation Time: 5 minutes
Cooking Time: 5-10 minutes
Makes: 4-5 servings
Procedure
STIR-FRY. In a hot pan, heat cooking oil then stir-fry carrots, chayote, red and green bell peppers, mushrooms, and corn kernels until al dente.
SEASON. Add SARSAYA® Oyster Sauce and sesame oil and mix well.
SERVE. Wrap a spoonful of stir-fried vegetables (approx. 1 cup) on a bed of lettuce. Serve and enjoy.
Cooking Notes
Make sure to stir-fry until al dente to bring out the delicious flavors of the dish. You may substitute iceberg lettuce with romaine lettuce.
NUTRITION INFORMATION
Nutrition Facts
Calories per Serving
150
Carbohydrates (g)
9
Proteins (g)
3
Fat (g)
5
Product Used