ONE-MINUTE VEGETABLE STIR-FRY RECIPE
SARSAYA® OYSTER SAUCE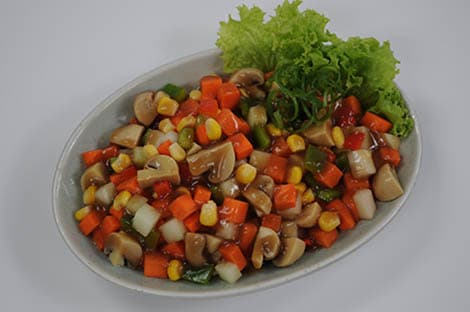 Ingredients
1 tablespoon cooking oil, palm
1 cup carrots, small diced
1 cup chayote, small diced
1/2 cup red and green bell pepper, small diced
1 can (115 grams) whole champignon mushrooms, quartered
1 can (250 grams) whole corn, kernel
2 teaspoon sesame oil
2 tablespoon soy sauce
1 pack (30 grams) SARSAYA® Oyster Sauce
1 medium size lettuce, iceberg
NUTRITION INFORMATION
Nutrition Facts
Calories per Serving (kcal)
150
Carbohydrates (g)
9
Proteins (g)
3
Fat (g)
5
Good to Know Nutrition Facts!
With stir-frying, vegetables are cooked rapidly, allowing it to retain not only its vibrant colors but its nutrients. This quick vegetable dish is loaded with fiber and phytochemicals and a good source of vitamin C and beta carotene.
Preparation and Cooking time: 1 minute
Procedure
STIR-FRY. In a hot pan, heat cooking oil then stir-fry carrots, chayote, red and green bell peppers, mushrooms, and corn kernels until al dente.
SEASON. Add SARSAYA® Oyster Sauce and sesame oil and mix well.
SERVE. Wrap a spoonful of stir-fried vegetables (approx. 1 cup) on a bed of lettuce. Serve and enjoy.
Makes 4-5 servings
Size per serving: 1 pc (25g) Lettuce & 1/2 cup (170g) Vegetable Stir Fry
Cooking Tips
Make sure to stir-fry until al dente to bring out the delicious flavors of the dish. You may substitute iceberg lettuce with romaine lettuce.
Product Used