PANSIT PALABOK RECIPE
PORKSAVOR® ALL-IN-ONE SEASONING MIX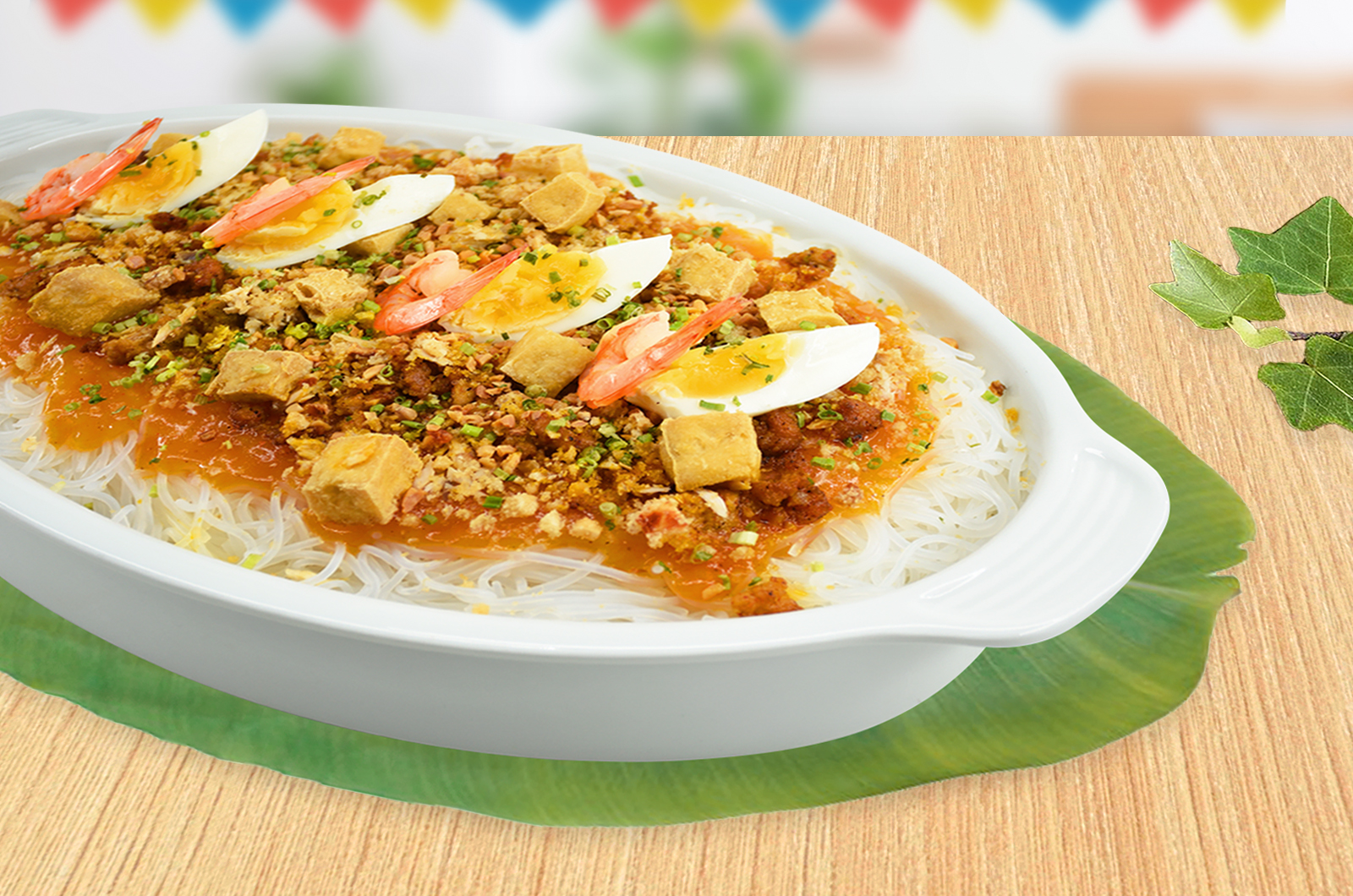 Ingredients
16 cups (4000ml) Water
1/2 cup (100g) Atsuete Seeds
1/2 cup (120g) PORKSAVOR® All-in-one Seasoning Mix (250g)
1/2 cup (120ml) Cooking Oil
2 tbsps (30g) Garlic, miced
4 cups (800g) Ground Pork
1 cup (200g) Smoked Bangus, shredded
1 cup (120g) Cornstarch, diluted in 1 cup water
25 cups (6000g) Palabok Noodles, boiled
2 cups (500g) Tofu, cubed, fried
1 cup (250g) Pork Chicharon, pounded
50 pcs (1000g) Boiled Shrimp, deveined, shelled
12 pcs (720g) Egg, hard boiled, sliced
1 cup (250g) Spring Onion, chopped
1 cup (250g) Toasted Garlic, minced
NUTRITION INFORMATION
Nutrition Facts
Calories per serving
619.6
Carbohydrates (g)
106
Proteins (g)
18.2
Fat (g)
14.6
Dietary Fiber (g)
1
Calcium (mg)
70.4
Iron (mg)
4.2
Sodium (mg)
888.1
Good to Know Nutrition Facts!
Palabok noodles are good source of Carbohydrates for energy.
Preparation time: 20 minutes
Cooking time: 40 minutes
Procedure
BOIL. In a pot, boil water and atsuete seeds for 5 minutes. Strain and discard seeds, add PORKSAVOR® . Simmer for 3 minutes.
SAUTÉ. On a separate pot, heat oil. Saute garlic, ground pork, and smoked bangus. Add water mixture. Allow to boil for 3 minutes. Add Atsuete mixture. Simmer for 3 minutes or until thick in consistency. Set aside.
ASSEMBLE. On a serving plate, assemble noodles, add the sauce mixture. Top with tofu, chicharon, boiled shrimp, egg, spring onion, and toasted garlic.
SERVE. Serve and enjoy.
Makes 50 servings
Serving size: 1/2 cup (120g) Noodles, 1/2 cup (110ml) Sauce & 1/4 cup (60g) Toppings
Cooking Tips
Boil noodles quickly to avoid soft noodles. These type of noodles turn to mush quickly when heated for a long time.
Product Used