PINOY PORK ASADO RECIPE
SARSAYA® OYSTER SAUCE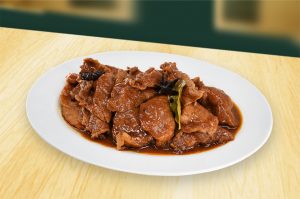 Ingredients
1/2 kg (500g) Pork Kasim, thin slices
1 tbsp (15ml) Calamansi, juiced
1/4 cup (60ml) Soy Sauce
4 tbsps (80g) Butter, unsalted
1 tbsp (15g) White Onion, chopped
1/2 cup (112ml) Tomato Sauce
2 pcs (2g) Bay Leaves
4 tbsps (50g) Brown Sugar
1 tbsp (15ml) Tomato Paste
1 pc (1g) Star Anise
2 packs (60ml)  SARSAYA® Oyster Sauce
NUTRITION INFORMATION
Nutrition Facts
Calories per serving
587.1
Carbohydrates (g)
18.6
Proteins (g)
14.2
Fat (g)
50.4
Dietary Fiber (g)
0.5
Calcium (mg)
49.0
Iron (mg)
1.8
Sodium (mg)
1047.9
Good to Know Nutrition Facts!
Pork is a good source of protein which is essential for growth and development.
Preparation time: 30 minutes
Cooking time: 30 minutes
Procedure
MARINATE. In a bowl, marinate pork kasim in calamansi juice and soy sauce for 30 minutes.
SAUTÉ. In a heated pot, melt butter. Saute onions and tomato sauce. Add the bay leaves, brown sugar and tomato paste. Add in star anise and pork with its marinade. Mix well.
SIMMER. Let it simmer for 30 minutes to one hour until the pork is fork-tender
SEASON. Add SARSAYA® Oyster Sauce and let it simmer for a few minutes until well blended.
SERVE and enjoy.
Makes 5 servings
Serving size: 1/2 cup (156g) Pork Asado
Cooking Tips
To have an extra boost of flavor, sear your marinated meat before sauteeing.
Product Used