POCHERONG BABOY RECIPE
AJI-NO-MOTO® UMAMI SEASONING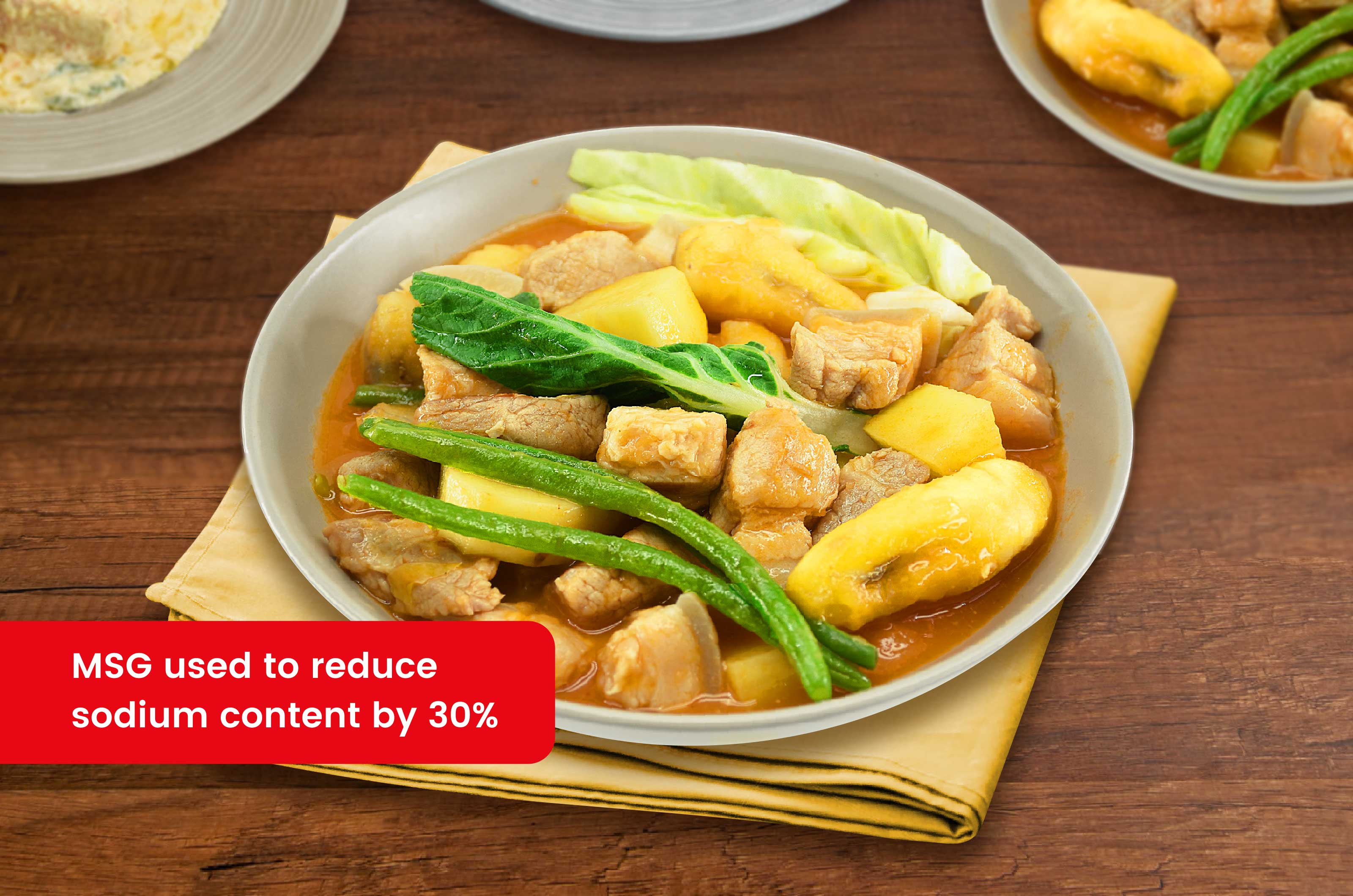 Ingredients
1 1/2 Tablespoons (23ml) Cooking Oil
1/2 cup (60g) Onions, chopped
1/4 cup (30g) Garlic, chopped
1 kilo (1000g) Pork belly, cut into serving size
5 cups (1250ml) Water
1/2 cup (50ml) Potato, cubed
1 piece (100g) Banana, saba, semi-ripe
1/2 cup (120g) Pork and beans, canned
1/2 cup (40g) Green beans, cut into 1′ long
1 cup (50g) Cabbage, sliced
1 cup (35g) Pechay, sliced
2 Tablespoons (30g) Sugar, brown
1/2 pack (5.5g) AJI-NO-MOTO® Umami Seasoning
5 teaspoons (25ml) Fish sauce
1/8 teaspoon (0.3g) Pepper
Reduced sodium by 30%
Original sodium content: 4 Tablespoons (60 ml) Fish sauce
NUTRITION INFORMATION
Nutrition Facts
Calories per serving (kcal)
420.8
Carbohydrates (g)
11.9
Proteins (g)
21.0
Fat (g)
32.1
Dietary Fiber (g)
1.4
Calcium (mg)
49.5
Iron (mg)
2.1
Sodium (mg)
304.1
Good to Know Nutrition Facts!
Saba Banana is packed with so many nutrients, like B vitamins, dietary fiber, vitamin C, vitamin A and iron. It also helps improve the body's digestion, lower blood pressure, strengthen the immune system, regulate circulation, and enhance metabolic process.
Preparation time: 20 minutes
Cooking time: 40 minutes
Procedure
SAUTÉ. In a pot heat oil, sauté onion followed by garlic. Add pork and cook until the color turns light brown.
BOIL. Pour water, cover the pot and let it boil until the pork gets tender. You may add more water as needed. Add potatoes and banana, cook until tender.
SIMMER. Add pork and beans and simmer for at least 3 minutes. Add green beans, cabbage and pechay and simmer for another minute.
SEASON. Add sugar, sprinkle AJI-NO-MOTO® and add fish sauce and pepper to taste. Mix well and turn off the heat.
SERVE. Transfer to a serving bowl , serve and enjoy!
Makes 9 servings
Serving size: 1 pc meat, 1 cup veg, 1/2 cup (125.5 g) soup
Cooking Tips
You can use more than 1 pc semi -ripe banana if you want your soup to be sweeter and a bit thicker.
Product Used