PORK GINILING
AJI-NO-MOTO® UMAMI SEASONING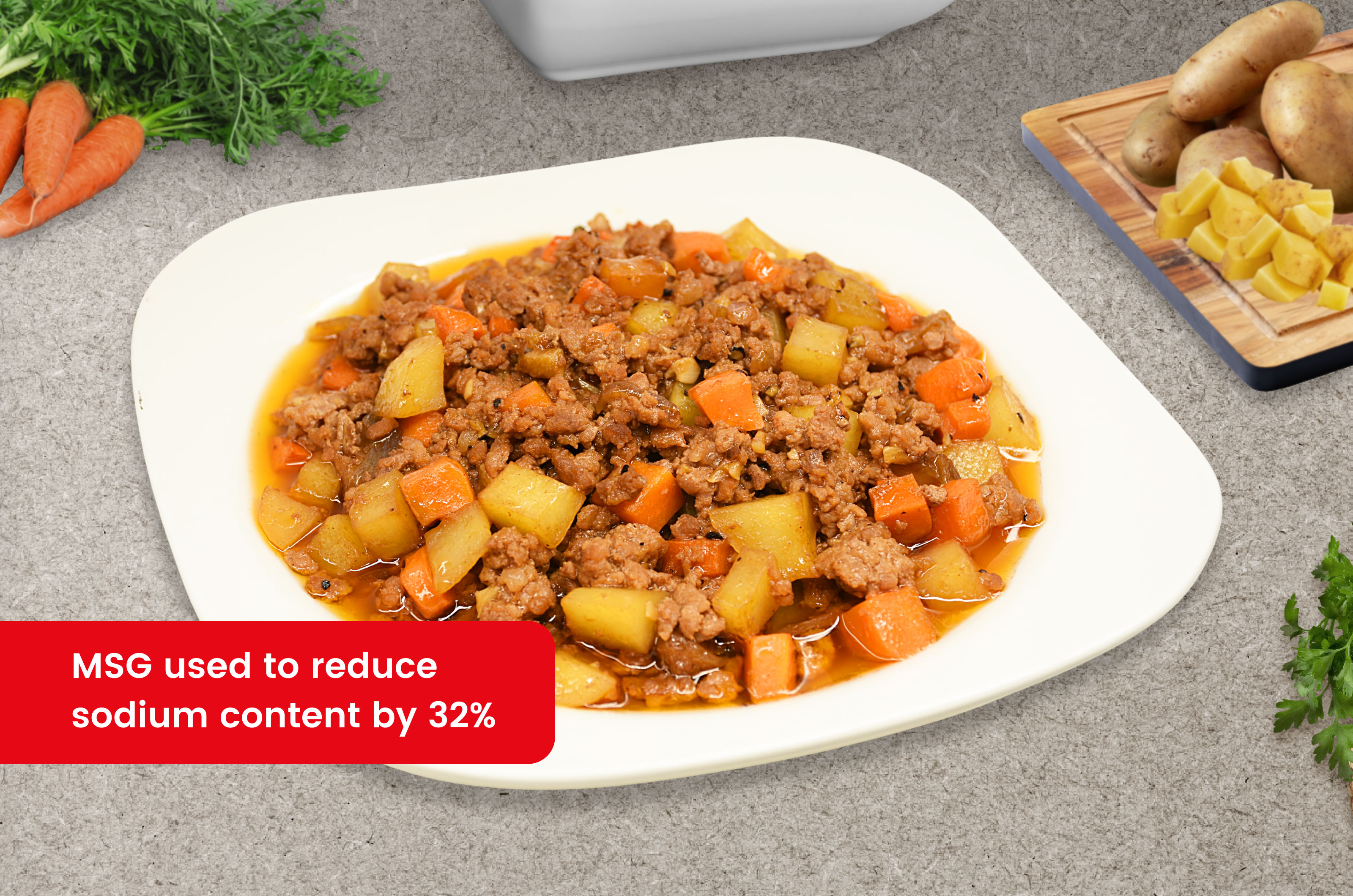 Ingredients
3 Tbsps. (45ml) Cooking oil
1/4 cup (60g) Onion, chopped
4 tsps. (38g( Garlic, chopped)
3/4 kilo (750g) Pork, ground
1 Tbsp. (15ml) Soy sauce
1/2 cup (120ml) Soy sauce
3/4 cup (180ml) Water
1/2 cup (120g) Carrot, diced
1 cup (165g) Potato, diced
1 tsp. (5g) Sugar, white, refined
1 pack (11g) AJI-NO-MOTO® Umami Seasoning
1/4 tsp. (0.75g) Pepper, black, ground
Reduced sodium by 32%
Original seasoning/condiment: 3 Tbsps. (45ml) Soy sauce, 1 tsp. (approx. 6g) Salt
NUTRITION INFORMATION
Nutrition Facts
Calories per serving (kcal)
307.2
Carbohydrates (g)
7.9
Proteins (g)
14.1
Fat (g)
24.3
Dietary Fiber (g)
1.0
Calcium (mg)
34.6
Iron (mg)
1.5
Sodium (mg)
281.1
Good to Know Nutrition Facts!
Pork is rich in Vitamins B6 and B12, which are essential for blood cell formation and brain function.
Preparation time: 15 minutes
Cooking time: 25 minutes
Procedure
SAUTÉ. In a pan with hot oil, sauté onion and garlic. Add ground pork and cook for five(5) minutes.
SIMMER. Add soy sauce, tomato sauce, and water. Simmer for ten (10) minutes. Add carrots, potatoes and sugar then simmer for another five (5) minutes.
SEASON. Add AJI-NO-MOTO® and pepper. Mix well.
SERVE. Transfer to a serving plate, serve, and enjoy.
Makes 10 servings
Serving size: 1/2 cup (113g)
Cooking Tips
Cut the potatoes and carrots into a uniform size to ensure even cooking.
Product Used