PORK MENUDO RECIPE
AJI-NO-MOTO® UMAMI SEASONING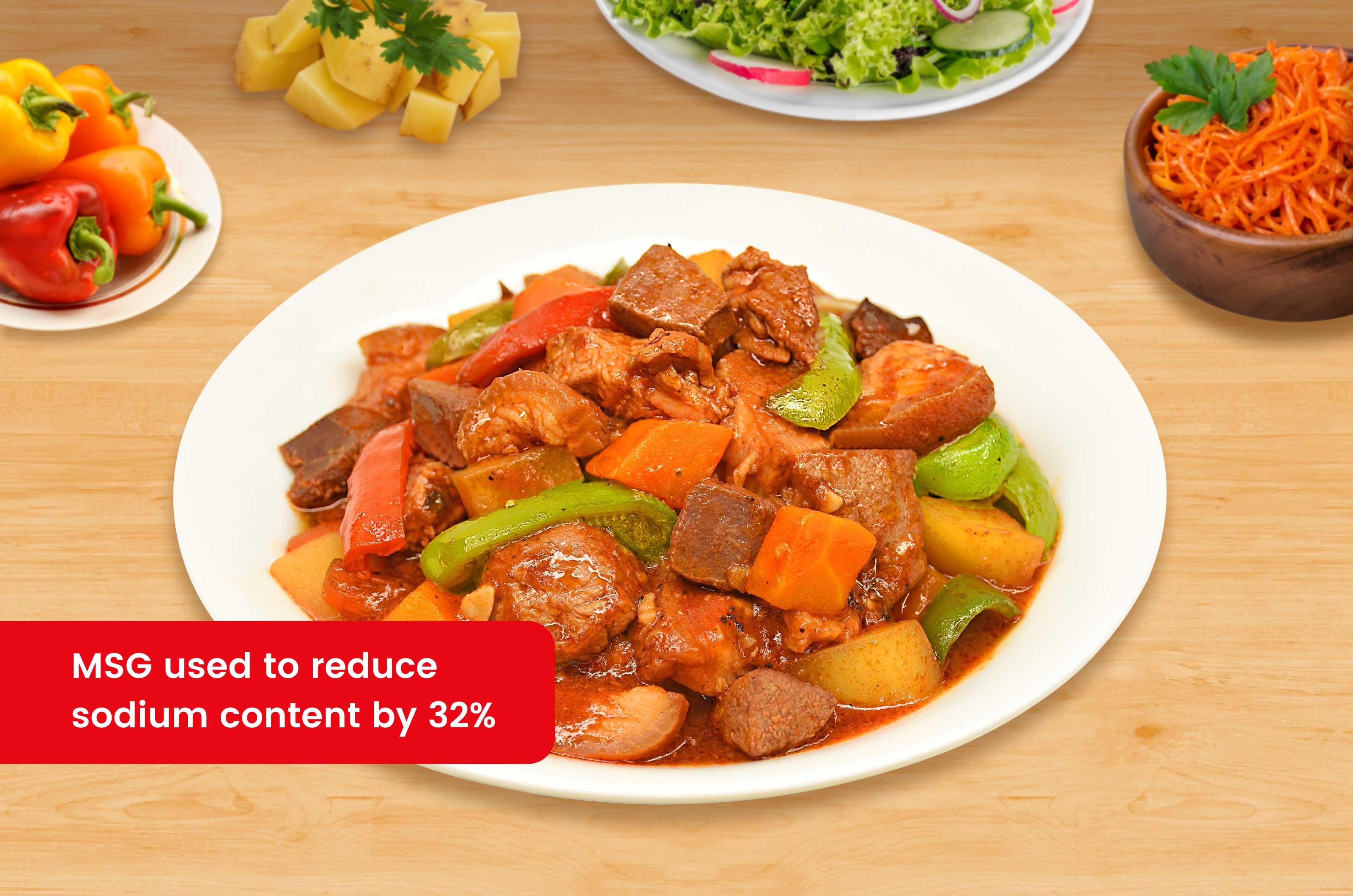 Ingredients
1 Tbsp (15 ml) Cooking oil
2 cups (400 g) Pork kasim, menudo cut
1/2 cup (100 g) Pork liver, menudo cut
2 Tbsps (30 ml) Soy sauce
1/2 tsp (1 g) Salt
3/4 cup (150 g) Potato, wedged
1/2 cup (100 g) Carrots, wedged
1 pack (11 g) AJI-NO-MOTO® Umami Seasoning
1 cup (200 ml) Tomato sauce
1/3 cup (60 g) Red bell pepper, strips
1/2 tsp (1 g) Black pepper, ground
Reduced sodium by 32%
Original seasoning/condiment: 1 tsp (approx. 6 g) Salt
NUTRITION INFORMATION
Nutrition Facts
Calories per serving (kcal)
202.5
Carbohydrates (g)
5.3
Proteins (g)
7.8
Fat (g)
16.6
Dietary Fiber (g)
0.8
Calcium (mg)
25.0
Iron (mg)
2.6
Sodium (mg)
287.3
Good to Know Nutrition Facts!
High-quality Protein is the main nutritional component of pork, making it useful for muscle growth and maintenance.
Preparation time: 30 minutes
Cooking time: 15 minutes
Procedure
SEAR. In a pan, heat oil. Sear pork and liver.
SIMMER. Add soy sauce, salt, potatoes, carrots, and water. Bring to a boil and then lower the heat. Simmer for 10-15 minutes.
SEASON. Sprinkle with AJI-NO-MOTO®, mix well.
SIMMER. Add tomato sauce, bell pepper, and pepper. Simmer for another 10 minutes.
SERVE. Transfer into a serving plate or container. Serve and enjoy.
Makes 10 servings
Serving size: 1/3 cup (85 g)
Cooking Tips
In cooking tomato based products, remember to use low heat in simmering to bring out the natural sweetness of the tomatoes and to avoid overly sour sauce.
Product Used