ROAST CHICKEN WITH PEPPER AND POTATOES RECIPE
AJI-NO-MOTO® UMAMI SEASONING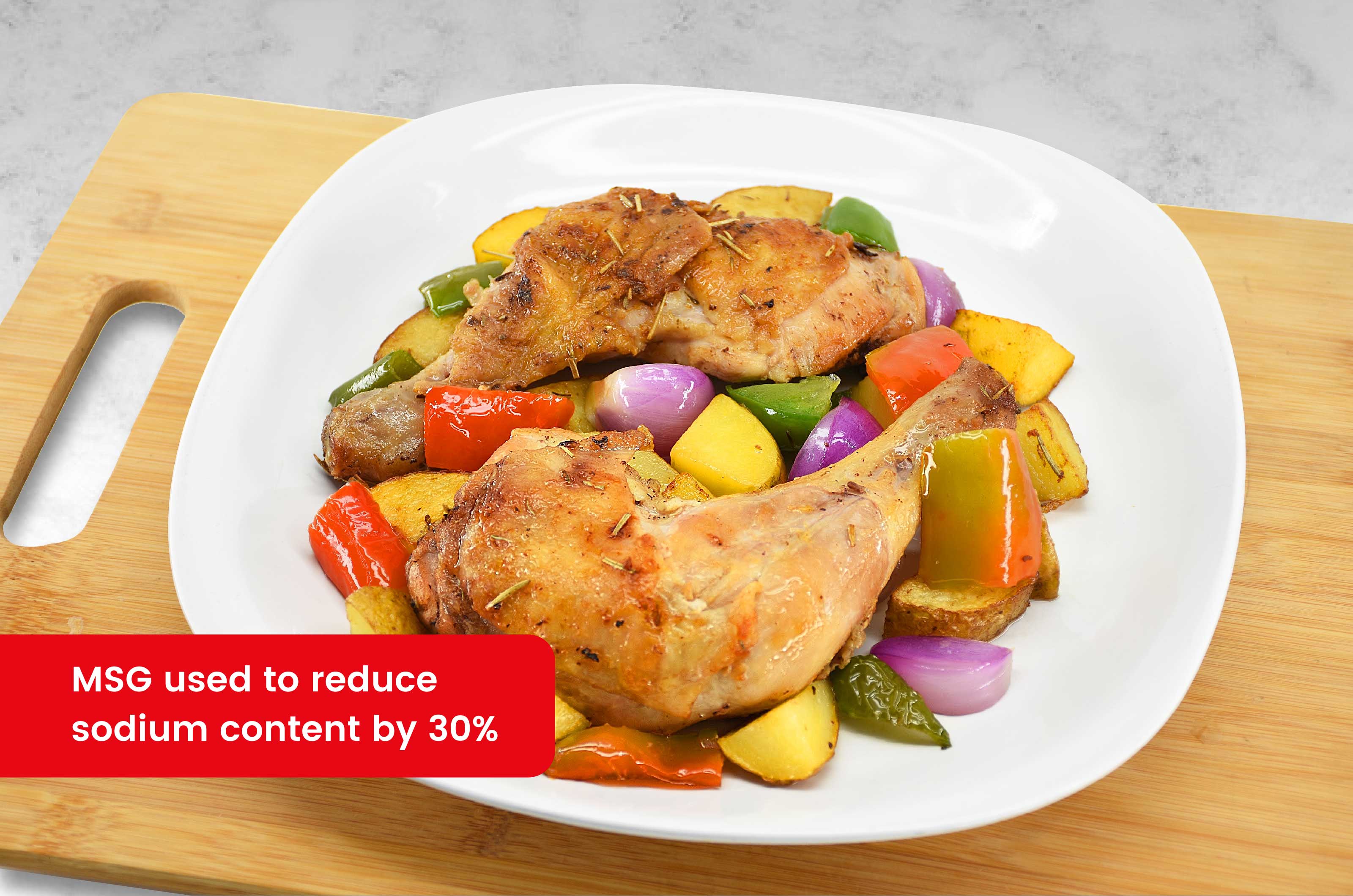 Ingredients
1 kilo (1000g) Chicken, leg quarter, chopped
1/2 teaspoon (2.5g) Salt, rock
1 pack (11g) AJI-NO-MOTO® Umami Seasoning
1 teaspoon (1g) Black pepper, ground
1 1/2 teaspoons (1.5g) Thyme, dried
1 teaspoon (1g) Rosemary, dried
2 cups (500g) Potatoes, medium cubes
2 large pieces (180g) Green bell pepper, chopped
2 large pieces (180g) Red bell pepper, chopped
1/2 cup (100g) Onions, quartered
Reduced sodium by 30%
Original sodium content: 2 teaspoons (10 grams) Salt
NUTRITION INFORMATION
Nutrition Facts
Calories per serving (kcal)
231.5
Carbohydrates (g)
12.3
Proteins (g)
21.4
Fat (g)
10.9
Dietary Fiber (g)
1.7
Calcium (mg)
47.2
Iron (mg)
1.8
Sodium (mg)
331.9
Good to Know Nutrition Facts!
Chicken is high in Protein which is an essential nutrient use to build and repair tissues and muscles.
Preparation time: 15 minutes
Cooking time: 45 minutes
Procedure
MARINATE. In a bowl place chicken legs then season with salt, AJI-NO-MOTO®, black pepper, thyme, rosemary, oil, and let it sit for at least 15 minutes.
PAN ROAST. In a hot pan put the marinated chicken legs then cover. Let it cook for at least 15 minutes per side. Add potatoes, bell peppers, and onion and cook until tender.
REST. Remove from the oven and let it rest for a few minutes.
SERVE. Place the cooked chicken leg and vegetables on a serving plate. Serve and enjoy.
Makes 10 servings
Serving size: 1 slice (100 g) Chicken, 1/2 cup (60 g) Vegetables
Cooking Tips
For better taste result you can marinate the chicken for at least 1 -2 hours before roasting.
Product Used