SINIGANG NA BANGUS SA BAYABAS
AJI-NO-MOTO® UMAMI SEASONING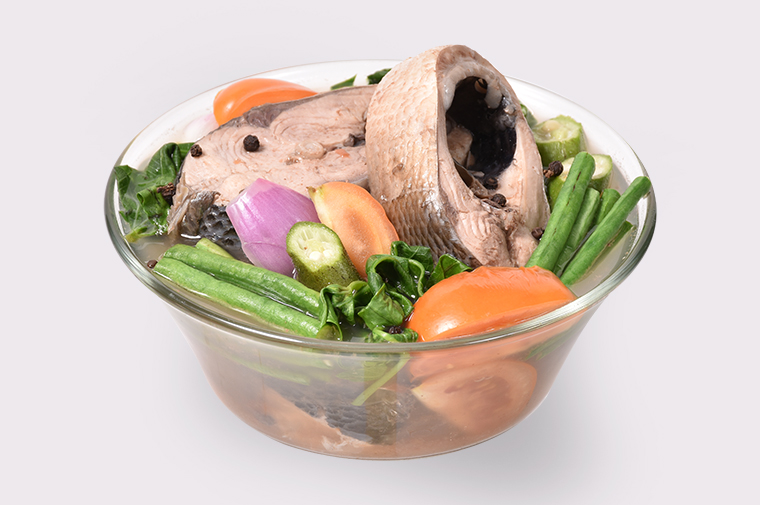 Ingredients
5 cups (1250 ml) Water
1/2 cup (90 g) Guava, quartered
1/4 cup (65 g) Tomato, quartered
1/4 cup(50 g) Onion, chopped
1 teaspoon (2 g) Whole peppercorn
3 tablespoons (45 ml) Fish sauce
3 cups (450 g) Bangus (sliced into 5)
1/4 cup (30 g) Okra, chopped
2 pieces (5 g) Green Chillies
1 cup (80g) Kangkong leaves
1 pack (11 g)AJI-NO-MOTO® Umami Seasoning
Preparation
Total yield:  Soup: 1250ml, Milkfish: 450g, Vegetables: 232g
Size per serving:  Soup: 250ml, Milkfish: 90g, Vegetables: 85g
Meal Serving Idea: Soup: 1 cup, Milkfish: 1/2 cup, Vegetables: 1/2 cup
Paraan ng Pagluluto:

BOIL. Pour water in a cooking pot and let it boil. Add the guava, tomato, onion, and whole peppercorn. Cover the pot and let it boil for 15 minutes or until the guava and vegetables are soft. You may add more water, as needed.
MASH and SEASON. Using a fork or a potato masher, mush the guava and vegetables inside the cooking pot to extract the flavors. Season with fish sauce and stir.
BOIL. Add the milkfish. Let it boil 5 to 10 minutes in medium heat until its cooked. Add the okra and Green chillies. Continue boiling for 5 minutes. Add kangkong leaves. Cover the cooking pot and put your fire off. Let the kangkong stay in the pot for 5 minutes. Season with AJI-NO-MOTO® Umami Seasoning and stir.
SERVE while hot.
Cooking Notes
Use ripe guava with pink flesh for a better taste result.
Nutrition Tip
Guavas are low Glycemic Index fruits which are well recommended for people with Diabetes. Though it is low GI, take it still in moderation.
NUTRITION INFORMATION
Nutrition Facts
Calories(kcal) per Serving
253
Carbohydrates (g)
6.6
Proteins (g)
33.3
Fat (g)
10.5
Dietary Fiber(g)
1.9
Calcium m(g)
11.5
Iron (mg)
3.7
Sodium(mg)
483.5
COST (per recipe): PhP  147.04
COST (per serving): PhP   29.41
Product Used