SINUGLAW RECIPE
AJI-NO-MOTO® UMAMI SEASONING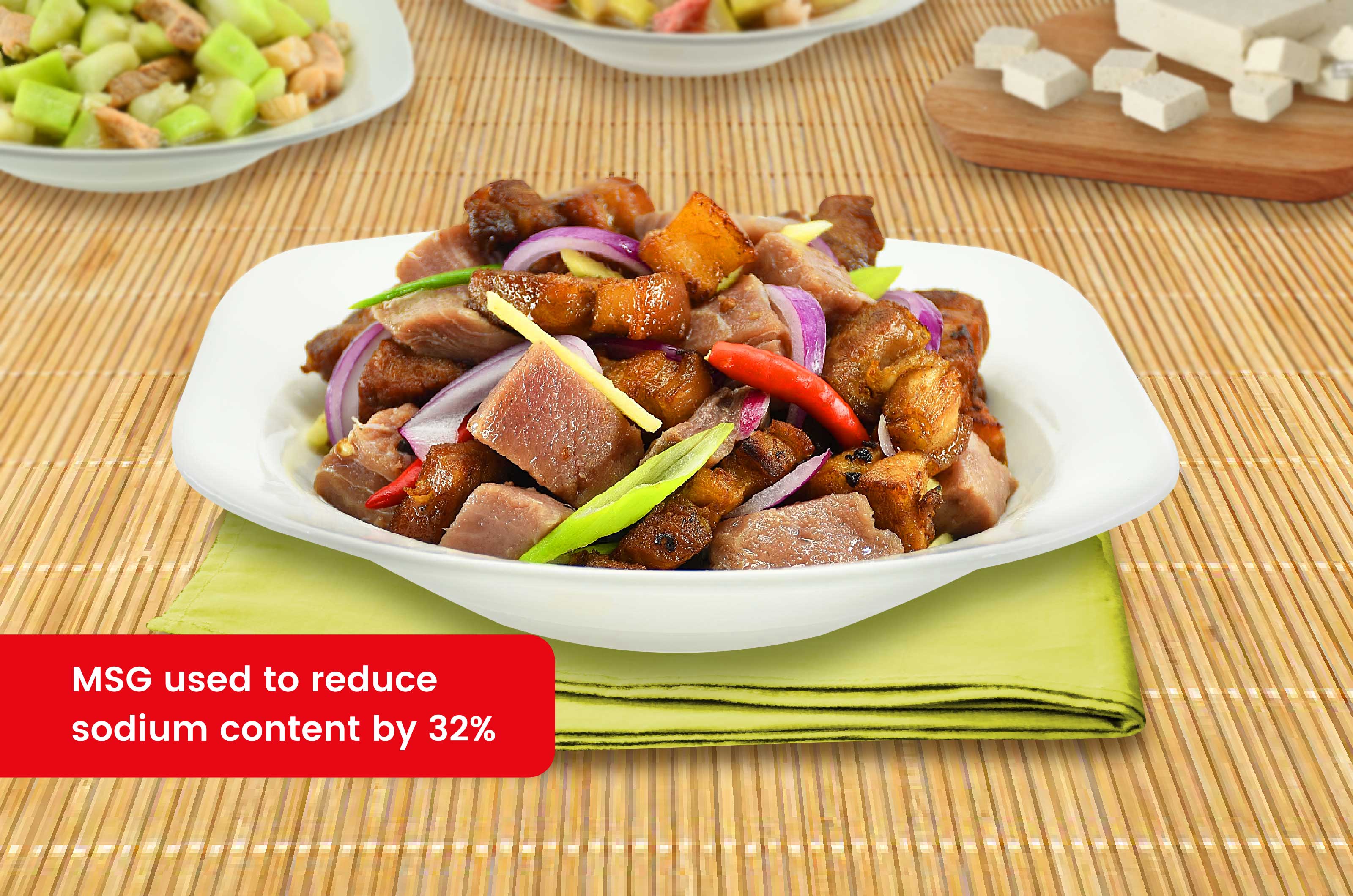 Ingredients
1/2 kilo (500g) Pork, grilled, chopped
2 cups (400g) Tuna, fillet
1/4 cup (60ml) Vinegar
1 Tablespoon (15g) Ginger, thin strips
1/2 cup (42.5g) Onion leeks, thin strips
3 pcs (60g) Finger pepper, sliced
1/4 cup (60g) Red onion, chopped
2 pcs (4g) Red chili, chopped
1/2 Tablespoon (7.5g) Salt, rock
1/2 teaspoon (0.5g) Ground pepper
1/2 pack (5.5g) AJI-NO-MOTO® Umami Seasoning
Reduced sodium by 32%
Original sodium content: 1 Tablespoon (15 grams) Salt
NUTRITION INFORMATION
Nutrition Facts
Calories per serving (kcal)
365
Carbohydrates (g)
2.4
Proteins (g)
17.1
Fat (g)
32
Dietary Fiber (g)
0.7
Calcium (mg)
33.1
Iron (mg)
12
Sodium (mg)
387
Good to Know Nutrition Facts!
Pork and Tuna are both rich in Protein which is good for building and repair of muscles and tissues.
Preparation time: 30 minutes
Cooking time: 15 minutes
Procedure
GRILL. In a hot griller, put the pork chops and grill until well done. Slice into cubes and set aside.
MARINATE. In a bowl marinate the tuna fillet with vinegar for at least 15 minutes. Then add ginger, onion leeks, finger pepper, red onion, and red chilies. Mix well.
SEASON. In a bowl with tuna mixture, add the grilled pork and season with salt, pepper and AJI-NO-MOTO®. Mix well and chill for at least 20 minutes.
SERVE. Remove from the chiller and serve the chilled sinuglaw. Enjoy.
Makes 10 servings
Serving size: 3/4 cup (128 g)
Cooking Tips
You can also add cucumber for a more refreshing taste.
Product Used