STEAMED SPARERIBS RECIPE
AJINOMOTO AJI-SHIO® SEASONING MIX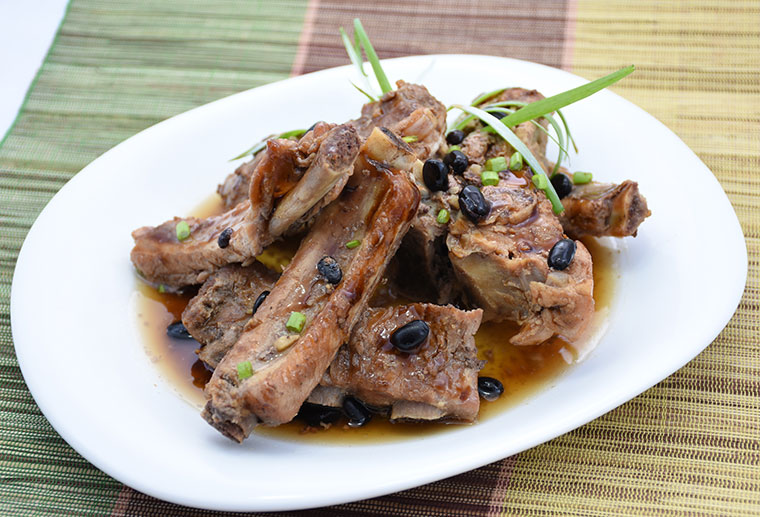 Ingredients
1 kilogram (1000 grams) Pork spareribs, chopped
1 pack (12g grams) AJI-NO-MOTO® Umami Seasoning
1 pack (6 grams) AJI-SHIO® Pepper Seasoning Mix 
3 cloves (6 grams) Garlic minced
1 teaspoon (3 grams) Ginger minced
2 tablespoons (26 ml) Cooking Wine
2 tablespoons (26 ml) Soy Sauce
1 tablespoon (15 ml) Sesame Oil
2 teaspoon (9 grams) Sugar
1/2 teaspoon (2 grams) Salt
1/2 teaspoon (30 grams) Cornstarch
2 tablespoons (50 grams) Black Beans ,cooked
2 tablespoons (30 grams) Green Onions ,chopped
NUTRITION INFORMATION
Nutrition Facts
Calories per serving (kcal)
475
Carbohydrates (g)
8.1
Proteins (g)
21.8
Fat (g)
39.5
Dietary Fiber (g)
1.4
Calcium m(g)
98
Iron (mg)
 2.6
Sodium (mg)
698.8
Good to Know Nutrition Facts!
Pork ribs supply significant amounts of iron and zinc, two nutrients you need to get from your diet. Both minerals play an important role in immunity, and iron also helps supply your cells and tissues with oxygen by carrying oxygen in your bloodstream.
Preparation and Cooking time: 1 hour
Procedure
COMBINE pork spareribs, AJI-NO-MOTO® , AJI-SHIO® Pepper, garlic, ginger, cooking wine, soy sauce, sesame oil, sugar and salt. Mix well to fully coat meat and marinate for 10-15 minutes.
ADD cornstarch until ribs are coated then add black beans, stir well to distribute.
TRANSFER pork mixture into a heat-proof shallow plate.
STEAM and cover for about 20-30 minutes or until meat is cooked.
SERVE with spring onions on top and enjoy!
Makes 7 servings
Serving size: 1 cup (130g) Steamed Spareribs
Cooking Tips
Instead of using tausi (fermented black beans), you may use regular black beans that can be found at the market. You just need to boil it with water until cooked , remove from water and it's ready to use.
Product Used