STUFFED SARCIADONG TOKWA RECIPE
AJI-NO-MOTO® UMAMI SEASONING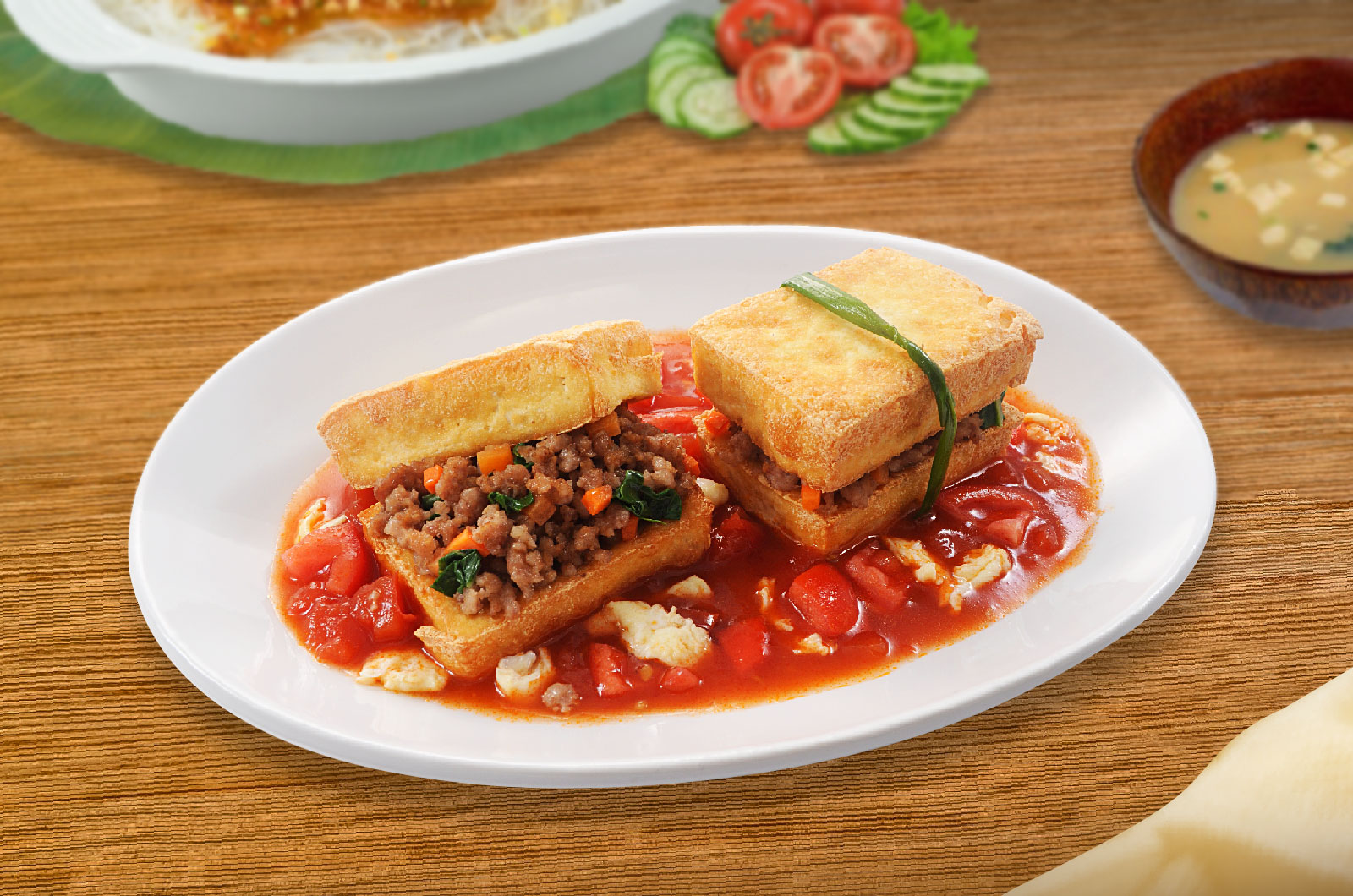 Ingredients
1 1/2 cups, (375 ml) Vegetable Oil
8 pieces, (500 grams) Tokwa, cut into thick pieces
3/4 cups, (120 grams) Ground pork, lean type
3 tablespoons, (30 grams) Garlic, minced
1/2 cup, (70 grams) Carrots, minced
1 1/2 cups, (140 grams) Pechay leaves, chopped
1 teaspoon, (5 grams) Salt
8 stalks, (30 grams) Spring Onion leaves, dip in hot water to soften
1 tablespoon, (15 ml) Cooking Oil
1 cup, (100 grams) Onions, chopped
1 cup, (250 grams) Tomatoes, chopped
1 cup, (250 ml) Water
5 teaspoons, (25 ml) Soy Sauce
2 tablespoons, (36 grams) Tomato Catsup
5 teaspoons, (25 grams) White Sugar
1 pack , (11 grams) AJI-NO-MOTO® Umami Seasoning
1 tablespoon , (10 grams) Cornstarch, diluted in 2 tablespoons of water
2 teaspoons, (10 ml) Sesame Oil
2 pieces, (120 grams) Eggs, beaten, deep fried
2 1/2 tablespoon, (40 ml) Cooking oil for frying
NUTRITION INFORMATION
Nutrition Facts
Calories per serving
263.1
Carbohydrates (g)
29.3
Proteins (g)
12.9
Fat (g)
10.4
Dietary Fiber (g)
6.1
Calcium (mg)
181.4
Iron (mg)
3.5
Sodium (mg)
610.1
Good to Know Nutrition Facts!
Tokwa is one of the most affordable and cheap sources of protein for growth and development. Make this dish even more nutritious by partnering it with sautéed tomatoes rich in lycopene that's beneficial for your heart.
Preparation time: 30 minutes
Cooking time: 30 minutes
Procedure
DEEP FRY. Heat oil in a pan. Deep fry tokwa until golden brown. Drain and set aside .
RENDER. In a pot, add ground pork and cook until meat turns brown and natural fat comes out of the meat. Add garlic, carrots and pechay and let it cook for 2 minutes. Season with salt, mix well and set aside.
ASSEMBLE. Slice the tokwa by at least 3/4 through. Add 2 tablespoons of the pork mixture inside the tokwa.Tie one spring onion leaf around the stuffed tokwa to secure it. Set aside. Reserve the remaining pork mixture.
SAUTÉ & SIMMER. In a pan heat cooking oil, sautè onions and tomatoes until soft and tender.Add water, soy sauce, tomato catsup, sugar and AJI-NO-MOTO®. Stir and simmer for one minute.
THICKEN. Add cornstarch and water mixture. Add the remaining pork mixture. Add water, sesame oil and beaten eggs. Mix well.
SERVE. Using a platter, serve by placing the sauce at the bottom of the plate.Arrange the stuffed tokwa on top and then serve and enjoy.
Makes 8 servings
Serving size: Tokwa 1 piece, filling 36 grams, sauce 60 ml
Cooking Tips
Creative presentation can make even simple meals beautiful and appetizing. Finish off this stuffed tokwa by tying with a spring onion bow. It not only adds a nice pop of color but also flavor and a nice aroma.
Product Used