TOFU IN CURRY SAUCE
AJI-NO-MOTO® UMAMI SEASONING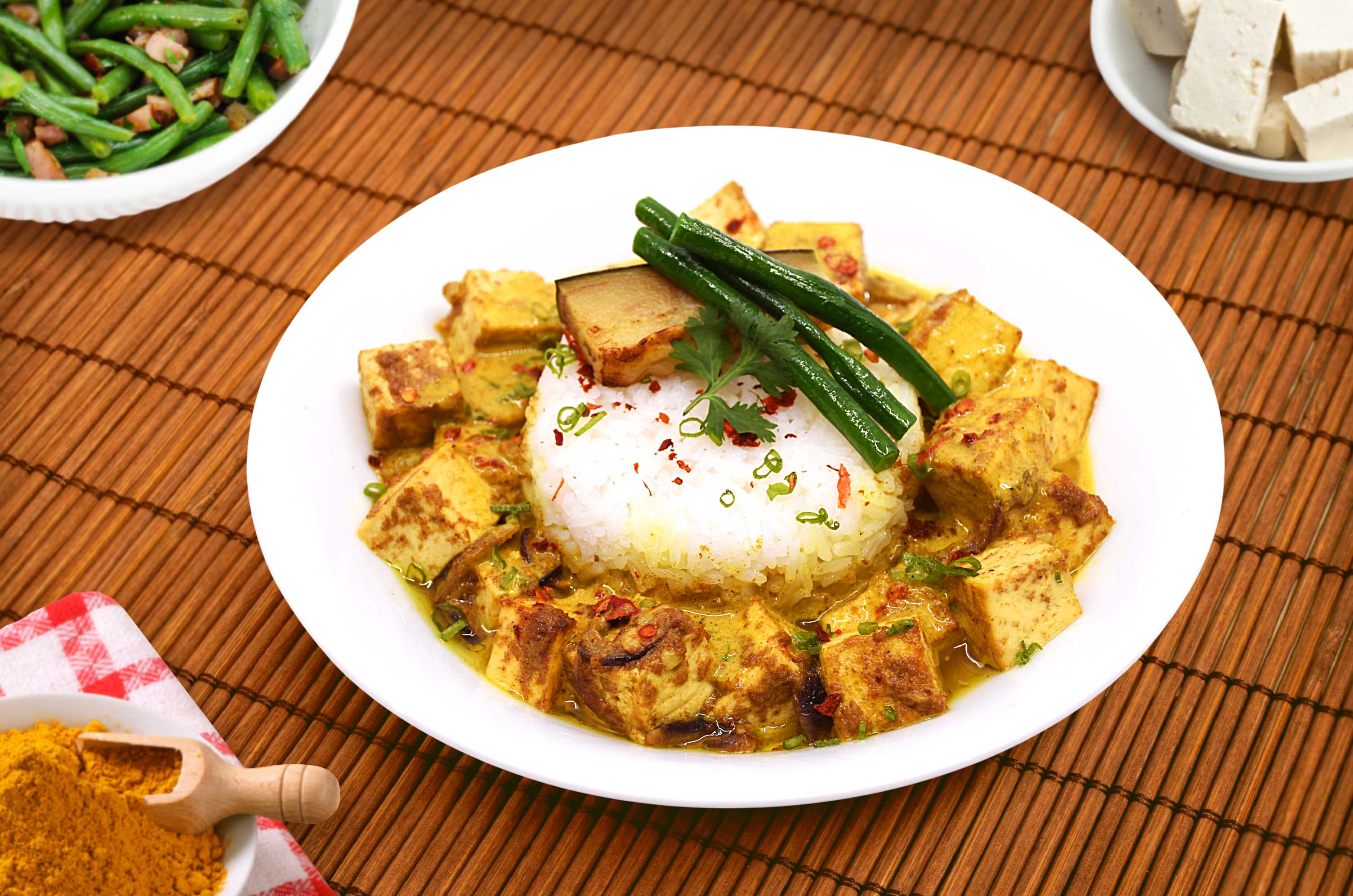 Ingredients
1 Tbsp. (12ml) Canola Oil
2 Tbsps. (30g) Red Onion, sliced
3 cloves (9g) Garlic, minced
1 pack (250g) Firm Tofu, big cubes
1 Tbsp. (10ml) Curry sauce
1 cup (200ml) Coconut Milk
1 cup (100g) String Beans, boiled
2 cups (200g) Eggplant, pan-fried
1/2 Tbsp. (5.5g) AJI-NO-MOTO® Umami Seasoning
1/2 tsp. (2g) Rock Salt
4 cups (680g) Rice, cooked
NUTRITION INFORMATION
Nutrition Facts
Calories per serving (kcal)
367.9
Carbohydrates (g)
61.5
Proteins (g)
13.2
Fat (g)
9.7
Dietary Fiber (g)
5.1
Calcium (mg)
241.3
Iron (mg)
4.0
Sodium (mg)
729.8
Saturated Fatty Acids (g)
2.5
Monounsaturated Fats (g)
1.6
Polyunsaturated Fats (g)
3.9
Trans Fat (g)
0
Cholesterol (mg)
1.6
Good to Know Nutrition Facts!
Tofu is low in saturated fat and is a good source of heart-healthy unsaturated fats.
Preparation time: 15 minutes
Cooking time: 30 minutes
Procedure
SAUTÉ. In a pan, heat oil then sauté red onion and garlic until translucent. Add tofu and cook until brown
SIMMER. Add curry sauce, coconut milk, string beans, and eggplant. Let it simmer for about 10 minutes.
SEASON. Add AJI-NO-MOTO® and salt. Mix well and cook for another minute.
SERVE. In a serving bowl with hot rice, place cooked tofu on top then add curry sauce and cooked vegetables. Serve and enjoy.
Makes 4 servings
Serving size: 1 cup (170g) rice, 1 cup (202g) tofu & vegetables
Cooking Tips
Give the tofu some time to drain because the water-logged from it won't help to absorb the seasoning evenly.
Product Used