TOFU-MUSHROOM SISIG BIBIMBAP RECIPE
SARSAYA® OYSTER SAUCE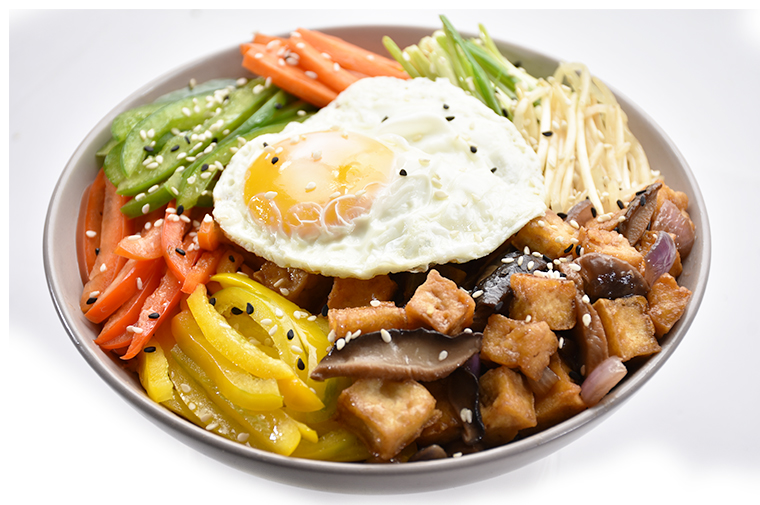 Ingredients
2 Tbsps (30g) Margarine
1/2 cup (80g) Red onion, chopped
1 cup (160g) Tofu, cubed, fried
1/2 cup (80g) Shiitake mushroom, sliced
1 cup (250g) SARSAYA® Oyster Sauce
2 tsps (8g) Ground black pepper
2 Tbsps (30ml) Cooking oil
1 cup (160g) Carrots, strips
1 cup (160g) Bean sprouts, well-cleaned
1/3 cup (80g) Red bell pepper, strips
1/3 cup (80g) Green bell pepper, strips
1/3 cup (80g) Yellow bell pepper, strips
8 cups (1360g) Cooked rice
1/2 cup (20g) Scallions, chopped
8 pcs (8g) Fried egg
8 tsps (40g) Toasted sesame seeds (Black and White)
1 pc (1ml) Lemon
NUTRITION INFORMATION
Nutrition Facts
Calories per serving (kcal)
 424.3
Carbohydrates (g)
68.7
Proteins (g)
 9.2
Fat (g)
11.6
Dietary Fiber (g)
3.7
Calcium m(g)
92.4
Iron (mg)
3.4
Sodium (mg)
1518.2
Good to Know Nutrition Facts!
Tofu is an excellent source of protein providing all 9 essential amino acids. This is a good alternatives for those who want to reduce their meat intake.
Preparation time: 30 minutes
Cooking time: 20 minutes
Procedure
SAUTÉ. In a pan heat margarine. Saute onion, fried tofu, and mushroom for a few minutes. Add SARSAYA® Oyster Sauce and pepper. Set Aside.
SAUTÉ. In separate pan, saute carrots, bean sprout, and bell peppers. Set aside.
ASSEMBLE. In a deep serving bowl, assemble rice, tofu-mushroom sisig, sauteed vegetables, and scallions. Top with fried egg. Sprinkle sesame seeds.
SERVE with lemon on the side and enjoy.
Makes 8 servings
Serving size: 1 cup (170g) Rice & 3/4 cup (150g) Toppings
Cooking Tips
You can add hot sauce (gochujang/sriracha) to make it tastier and for an extra kick.
Product Used