TOKWA'T BABOY RECIPE
AJINOMOTO® BRAND GINISA FLAVOR SEASONING MIX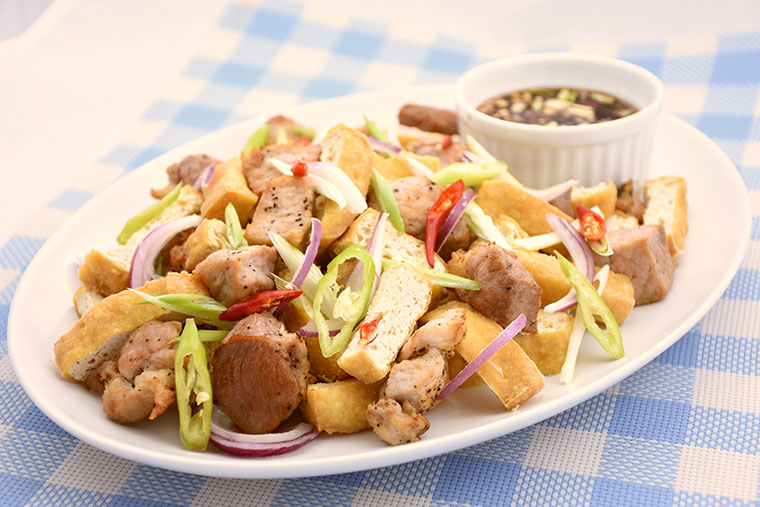 Ingredients
1/2 kilo (500grams) Pork Belly, strips
1 pack (7 grams) AJI-GINISA ® Flavor Seasoning Mix
2 cups (480ml) Cooking Oil ( for deep frying of Tokwa)
5 pcs (412grams) Tokwa, cubed
1/4 cup (40 grams) Garlic minced
1/2 cup (111grams) Vinegar
1/2 cup (126 grams) Soy Sauce
1 teaspoon (5 grams) Salt
4 teaspoon (12 grams) Brown Sugar
2 tablespoons (30 grams) Onion ,red ,chopped
2 tablespoons (20 grams) Spring Onions ,chopped
NUTRITION INFORMATION
Nutrition Facts
Calories per serving (kcal)
 844
Carbohydrates (g)
89.6
Proteins (g)
20
Fat (g)
 45
Dietary Fiber (g)
4.8
Calcium m(g)
148
Iron (mg)
3.8
Sodium (mg)
1097
Good to Know Nutrition Facts!
Tokwa has high among of selenium which is important for operations of the antioxidant system in our bodies for eradicating free radicals. This in turn helps in preventing diseases such as cancer, asthma, arthritis and heart disease. Tokwa also has Omega-3-fatty acid that assists in regulating heart palpitation, decreasing blood clotting in the arteries and enhances the proportion of good calories
Preparation and Cooking time: 1 hour
Procedure
COMBINE pork and AJI-GINISA® ,let it stand for 15 minutes.
DEEP-FRY pork until cooked followed by tokwa until it's crispy and golden brown. Cut the tokwa into cubes and set aside.
MIX together garlic, vinegar, soy sauce, salt, and brown sugar.
SERVE Tokwa't Baboy with the sauce , onions and spring onions.
Makes 6 servings
Serving size: 1 cup (150g) Tokwa't Baboy & 1/2 cup (100ml) Sauce
 Cooking Tips
Take the time to blot out excess moisture from tokwa with a kitchen towel before frying to prevent oil splatters.
Product Used