When it comes to preparing and serving gulay recipes at home, incorporating vegetables in a child's diet has been a long dilemma for some parents. Instead of being frustrated, parents should understand the reasons why vegetables are less well accepted by a child. This has been a very common problem for many parents, as vegetables provide some of the best nutrients for a child's growth.
There are many factors to a child's low vegetable consumption but a range of sensory properties is often the key barrier. Studies show that vegetables are least liked by some children due to familiarity and innate liking for food that are either high in sugar or salt. Overcoming this barrier is crucial to helping your children consume vegetables and become a part of their diet.
Food preferences are formed at an early age which is a critical period of rapid growth and development. But it is also during this phase that a child learns to accept different tastes through repeated exposure and offering a variety of new food. Gradually introducing them to new types of food and vegetables will help expand their tastes and allow them to appreciate different kinds of dishes.
Parents play the key role in influencing their child's food preferences. If kids won't learn how to consume vegetables, they might grow into an adult with unfulfilled dietary needs. While patterns formed during childhood can easily be retained in adulthood, there are still a number of strategies on how you can make vegetables enjoyable for kids.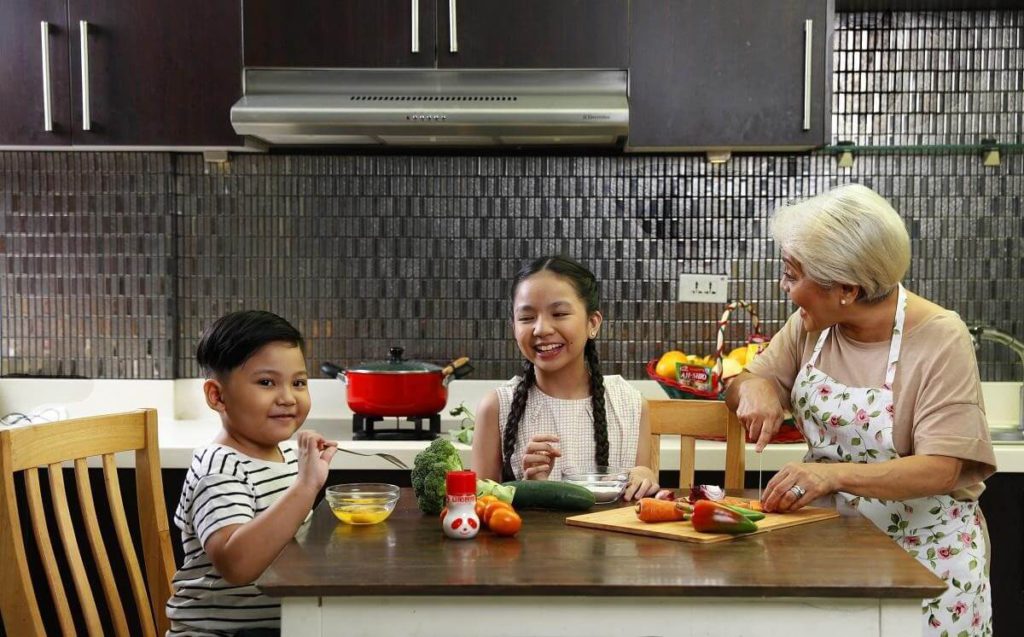 How to Make Gulay Enjoyable for Kids
Introduce vegetable-based snacks
Show your kids that you enjoy vegetables
Don't force them to eat vegetables
Use positive reinforcement when introducing vegetables in their diet
Watch what you put into your cart when you're shopping for groceries
Keep sweets and salty food in moderation when shopping
Be creative in how you cook and present the vegetable-based dishes
Use aromas and colors to your advantage to make the dish more attractive for your kids
To avoid the problem of an unhealthy diet for your kids you can start by introducing vegetable-based snacks. Gulay recipes are versatile and can easily be incorporated into meals and snacks.
Gulay recipes need to be constantly reintroduced as your kids get used to it. Get creative with your presentation and recipes. This makes sure that your children don't get bored with what you're serving. Consider that children will be more attracted to colors and savory scents. It's a good thing that a lot of vegetables are colorful and rich in nutrients. Make sure that you don't give up and keep trying, your child will definitely find a favorite.
What are the gulay recipes you can use? Ajinomoto has a wide range of recipes you can try out. These recipes are not only nutritious but also very delicious. The whole family can enjoy the nutritious and delicious vitamins and minerals these vegetables have to offer.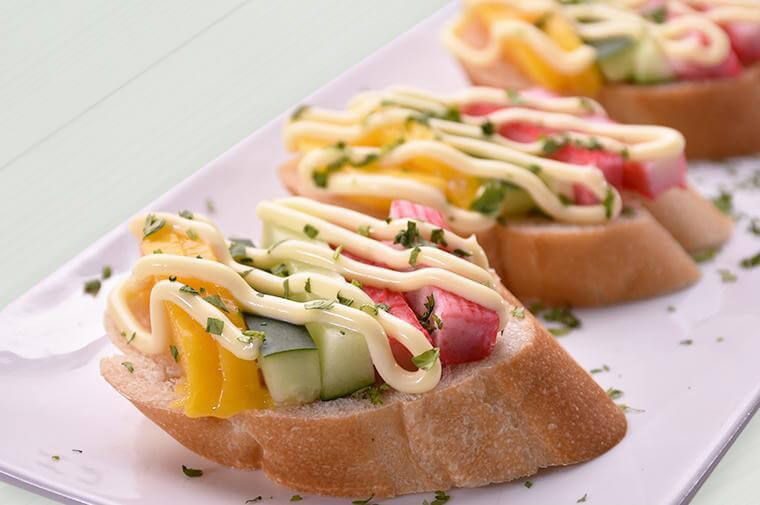 Kani Canapé
Cucumber is incorporated in this gulay recipe. This vegetable is great for salads and sandwiches. In the case of this kani canapé, you can add an extra kick of antioxidants and minerals to this snack. Cucumbers also promote hydration, which is important for the body. Eat the cucumbers with the peel so you can get all the nutrients.
Ingredients:
1 pc (300g) French bread, sliced into 30 pcs
1 pc (300g) Ripe mango, seeded, sliced
10 pcs (120g) Kani (Crabstick), sliced
1 pc (150g) Cucumber, sliced
1 1/4 cups (300g) Japanese mayonnaise
1 pack (11g) AJI-NO-MOTO® Umami Seasoning
Procedure:
TOAST. In a tray, place sliced French bread. Toast for 3-5 minutes. Set aside.
ASSEMBLE. Top the toasted bread with mango, kani, and cucumber. Then drizzle with Japanese mayonnaise and AJI-NO-MOTO® Umami Seasoning.
SERVE. Serve and enjoy.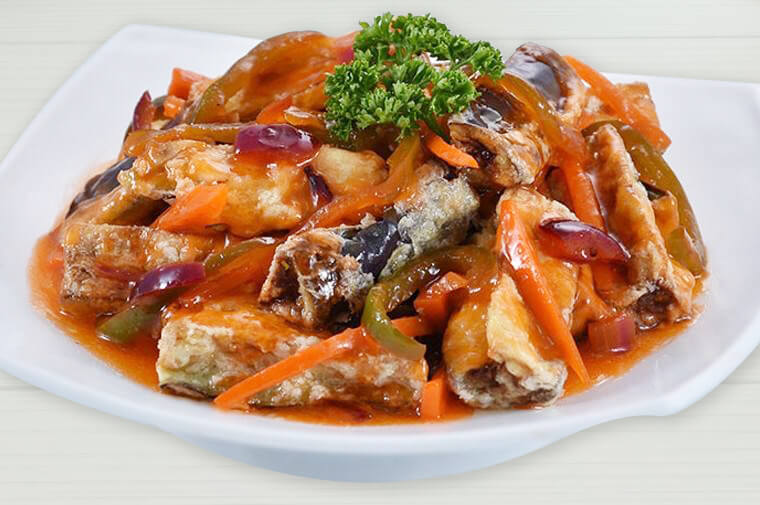 Sweet and Sour Eggplant
This is another easy to cook ulam recipe that your kids will appreciate. This simple Pinoy recipe can spice up the dinner table without sacrificing any nutrients or vitamins. Slices of eggplant are rich in fiber and is a great low calorie alternative to unhealthy snacks. The sweet and sour taste is a signature Chinese flavor, add a healthy twist with eggplant and SARSAYA® Sweet and Sour Sauce.
Ingredients:
4 cups (500g) eggplant, quartered
1/2 teaspoon AJI-NO-MOTO ® Umami Seasoning
2 pieces of eggs
1/2 cup corn starch
2 cups cooking oil (for deep frying)
2 tablespoons cooking oil
1/4 cup onions, sliced
1 1/2 cups bell pepper, strips
1 cup carrots, strips
1 pack (200g) SARSAYA® Sweet and Sour Sauce
1 teaspoon soy sauce
Procedure:
SEASON eggplant with AJI-NO-MOTO® Umami Seasoning.
DIP, DREDGE and FRY. Dip the seasoned eggplant in beaten eggs, then dredge in corn starch. Deep- fry in oil until golden brown. Drain and set aside.
STIR FRY. In a separate pan, add oil and stir-fry onions, bell pepper and carrots for a minute.
SEASON with SARSAYA® Sweet and Sour Sauce and soy sauce. Add deep-fried eggplant. Mix well. Serve and enjoy!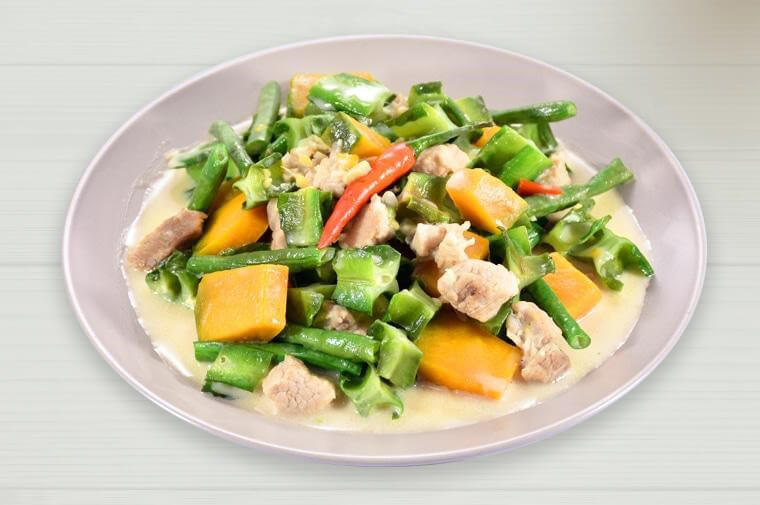 Ginataang Sigarilyas, Sitaw at Kalabasa
Pinoy style recipes are full of nutrients and rich flavor. Try this combination of sigarilyas, sitaw and kalabasa for a change. The coconut makes the whole dish richer and creamier in taste. Sitaw is a rich source of vitamins A, C, and K, as well as folic acid and fiber, while Sigarilyas and Kalabasa also contain many essential vitamins, including folate. Consuming such varied vegetables can help decrease the risk of adverse health conditions. Your kids will definitely appreciate the natural umami taste of this recipe.
Ingredients:
1/2 cup pork, cubed
1-piece onion, chopped
1 teaspoon garlic, chopped
1 teaspoon ginger, minced
1-2 pieces' chilies, chopped
1 teaspoon pepper, ground
1 teaspoon fish Sauce
1 cup sigarilyas, chopped
1 cup sitaw, chopped
1 cup kalabasa, cubed
3/4 cup water
3/4 cup coconut milk
1 cup coconut cream
1 1/2 packs (7grams) AJI-GINISA® Flavor Seasoning Mix
Procedure:
SEAR. In a hot pan pour vegetable oil. Add pork then sear until golden brown.
SAUTE. Add onion, garlic, ginger, and chilies. Sprinkle with pepper and add fish sauce.
BOIL. Add sigarilyas, sitaw, kalabasa and water. Let it boil.
SIMMER. Reduce your fire. Let it simmer for 5-10 minutes then add coconut milk and continue simmering. Add coconut cream and let it simmer until oil surfaces up and vegetables are tender.
SEASON with AJI-GINISA® Flavor Seasoning Mix and cook for another minute.
Serve while hot.
The Best Gulay Recipes with Ajinomoto!
Vegetables are filled with important nutrients you need to give to your kids. By creating these recipes, you can improve their health and promote good eating habits. The vegetables above are easy to acquire at any grocery near you. To make the meals more appealing, you can start by using a wide array of Ajinomoto products to help make all your meals savory, flavorful, and appealing. Visit Ajinomoto's Cookmunity if you're interested in more recipes and nutrition facts about your favorite meals.