Pinoy cuisine is a fusion of Asian and western cuisine that carries a lot of history, flavor, and diversity. Pinoy ulam recipes are a staple for any home. For Filipino culture, each family, province, and city has its own version of Filipino favorites. It's part of the Filipino culture to make these recipes unique with their own techniques, ingredients, and flavor. If you haven't tried Pinoy cuisine, you're seriously missing out on the unique flavors and textures that Pinoy cuisine explores.
Why Are Pinoy Recipes So Unique?
Pinoy cuisine easily captures the culture of Filipinos. Food is the centerpiece of many festivals and celebrations. You can say that Pinoy food combines western concepts and eastern traditions. You can find many variations of Pinoy ulam recipes from Chinese, Spanish, and American cuisine.
It started in the 11th century when Chinese traders would bring not only textiles and ceramics but also cooking techniques such as stir-frying and steaming. Many Pinoy dishes are inspired by traditional Chinese noodle soup dishes, spring rolls, and other steamed dishes.
Fast forward to the 16th century, the Spanish colonized the Philippines and introduced the Catholic religion to the locals. The colonization also introduced diverse flavors and spices. Fried rice from the Spanish incorporated the rich seafood that the Philippines boasts. This fusion created an entirely unique Pinoy recipe by using local resources.
Before the 19th century, the Philippines was colonized by the United States. This allowed the English language to be introduced to many Filipinos. Following the English language, Americans also spread pressure cooking, freezing, pre-cooking, sandwiches, salads, burgers, and fried chicken. These convenient cooking techniques has since then become part of Filipino cooking.
See, Hear, Smell, Touch and Taste Filipino Food!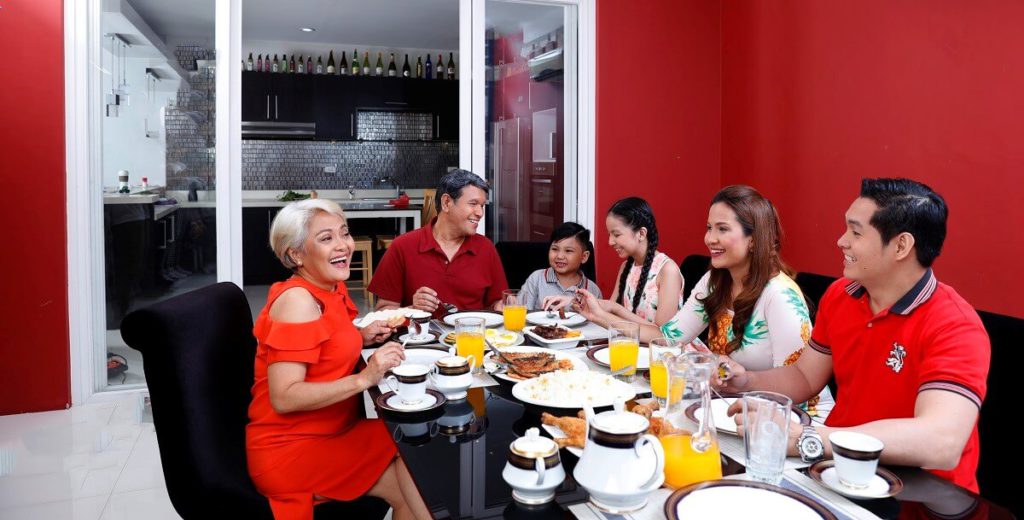 Filipino customs and traditions are revealed in how we use our five senses in cooking, serving, and eating. This makes the whole dining process a holistic experience.
SEE – For westerners, you eat with your eyes so plating is very important. However, Filipino Food like laing, bopis, balut, bagoong, etc. may not look as appetizing as a Lasagna, Greek Salad, and Mexican Tacos, but the sight of them are mouth-watering for most Filipinos.
HEAR – Dining, for Filipinos, is an avenue for catching up, sharing stories, and talking about random stuff. The dining experience becomes more alive when Filipinos talk about food while eating their meal. This gives an amplified appreciation on the food they're eating.
SMELL – Pandan leaves are often placed in rice before cooking giving it a fragrant aroma that makes it more appetizing. These are also used in making sugar syrup for Sago't Gulaman – a staple drink, elevating a simple syrup with pandan infused aroma & flavor. When smoking/grilling food, Filipinos wrap banana leaves to the food giving it a distinct smoky smell and flavor to the dish.
TASTE – Philippines is dubbed as a "Sawsawan Nation". An eatery set up usually offers bottled condiments such as soy sauce, vinegar, fish sauce, calamansi, chili, and toasted garlic. These elevate the taste of the dish rounding up the whole taste experience.
TOUCH – One true Filipino custom is the "Kamayan" wherein the manner of eating is by pressing rice and viand to firm it up through the use of hands (not with spoon/fork). Kamayan also resonates festive and bountiful meal. Rice is usually placed on the middle of a banana leaf topped with several viands (mostly grilled/fried).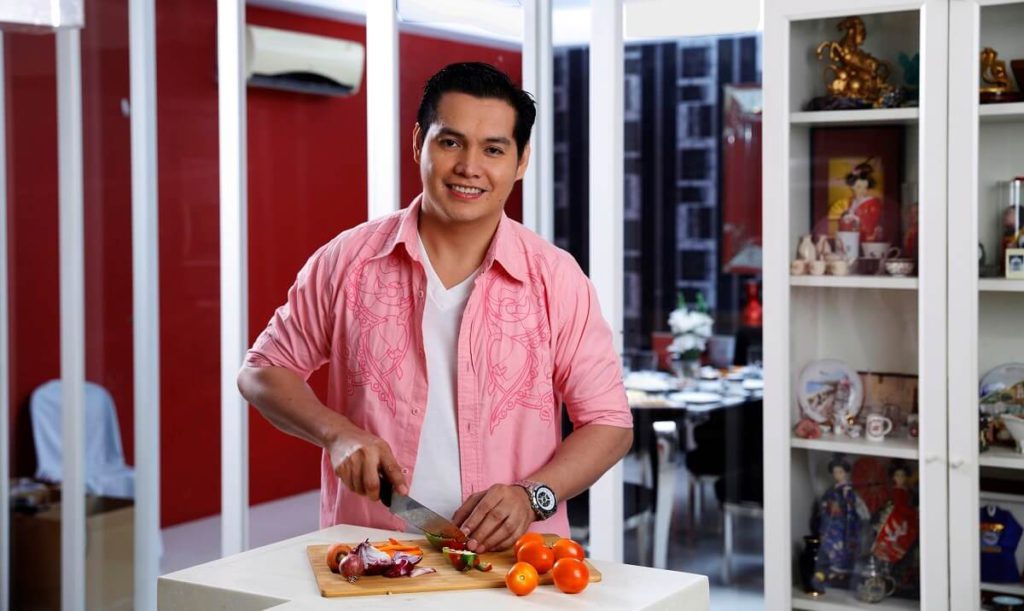 Understanding Pinoy Cuisine
Pinoy cuisine starts out with steamed rice. Steamed rice is a staple side dish for most Pinoy ulam recipes. Whether for gulay recipes or otherwise, it's a traditional base for any meal because it goes with anything. In the next section, we'll be talking about regional specialties in Pinoy cuisine that every Filipino household must try.
With over 7,000 islands and three island groups, every region in the Philippines has its unique dishes that were often shaped through cultural borrowing or indigenization.
An example of borrowings according to Doreen Fernandez, a renowned writer on local food literature, is no other than adobo. She said that "adobo" was derived from "adobado" which is a stewed meat dish in Mexico. However, she added that adobo would mean as a pickling sauce in Spain.
Here's our take on the traditional regional dishes from Pampanga, Iloilo and Maguindanao: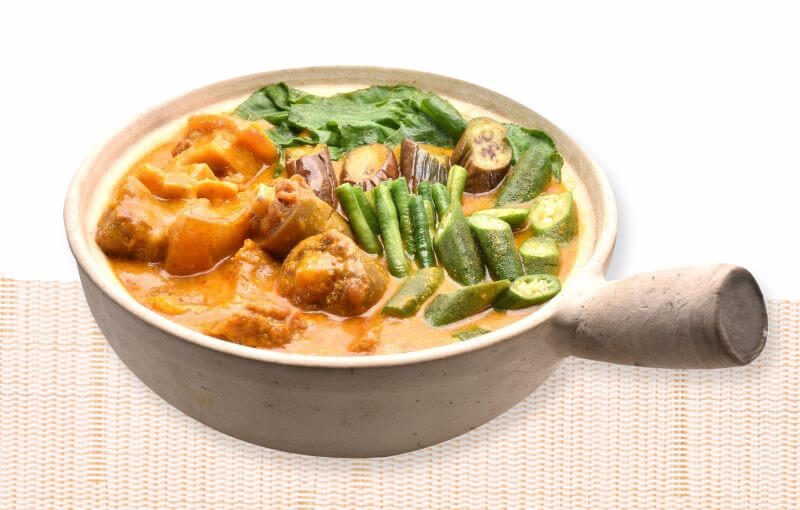 Kare Kare & Bagoong Rice
Kare Kare is a distinctly Filipino dish that is popularized by the region of Pampanga. The older versions of this stew consisted of ox tail or lean beef. But a lot of other regions created their own version with different ingredients. It's comforting, creamy, savory, and is best served with rice.
Ingredients:
KARE KARE
6 cups (1500ml) Water
1 1/2 cups (300g) Beef, cutlets
1 1/2 cups (300g) Beef, tripe
1 1/2 cups (300g) Beef, oxtail
1/2 cup (125ml) Cooking Oil
1/2 cup (130g) Red onion, sliced
2 tbsps (30g) Garlic, crushed
1 pack (7g) Aji-Ginisa® Flavor Seasoning Mix
1 1/2 cups (333g) Banana heart, chopped
2 cups (150g) Stringbeans, cut into 1″ pieces
1 cup (143g) Eggplant, sliced
1/4 cup (60ml) Cooking Oil
4 tbsps (52g) Achuete seeds
3/4 cup (78.6g) Ground toasted rice (Galapong)
1/2 cup (140g) Toasted peanuts, ground
BAGOONG RICE
2 tbsps (30ml) Cooking Oil
1 1/2 cups (360g) Bagoong gisado
12 cups (2040g) Rice, cooked
1/2 cup (50g) Green mango, strips
2 tbsps (30g) Shallots/Sibuyas Tagalog, sliced
Procedure:
BOIL. In a pressure cooker put water and boil beef cutlets, tripe, and oxtail until tender. Separate meat from the broth then set aside.
SAUTE. In a saucepan, heat oil, sauté onion, garlic, beef cutlets, tripe and oxtail. Add broth. Season with Aji-Ginisa® Flavor Seasoning Mix.
ADD & SIMMER. Add banana heart, string beans and eggplant. Simmer for 3 minutes. Set aside.
COOK, STIR & ADD. In a separate pan, heat vegetable oil and cook achuete seeds. Separate seeds from the achuete oil then set aside. In a casserole, put achuete oil, add ground rice and ground peanuts. Stir continuously to avoid from sticking with one another. Add sautéed beef and boiled vegetable, mix well.
SAUTE & MIX. For the Bagoong Rice, heat oil in a separate pan and sauté the bagoong gisado. Add the cooked rice and mix well. Top with Green Mango and Shallots. Serve Kare Kare with Bagoong Rice.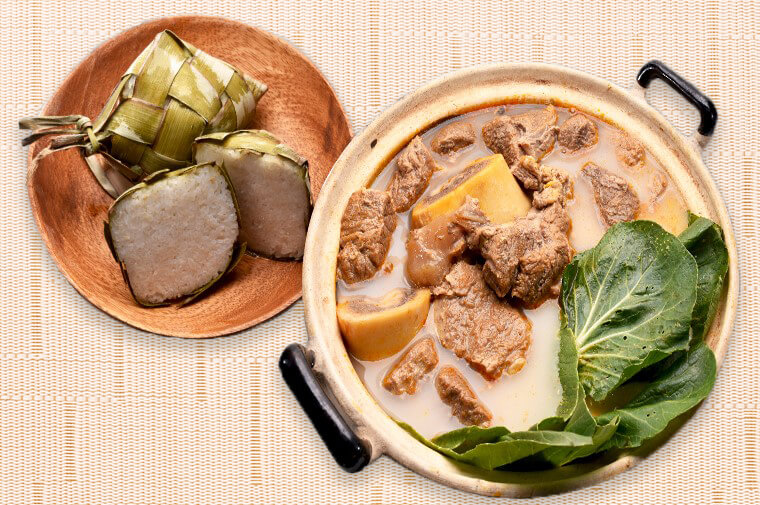 Cansi & Puso (rice wrapped in coconut leaves)
Cansi is the sour version of the Bulalo. It's a dish from Bacolod that's sour, spicy, and rich. It uses Batuan fruit which is native to the region as its main souring agent. This is an excellent source of protein and is rich with iron, phosphorus, zinc, and vitamin B12.
Ingredients:
CANSI
2 Liters (2000ml) Water
200g Beef Bones
1 pc (350g) Beef Shank
2 cups (500g) Beef Brisket, cubed
1 tbsp. (6g) Whole Peppercorns
5 pcs (40g) Lemon Grass Stalks, pounded
1 cup (170g) Batuan Fruit
1 pack (11g) AJI-NO-MOTO® Umami Seasoning
1/4 cup (60ml) Achuete Oil (Heat achuete seeds in oil, remove seeds and use the oil)
6 bundles (180g) Pechay Tagalog
PUSO
16 strips Coconut Leaves
4 liters (4000ml) Water
1 kilo Uncooked Rice
Procedure:
In a pressure cooker, boil water, beef bones, beef shank, beef brisket, whole peppercorns, lemon grass, and batuan fruit. Season the soup with AJI-NO-MOTO® Umami Seasoning and continue boiling for 1 hour.
DISCARD & ADD. Discard lemon grass stalks and beef bones from the soup then add atchuete oil and pechay. Boil for 3 minutes. Set aside.
BOIL & STEAM. To make puso, weave a diamond-shaped container for rice using coconut leaves. Fill 2/3 of the container with the rice. Submerge in boiling water for 30 minutes or until cooked. Remove from water and set aside.
SERVE CANSI with PUSO and enjoy.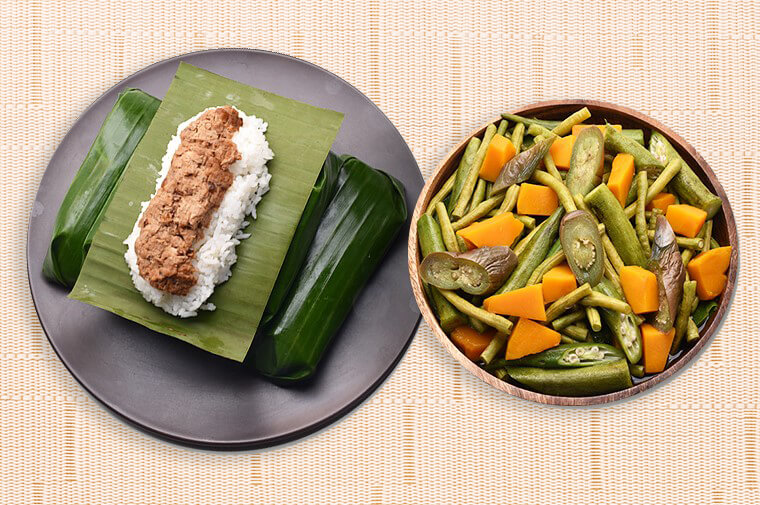 Pastil and Lawot Lawot
Pastil is a common dish that's loved by many, especially in Maguindanao. It's a meal of steamed rice with shredded chicken meat, all wrapped in a banana leaf. This dish, which is dubbed as a "Poor Man's Meal," is very easy to make but still very flavorful.
Ingredients:
PASTIL
2 Tbsps. (30ml) Cooking Oil
2 Tbsps. (20g) Red Onion, chopped
1 Tbsp. (12g) Garlic, minced
2 cups (400g) Chicken Breast, boiled, flaked
1 Tbsp. (15ml) Soy Sauce
1 Tbsp. (15ml) White Vinegar
1 pack (30g) Sarsaya® Oyster Sauce
1 tsp (3g) Ground Black Pepper
5 cups (850g) Cooked Rice
5 sheets Banana Leaves
LAWOT LAWOT
1 1/4 liters (1250ml) Water
1 cup (200g) Okra
2 cups (160g) String Beans, cut into 1″ length
1 cup (130g) Squash, cubed
2 cups (160g) Eggplant, wedges
2 cups (70g) Saluyot leaves
1 pack (8g) Chickensavor™ All-in-one Seasoning Mix
Procedure:
In a pan, heat oil. Sauté onion, garlic, and flaked chicken. Add soy sauce, vinegar and Sarsaya® Oyster Sauce. Add ground black pepper. Simmer for 5 minutes then set aside.
On a banana leaf, assemble rice and sautéed flaked chicken. Fold 4 sides to wrap and seal tightly. Set aside.
To cook Lawot Lawot, boil water in a pot, add okra, string beans, squash, eggplant and saluyot leaves. Season with Chickensavor™ All-in-one Seasoning Mix.
SERVE Pastil with Lawot Lawot and enjoy.
Your Favorite Pinoy Ulam Recipes Made Better with Ajinomoto
If you want to add that extra flavor of umami to your Pinoy ulam recipe, give it a pinch of Ajinomoto Vetsin. Ajinomoto has a complete line of food and seasoning products you can use to create better dishes at home. Click here for more recipes and blogs, created just for you!