It has been a perception for some consumers that healthy food is more expensive. This idea may have drove some people to opt for cheaper and lower quality food. Financial concern is just one of the many factors that affect the consumer's belief. When it comes to preparing healthy recipes in the Philippines, nutritious meals do not have to be costly. It could be challenging sometimes and would require you to exert an effort as compared to just grabbing a calorie-dense and low nutrition food. But this should not stop you from eating well. There are a number of ways on how you can prepare a healthy meal. Before we delve into this, let's look into what makes a "healthy recipe."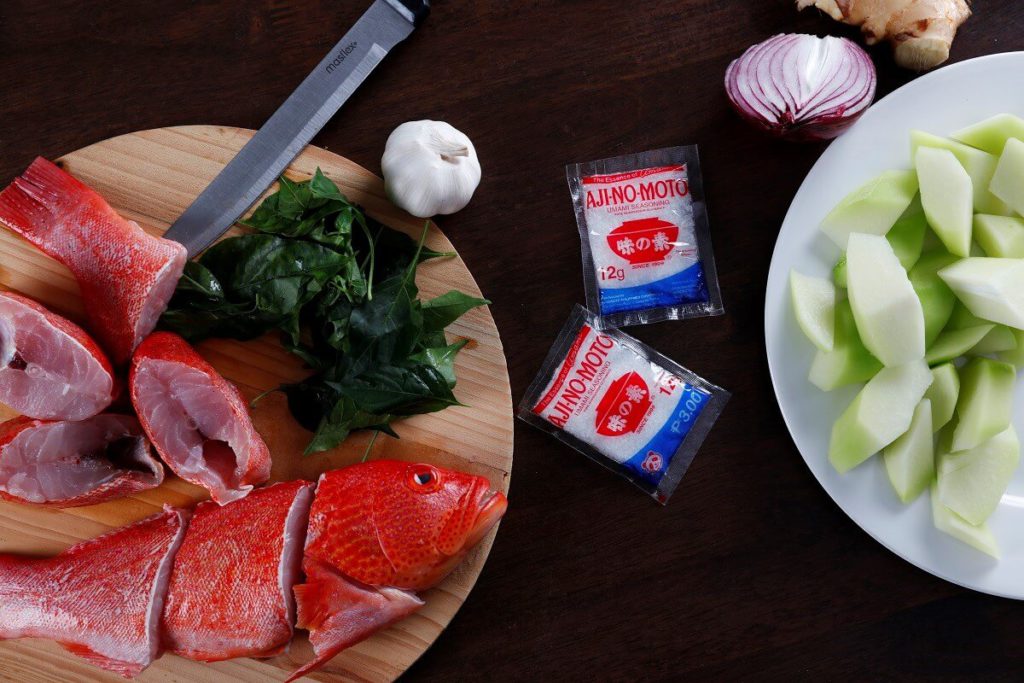 What makes a healthy recipe?
The first question you should ask is what makes a recipe healthy? The short answer is simple: a balanced plate filled with vegetables, fruits, whole grains, and healthy protein. In conjunction with that, Ajinomoto has collaborated with the DOH, DOST-FNRI, and the Dep-Ed to start the Mag-Pinggang Pinoy® Tayo program. This program aims to address the problem of malnutrition among Filipinos by raising awareness and promoting the practice of Pinggang Pinoy©.
Pinggang Pinoy© is an easy-to-understand food guide showing proper food group portioning on a per-meal basis. This reflects the principles of balance, variety and moderation to promote healthier eating habits. Malnutrition traps such as overconsumption of carbohydrates and proteins are commonplace among Filipinos, so people must take note of the adjustments they need to make to their diet. More vegetables please!
Even Filipina food educator and chef, Aileen Suzara had something interesting to say regarding this topic. She said that we needed to "look into our history to find connections with the way we eat and how it has changed" in order to learn how to make modern healthy Filipino recipes.
So what does our history say? Back in the day, Filipinos relied on traditional cooking methods that focused on boiling, grilling, and steaming food for their daily nutritional needs. These cooking methods preserved the nutritional integrity and content of vegetables that is why they were so healthy. The lack of meats such as pork and beef (fish was very much abundant) was another feature of early Filipino cuisine. Compared to the more modern style of Pinoy cooking, it is safe to say that we have slightly veered away from our roots.
To help incorporate the tenets of Mag-Pinggang Pinoy® Tayo program to your meals while going back to your culinary roots, here are three healthy recipes from the Philippines that are sure to invigorate your life.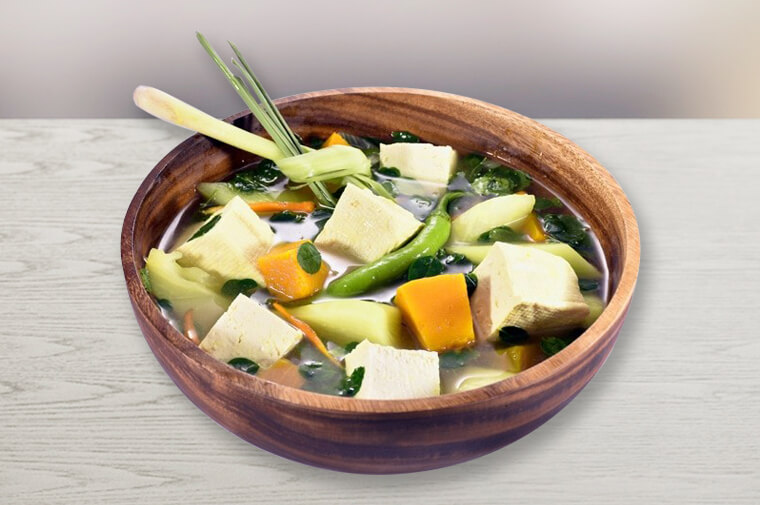 Silken Tofu Tinola (Boiled)
Tinola is one of the most popular healthy recipes from the Philippines. It's no wonder Filipinos love this dish. It's warm, yummy and should provide all the nutrients your body requires to stay healthy. This is thanks to the ginger and malunggay leaves that are present in the dish. Malunggay, also known as 'Moringa' in English, is rich in vitamins and minerals such as vitamin B6, vitamin C, and iron. Meanwhile, Ginger has a bioactive compound called 'Gingerol' which has notable anti-inflammatory and antioxidant health benefits.
However, there is a little-known method to turn your regular tinola into an even more healthy super dish. You can do this by replacing the common chicken ingredient with silken tofu.
Ingredients:
1 tablespoon Oil
1 tablespoon Ginger (thinly sliced)
1/2 tablespoon Red Onion (chopped)
1 teaspoon Turmeric (thinly sliced)
1 stalk Lemongrass (1 stalk then mush the edge)
1 tablespoon Fish sauce
4-6 cups Chicken stock or water
2 cups Papaya (chopped)
2 cups Squash (chopped into cubes)
1-piece Green chili (whole)
1 cup Silken Tofu (cut into cubes)
1 cup malunggay leaves
1 pack CHICKENSAVOR™ All-In-One Seasoning Mix
Malunggay fruit (optional)
Procedure:
SAUTE. In a medium hot pot, saute ginger, turmeric, onions, lemongrass in oil for few minutes.
ADD light fish sauce; stir in for a few more minutes.
ADD pumpkin, malunggay fruit and papaya. Pour broth until vegetable are soft but not soggy. Put in green chili and tofu and continue to simmer to another 5 minutes. Turn off the fire and place the malunggay leaves on the top of the cooked tinola.
Tinola is best served hot to maximize its heart and stomach warming effects that is sure to make your day just a little bit better. Enjoy!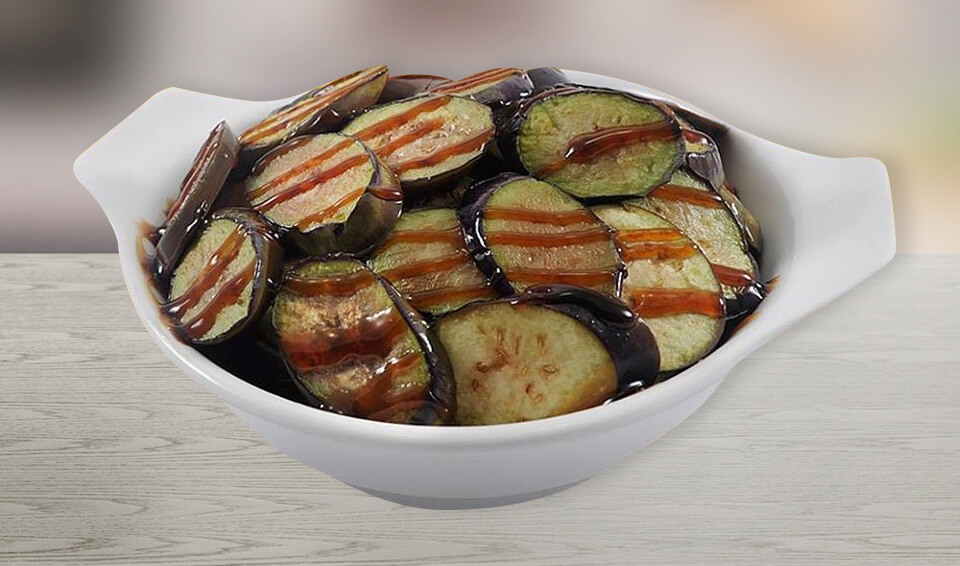 Adobong Talong (Grilled/ Fried)
Adobo is a definite food staple for most Filipinos, and one way to make it healthier is by turning it into a veggie dish that is sure to be a hit. It's a fairly simple recipe with just a couple of steps so it's very time-friendly for people with not a lot of time on their hands. Try pairing it with a fried egg to add a protein boost, and to make it even yummier.
Ingredients:
6 teaspoons (30g) Cooking oil
2 teaspoons (10ml) Soy sauce
1 tablespoon (5g) Brown sugar
1 1/2 teaspoon (7.50ml) Water
1 tablespoon (5ml) Calamansi juice
1 pack (30g) Sarsaya® Oyster Sauce
5 pieces (500g) Eggplant, sliced diagonally
Procedure:
FRY. Pour oil on a hot pan and fry the eggplant pieces. Drain excess oil by placing the pieces on a plate laid with tissue paper or drain using a strainer or colander. Set aside.
MIX. On a separate bowl, mix 1 pack of Sarsaya® Oyster Sauce, soy sauce, calamansi juice, brown sugar and water. Drizzle the sauce or totally mix with the eggplant. Serve while hot.
Remember, eggplants easily darken when exposed to air, so cook it right after cutting it up. If you're not going to immediately fry or grill the eggplant, be sure to soak it in water to prevent darkening.
Ginisang Tuna and Sigarilyas (Sautéed)
Tasty, healthy, and budget friendly. These are words that should be associated to any food you are going to cook at home. This is the reason why the Ginisang Tuna and Sigarilyas is perfect for you. Tuna is high in omega-3 fatty acids and has micronutrients that can help you reach your daily needs. Meanwhile, sigarilyas is also quite similar to tuna in that it also has high protein and micronutrient content, especially Vitamin C.
The two ingredients make for a super dish of sorts that fits perfectly with our healthy theme.
Ingredients:
½ cup Water
¼ teaspoon Salt
½ cup Onion, sliced
1 tablespoon Fish sauce
2 tablespoons Vegetable oil
¾ cups Tomatoes, chopped
2 tablespoons Garlic, minced
2 teaspoons Calamansi juice
1 1/3 cups Kalabasa, cut into thin pieces
4 ½ cups Sigarilyas, cut into thin pieces
1 cup Canned tuna flakes in brine, drained
1 pack (7 grams) AJI-GINISA® Flavor Seasoning Mix
¼ teaspoon Ground black pepper (optional)
Procedure:
SAUTE. Heat oil in a pan then sauté onions, garlic, tomatoes and tuna then season with calamansi juice. Add kalabasa and sigarilyas.
SEASON AND SIMMER. Add water, season with fish sauce, AJI-GINISA® Flavor Seasoning Mix, salt and pepper. Simmer for 10 minutes until vegetables are cooked, Serve.
Your Favorite Filipino Dishes Made Better with Ajinomoto!
Did you know that AJI-NO-MOTO® Umami Seasoning, commonly known as Ajinomoto vetsin in the Philippines, can make your recipes healthier? That is because when you add a little bit of MSG to your dishes, you can cut back on salt and still achieve sought after deliciousness of Pinoy Ulam Recipes.
Whether it's gulay recipes or otherwise, do not miss the chance to make your favorite healthy recipes in the Philippines taste and feel better with Ajinomoto! Whether it's your favorite Tinola or Adobo, AJI-NO-MOTO® UMAMI SEASONING is sure to give it that umami flavor you love. Eating vegetables don't have to be a bland experience. With Ajinomoto, you can avoid common malnutrition traps while eating delicious food! If you want to be part of our Cookmunity, click here!