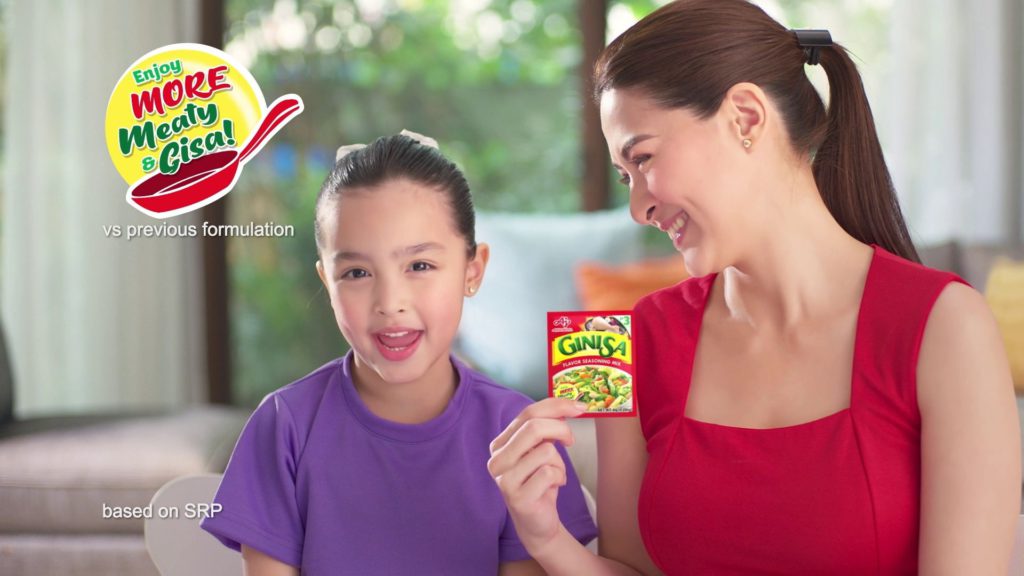 It's been 30 years since AJI-GINISA® was first introduced in the Philippines. As the first flavor seasoning in the country that provides complete gisa deliciousness, AJI-GINISA® changed the way Filipinos cook sumptuous homemade meals for their families. Three decades ago, AJI-GINISA® brought the gisa taste of garlic, onion, meat, and seasonings in an easy-to-use package. Today, as the well-loved flavor seasoning turns 30, the Ajinomoto Philippines Corporation (APC) Group proudly launches a new and improved version—now made 'more meaty, more gisa" in an 8g pack retailing only P3.00 (SRP). "We are grateful to be a kitchen staple in Filipino household for the past 30 years. It's both humbling and a delight to know that AJI-GINISA® plays an important part of families' bond over delicious food. With the improved Aji-Ginisa®, we wish that more families, especially the young ones, to eat nutritious meals, which should do wonders in these challenging times," said Roann Co, Ajinomoto General Manager of Marketing and Public Relations. As part of the celebration, the APC Group is also excited to welcome the newest member of the Ajinomoto family: Zia Dantes, the adorable daughter of the brand's long-time brand ambassador and superstar Marian Rivera-Dantes. Zia is the perfect endorser for the new and improved AJI-GINISA®, as she embodies the brand's mission of encouraging fellow kids to eat nutritious, yummy food, made possible through AJI-GINISA®. It's fitting to have the mother-and-daughter tandem of Marian and Zia as they capture what AJI-GINISA® has been doing for years—making it easier for parents to have their kids eat more vegetables. Launched in 1991, the AJI-GINISA® has always been the "secret ingredient" that makes any stir-fried vegetable meal taste appealing to kids and adults alike. With just a few sprinkles of AJI-GINISA®, ordinary veggies become extraordinary dishes. The reason behind this is the product's powdered form that makes it easier to apply to any dish. While AJI-GINISA® is perfect for stir-fried dishes, it is also perfect for fried rice, fried egg, and fried fish among others. Its recent quality improvement will also give you improved overall deliciousness or 'umami', stronger gisa taste and enhanced meaty taste. AJI-GINISA®'s 30th year in the country is reflective of the brand's strong "Eat Well, Live Well" promise, helping Filipinos enjoy nutritious and delicious meals through the years. With the new and improved AJI-GINISA®, the brand also hopes to enjoin more families, especially kids, to live a healthier lifestyle. "What an amazing 30 years it has been for AJI-GINISA®. We are humbled to have been embraced by Filipino homes through the delicious meals that AJI-GINISA® helped cook. We look forward to being part of more memorable and happy moments for the family around the dinner table," Co shared. For more information about AJI-GINISA® (including gisa goodness recipes), head on to COOKMUNITY by Ajinomoto Philippines Facebook page: https://www.facebook.com/CookmunitybyAjinomotoPH/
***
The Ajinomoto Group is a global company with specialties in the business of food and amino acids, guided by our leading-edge bioscience and fine chemical technologies.
Based on the corporate message "Eat Well, Live Well.", we have been scientifically pursuing the possibilities of amino acids in supporting the healthy lives of people all around the world. We aim for future growth and continuous contribution to greater wellness by creating value through sustainable and innovative solutions for communities and society.
The Ajinomoto Group has offices in 35 countries and regions, and sells products in more than 130 countries and regions. In fiscal 2018, sales were 1.1274 trillion yen (10.1 billion U.S. dollars). To learn more, visit www.ajinomoto.com.