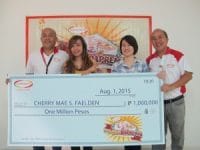 Cherry Mae Faelden of Cagayan de Oro is a millionaire at 19 years old. This is after she won the one (1) million grand prize of the Ajinomoto Big-time Papremyo raffle promo. Cherry Mae is a senior college student taking up BS Education.
According to the grand winner, they were able to send hundreds of entries because they use AJI-NO-MOTO® Umami Seasoning and PORKSAVOR® in the carinderia successfully run by her Nanay since 2007.
Cherry Mae plans to use her winnings to add capital to their carinderia business, reconstruct their home and support the education of her siblings.
The raffle draw was held last June 8, 2015 under the supervision of Food and Drug Administration (FDA) Representative Miss Jozenith Ecat. Four (4) people from Caloocan City, Laoag City, Bohol and Misamis Oriental were also luckily picked from the raffle entries and each won 100,000 pesos. While total of eight (8) people from NCR, Luzon, Visayas and Mindanao were named recipients of 25,000 pesos each.
To make tasty and healthy dishes using Ajinomoto Products that can make you feel like a winner, visit www.ajinomoto.com.ph.