As it looks to help the country produce more scientists, Ajinomoto Philippines Corporation is opening its application for its 2023 postgraduate scholarship in Japan to deserving Filipino students who need financial assistance as they pursue higher education in the field of science.
The grant is part of the Ajinomoto Scholarship for ASEAN+ONE International Students program which enables students from six countries–Thailand, Indonesia, Malaysia, Philippines, Vietnam, and Russia–to pursue a master's course in one of Japan's top universities.
"The Ajinomoto Scholarship Foundation, which is now called Ajinomoto Scholarship Society, was established in 1957 because of our founders' firm belief that society cannot prosper without the development of science. The purpose is to lend academic resources to university students and graduate students who major in the field of science and technology, to foster scientists who can contribute to society in the future, and to contribute to the development of academic research without the burden of financial obligations," says Hironori Aoki, APC's Group Director for Marketing, Sales and Public Relations.
Filipino students who will qualify for the scholarship program will have an opportunity of a lifetime as the scholarship will cover their examination, admission, and tuition fees in full. Additional benefits of the grant include airfare and a monthly allowance.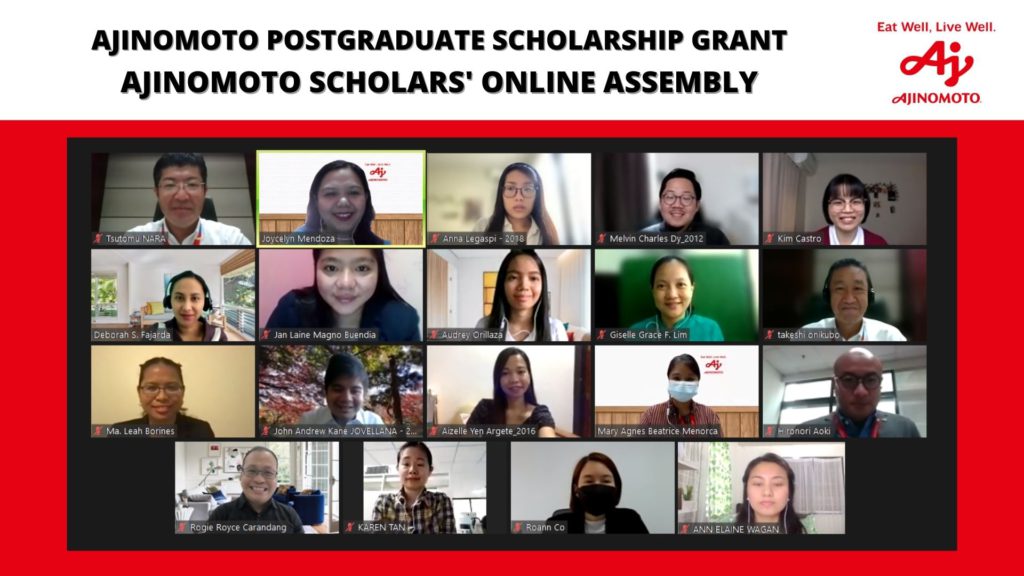 As proof of the Ajinomoto Postgraduate Scholarship Grant's success in helping students pursue excellence in the field of science, Ajinomoto recently held its first-ever scholars' assembly where the beneficiaries gathered together virtually and shared stories of how the scholarship helped them turn their dreams to reality. While the present scholars are busy with their research papers and experiments, the alumni of the Ajinomoto Scholarship Program were likewise very active in advancing science and technology in various communities in the United States, Japan, China and the Philippines. This includes Aizelle Yen Argete who is currently a university researcher at the University of the Philippine Los Baños' Institute of Plant Breeding and John Andrew Kane Jovellana who is currently studying at the University of Tokyo.
"Earning a prestigious scholarship like the Ajinomoto scholarship helped me fulfill my personal goals and I'm very thankful on the high quality education that I received from my study in Japan that improved my knowledge and further honed my skills especially in research that would definitely help my current workplace now and hopefully our country in the future," shares Argete, the grant recipient in 2016.
"I learned so much from living independently in the community, especially at the Department of Nuclear Engineering where I am the only Filipino so I'm really immersed in the international setting. I'm really grateful for Ajinomoto's scholarship for this once in a lifetime opportunity," adds Jovellana, the 2020 grant recipient.
True to its Eat Well, Live Well promise, the scholarship grant reflects Ajinomoto's commitment in contributing to Filipino's greater wellness through programs that empower scientists in constant pursuit of innovations for good health.
"We believe that with your talent, passion and brilliant mind, you each have ideas to contribute to the improvement of health and wellness of Philippine society," says APC Group President Tsutomu Nara in his inspirational speech for the past and current scholars.
Applicants of the 2023 Ajinomoto postgraduate scholarship grant must be a Filipino citizen under the age of 35 on April 1, 2022 and must have completed or expect to complete their bachelor's degree with an excellent academic record. A recommendation from his or her university president and academic advisor is also required as well as undergoing adequate Japanese language proficiency training. Deadline for application is set in March 1, 2022.
To see more details about the scholarship opportunity, please visit https://www.ajinomoto.com.ph/whats-new-archive/2023-ajinomoto-postgraduate-scholarship-grant/. 
***
The Ajinomoto Group is a global company with specialties in the business of food and amino acids, guided by our leading-edge bioscience and fine chemical technologies.
Based on the corporate message "Eat Well, Live Well.", we have been scientifically pursuing the possibilities of amino acids in supporting the healthy lives of people all around the world. We aim for future growth and continuous contribution to greater wellness by creating value through sustainable and innovative solutions for communities and society.
The Ajinomoto Group has offices in 35 countries and regions, and sells products in more than 130 countries and regions. In fiscal 2018, sales were 1.1274 trillion yen (10.1 billion U.S. dollars). To learn more, visit www.ajinomoto.com.