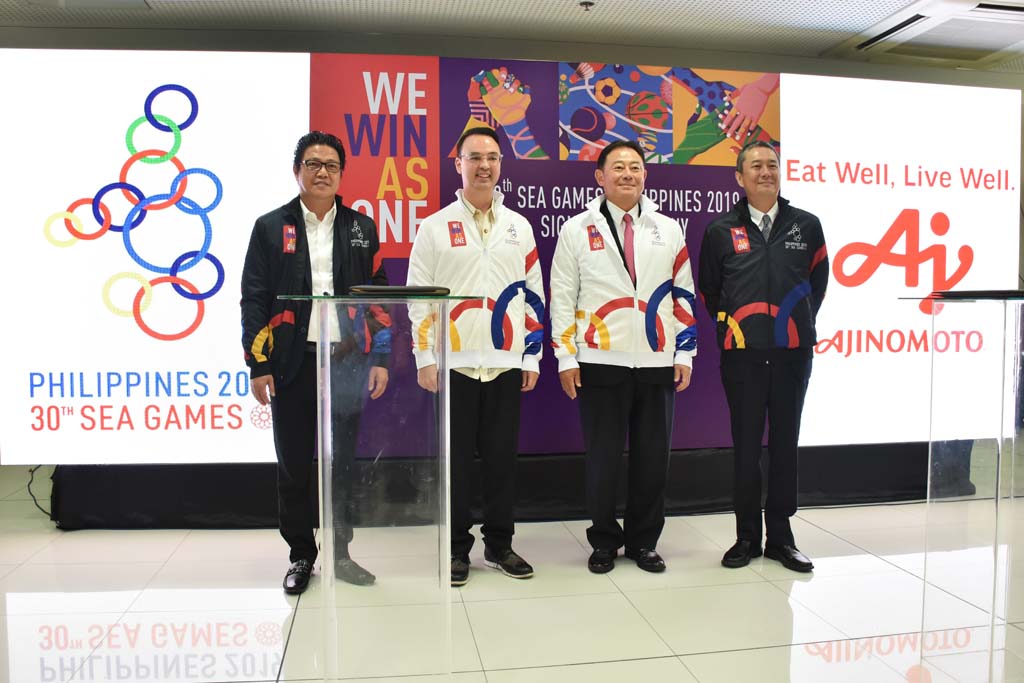 MANILA, 6th March, 2019 – Ajinomoto Co., Inc. (AJICO) has signed an agreement to become a major sponsor for the 30th Southeast Asian Games (SEAG), which will be staged in the Philippines from November 30 to December 11, 2019.
This is the second time in a row that Ajinomoto Co. will be a sponsor of the highest tier in SEAG. The 2019 SEAG, participated by 11 countries in Southeast Asia, is touted to be the biggest in history with 56 sports and 523 events.
The signing ceremony, held at Bonifacio Global City, Taguig, was headlined by Ajinomoto executives AJICO Corporate Vice President Mr. Kaoru Kurashima and Ajinomoto Philippines Corporation (APC) President Mr. Ichiro Sakakura, together with Philippine Southeast Asian Games Organizing Committee (PHISGOC) Chairman Mr. Alan Peter Cayetano and PHISGOC chief operating officer Mr. Ramon Suzara. The event was also graced by Embassy of Japan's Minister for Economic Affairs Mr. Makoto Iyori.
"We are delighted to have this opportunity to contribute to the success of this SEA Games, marking the close relationship between the Philippines and Japan," Kurashima said.
Ajinomoto Co. has been expanding its footprint in the sports area by promoting benefits of amino acids and sponsoring major sporting events. In 2016, the company was named as one of the official partners in the Tokyo 2020 Olympics and Paralympics games. The company jointly formed the Victory Project® with Japan Olympic Committee to stage series of events that highlighted sports nutritional guidance and amino acid conditioning of top-level Japanese athletes. This is done through Ajinomoto's Kachimeshi® ("winning meals") to support elite athletes in building winning physiques for optimum performance during international tournaments.
With its strong business presence and familiarity of local food cultures in the Philippines, Malaysia, Thailand, Vietnam, Indonesia, and Singapore, AJICO now seeks to broaden its reach particularly in sports. The Tokyo-based company hopes that by helping athletes achieve optimum nutrition through a healthy diet, it continues being a driving force in the advancement of food and health for the general public.
As an affiliate of the highest-ranked sponsor, Ajinomoto Philippines Corporation will take the cue to create "Winning Meals" through its local quality food products and services and introduce a new sports nutrition brand called Amino VITAL® to support homegrown athletes, as well as extensively promote better nutrition and active lifestyles among Filipinos.
Amino VITAL® is made of the highest quality amino acids that helps athletes with their hydration, endurance and recovery. It has become a trusted sports nutrition brand in countries including Japan, United States, Russia, Taiwan and Singapore.
The Ajinomoto Group is a global leader in amino acids thanks to its advanced bioscience and fine chemical technologies. Its products cover a range of fields such as seasonings, processed foods, beverages, amino acids, pharmaceuticals, and chemicals.
Since discovering "umami" (the fifth basic taste, created by glutamic acid, a type of amino acid) in 1908, we have been scientifically pursuing the possibilities of amino acids, and supporting the healthy lives of people all around the world. Based on our corporate message "Eat Well, Live Well" we aim for further growth and continuous contribution to greater wellness for people by creating value with communities and society.
The Ajinomoto Group has offices in 35 countries and regions, and sells products in more than 130 countries and regions. Its sales were 1.1502 trillion yen (10.3 billion U.S. dollars) in fiscal year 2017.
SEA Games MOA signing photos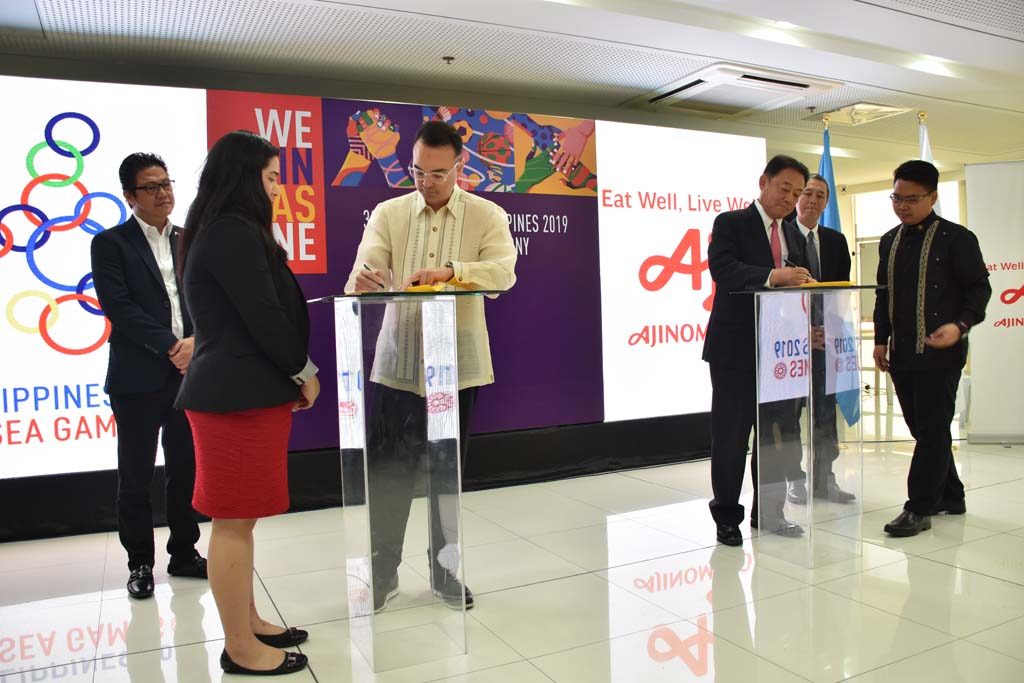 Philippine Southeast Asian Games Organizing Committee (PHISGOC) chairman Mr. Alan Peter Cayetano and Ajinomoto Co., Inc. (AJICO) Corporate Vice President Mr. Kaoru Kurashima sign the sponsorship pledge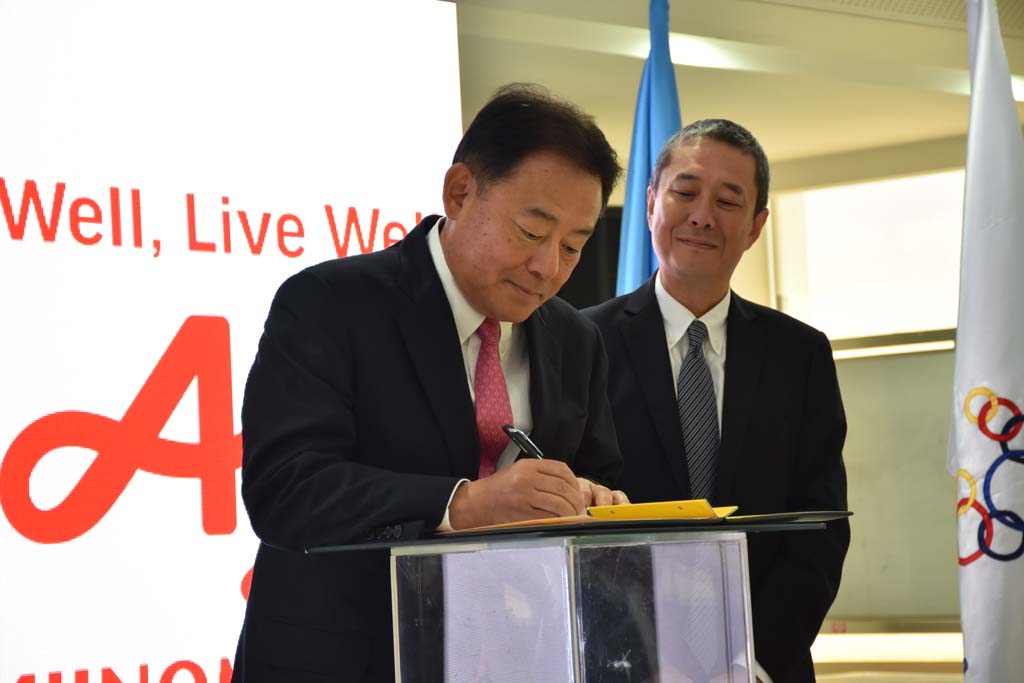 AJICO Corporate Vice President Mr. Kaoru Kurashima and APC President Mr. Ichiro Sakakura during the signing ceremony held in Bonifacio Global City, Taguig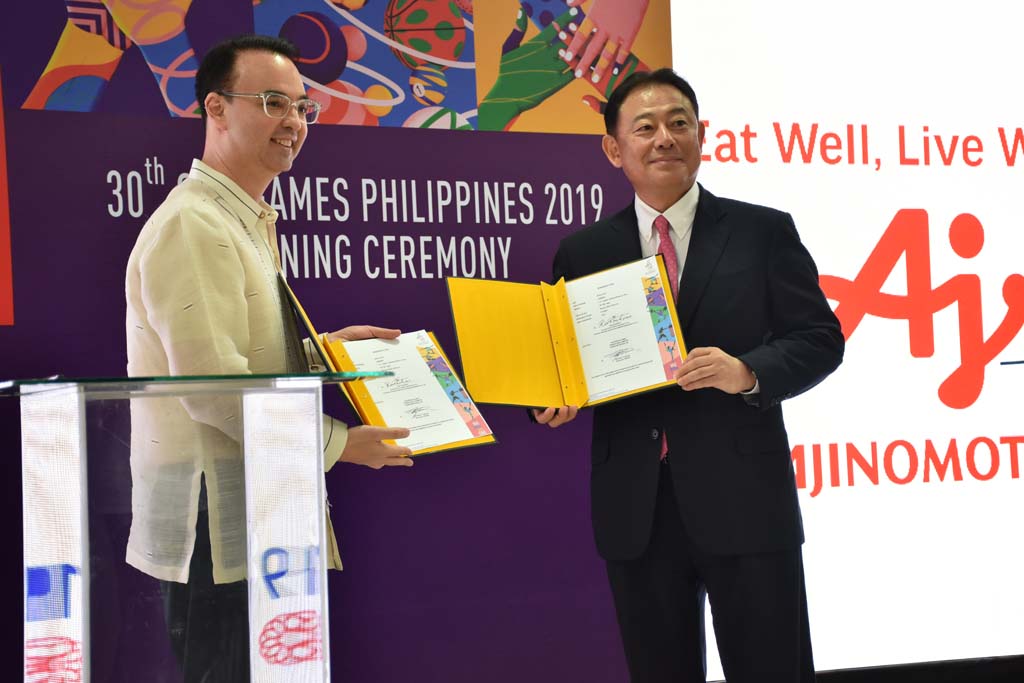 Philippine Southeast Asian Games Organizing Committee (PHISGOC) chairman Mr. Alan Peter Cayetano and Ajinomoto Co., Inc. (AJICO) Corporate Vice President Mr. Kaoru Kurashima presents the sponsorship pledge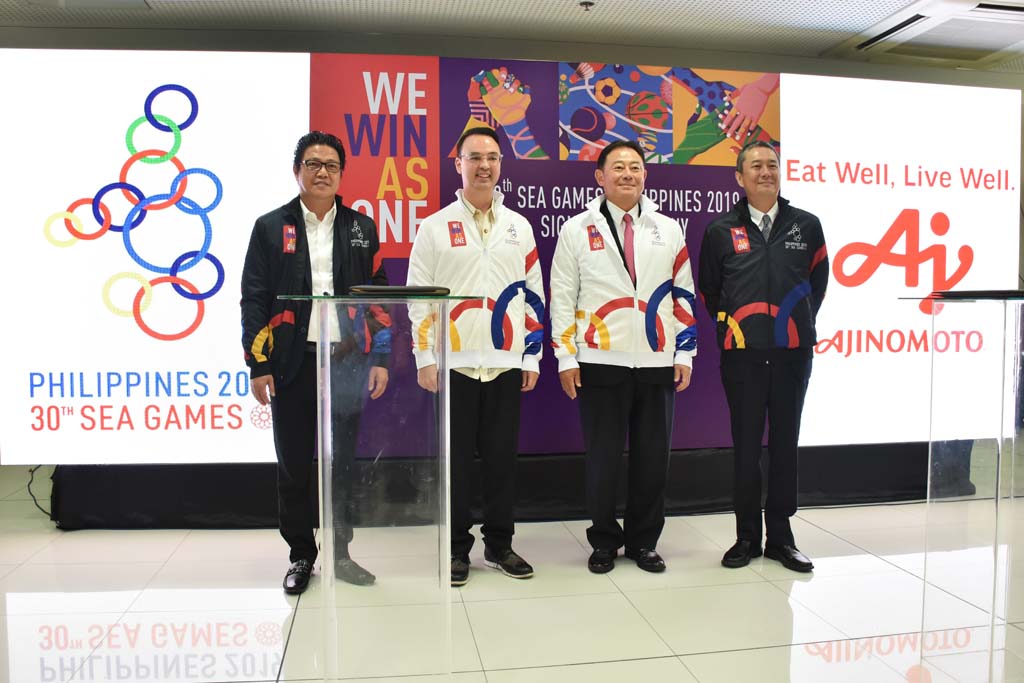 (From left to right) PHISGOC chief operating officer Mr. Ramon Suzara, PHISGOC chairman Mr. Alan Peter Cayetano, AJICO Corporate Vice President Mr. Kaoru Kurashima, and APC President Mr. Ichiro Sakakura wearing the SEA Games 2019 jacket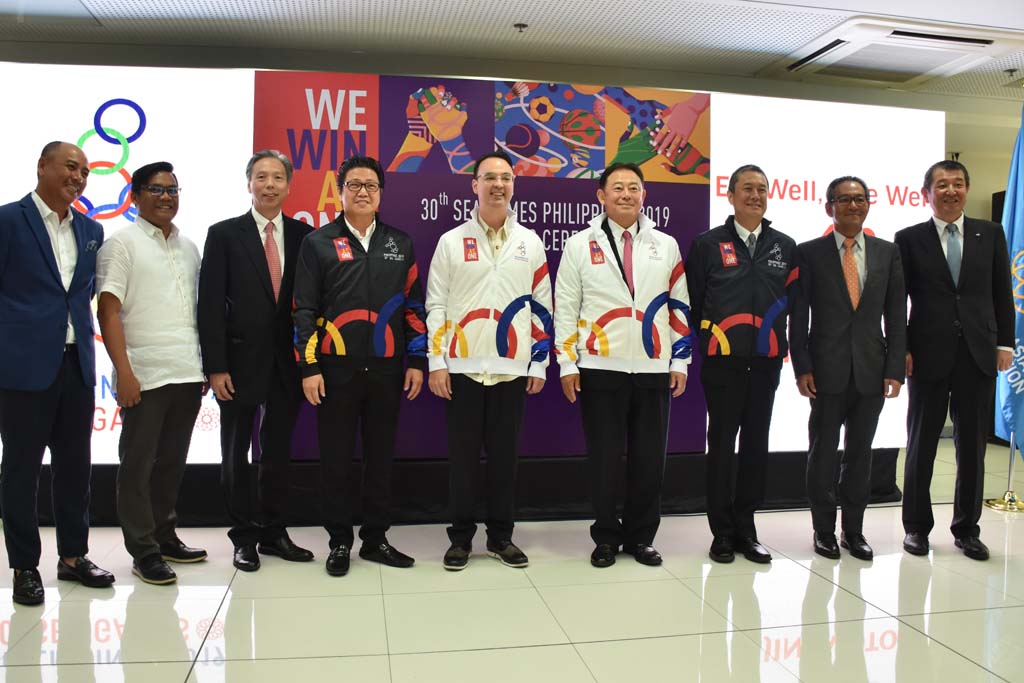 Photo session with Ajinomoto and PHISGOC executives. (From left to right) Mr. Jojit Alcazar (PHISGOC Director for Support Services), Mr. Marc Velasco (Chief of Staff, Office of the Chairman, Philippine Sports Commission), Mr. Andrew Ong
(Ajinomoto Philippines Corporation Board of Director), Mr. Ramon Suzara (PHISGOC chief operating officer), Mr. Alan Peter Cayetano (PHISGOC Chairman), Mr. Kaoru Kurashima (Corporate Vice President, Ajinomoto Co., Inc.), Mr. Ichiro Sakakura (Ajinomoto Philippines Corporation President), Mr. Makoto Iyori (Minister for Economic Affairs, Embassy of Japan in the Philippines), and Mr. Takashi Katagami (Ajinomoto Co., Inc., Olympic & Paralympic Promotional Office General Manager)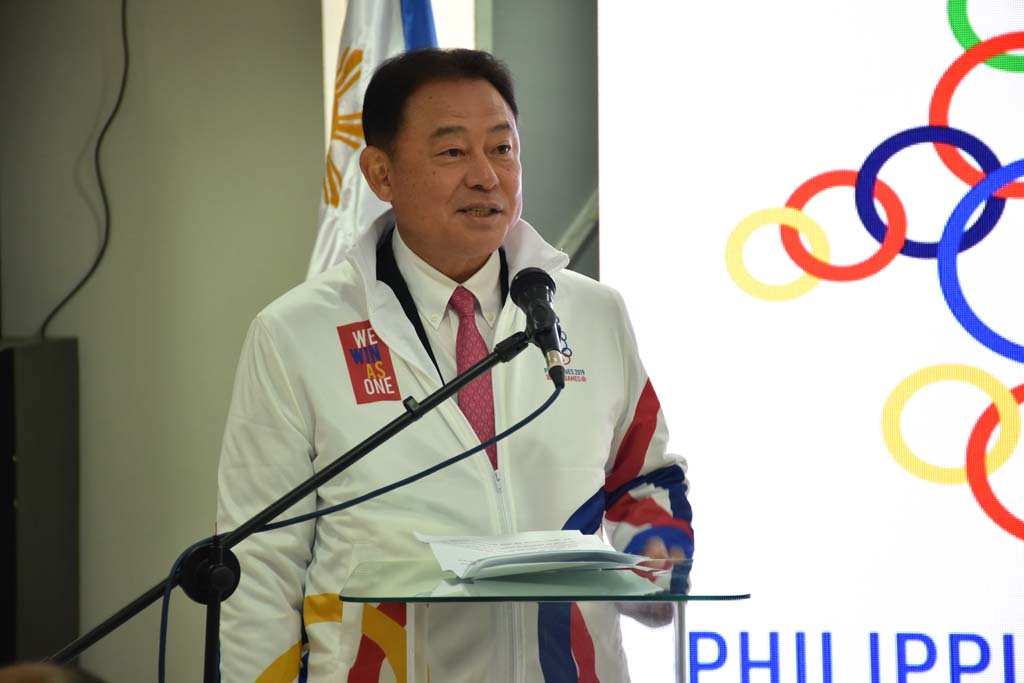 AJICO Corporate Vice President Mr. Kaoru Kurashima delivers his speech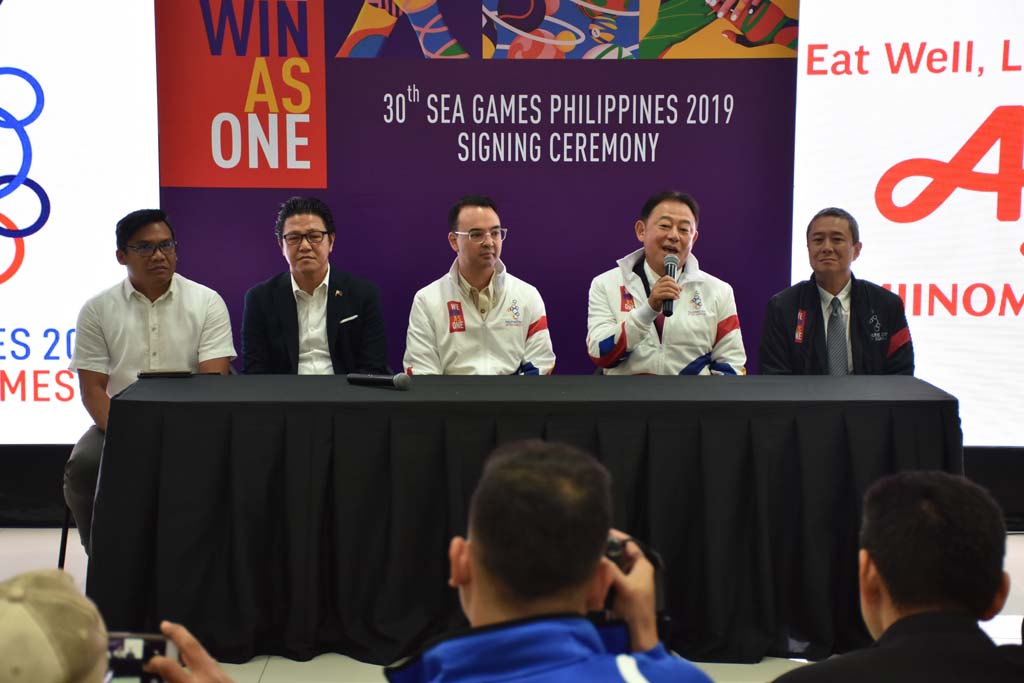 AJICO Corporate Vice President Mr. Kaoru Kurashima addresses a question from the media during the press conference held after the signing ceremony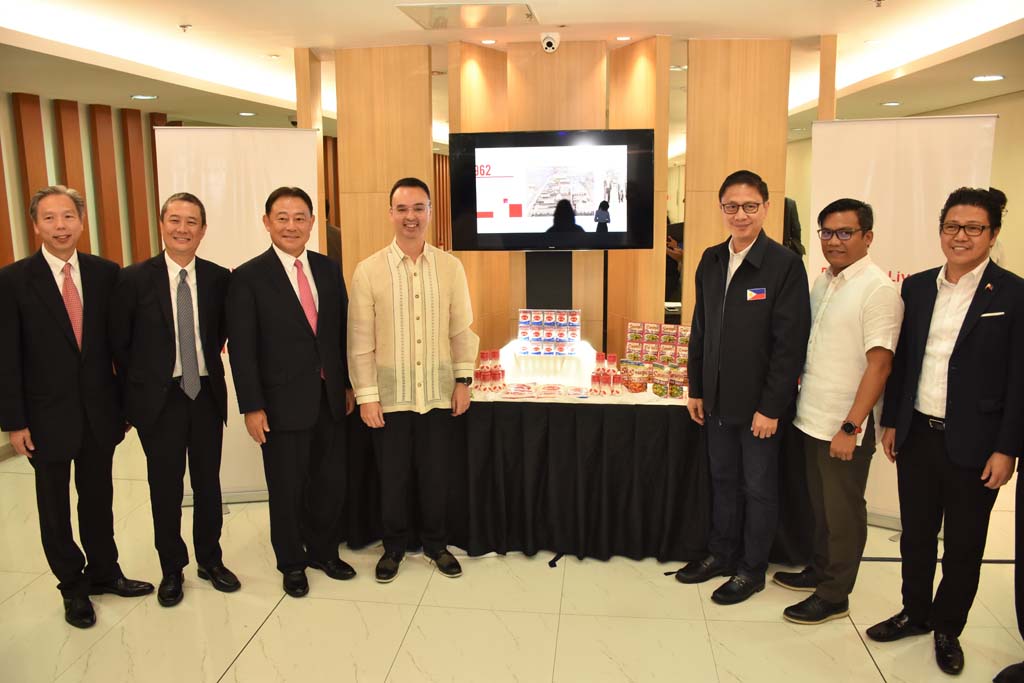 Photo session with Ajinomoto and PHISGOC executives. (From left to right) APC Board of Director Mr. Andrew Ong, APC President Mr. Ichiro Sakakura, AJICO Corporate Vice President Mr. Kaoru Kurashima, PHISGOC Chairman Mr. Alan Peter Cayetano, PHISGOC Director General Mr. Patrick Gregorio, PSC chief of staff (Office of the Chairman) Mr. Marc Velasco, and PHISGOC chief operating officer Mr. Ramon Suzara