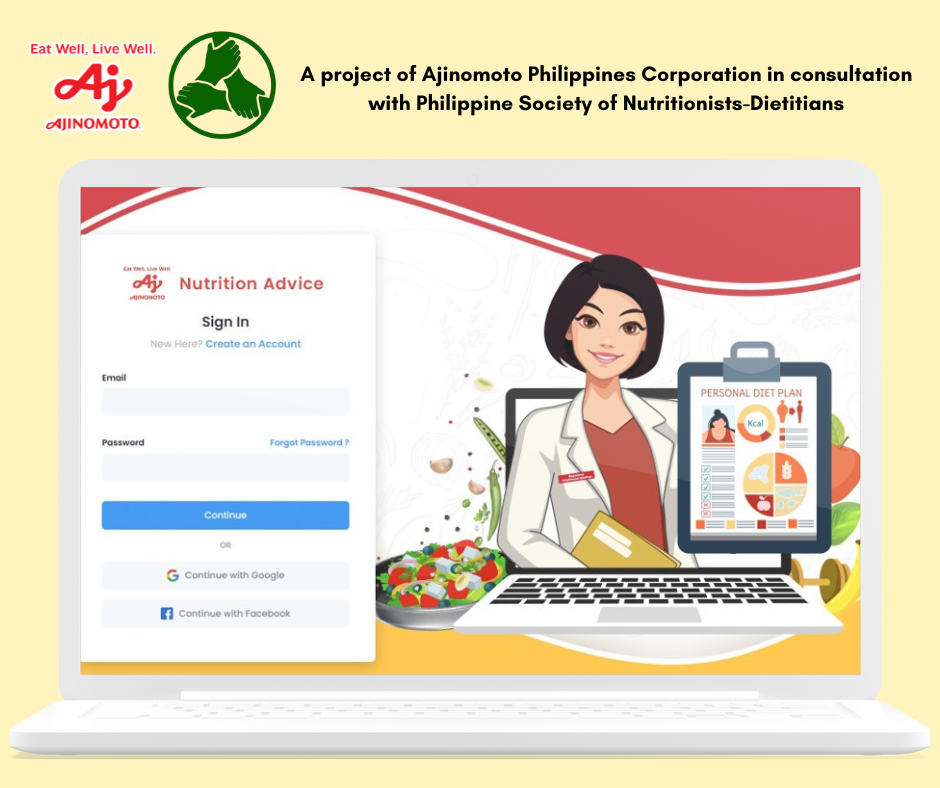 Teleconsultations became the norm during the onset of the pandemic but its popularity has not waned because of the convenience it brings to people seeking expert medical advice. Inspired by this innovation, Ajinomoto Philippines Corporation (APC Group), in consultation with the Philippine Society of Nutritionists-Dietitians (PSND), developed and recently launched the Nutrition Advice web app. The feature allows Filipinos to easily connect with nutrition experts wherever they are.
Nutrition Advice is a two-way digital communication tool where users can receive expert and personalized recommendations from licensed dietitians and lifestyle doctor. It is designed to provide nutritional advice related to weight management, diabetes, and hypertension.
"A lot of nutrition information are available online but since health is a very personal matter that requires dedicated discussions, we at Ajinomoto developed Nutrition Advice to help Filipinos easily connect with experts that can guide them in achieving their wellness goals," APC Group General Manager for Corporate Planning and Public Relations Roann Co said
The Nutrition Advice web app is part of Ajinomoto's efforts to actively address food and health issues in the Philippines. Aside from the web app, Ajinomoto is actively promoting balanced diet and sodium reduction through the BawAsin® campaign, an effort to encourage consumers to reduce their salt intake without sacrificing deliciousness. The Mag-Pinggang Pinoy® Tayo! Project which promotes the practice of Pinggang Pinoy®, an easy-to-understand healthy food plate guide for Filipinos.
These initiatives are testament to APC Group's commitment to its vision of leading in co-creation of better wellness by resolving food and health issues with sustainable initiatives.
These efforts are attuned to the Ajinomoto Group creating shared value (ASV) framework which directs the company to realize greater wellness for people around the world through thoughtful business activities.
"We at Ajinomoto are doing our best to be a solution-providing company for food and health issues. By developing Nutrition Advice, we hope to help more Filipinos to eat well and live well," Co said.
To access Nutrition Advice, visit https://nutritiondesk.cookmunitybyajinomoto.com/.
***
The Ajinomoto Group is a global company with specialties in the business of food and amino acids, guided by our leading-edge bioscience and fine chemical technologies.
Based on the corporate message "Eat Well, Live Well.", we have been scientifically pursuing the possibilities of amino acids in supporting the healthy lives of people all around the world. We aim for future growth and continuous contribution to greater wellness by creating value through sustainable and innovative solutions for communities and society.
The Ajinomoto Group has offices in 36 countries and regions, and sells products in more than 130 countries and regions. In fiscal 2021, sales were 1.1149 trillion yen (8.73 billion U.S. dollars). To learn more, visit www.ajinomoto.com.