Why Eat Breakfast?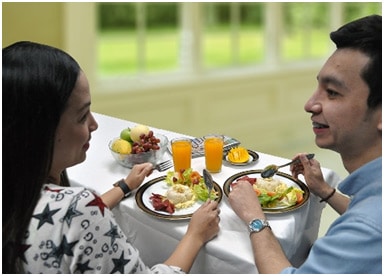 The answer is simple. To break the fast! We have been sleeping for about 8 hours and our body needs to be replenished and re-energized to conquer another day! Eating breakfast has lots of benefits and that includes enhancing memory and concentration, promoting weight loss and decreasing chance of overeating.
Eating breakfast can be a start of a healthy lifestyle. But, we must be wise enough in choosing our breakfast. Any food we eat regardless of the time of eating still contain calories, so we must always eat in moderation. Eating breakfast with moderate amount of fiber, carbohydrates and protein will make us stay full for longer period of time.
References:
http://www.health.harvard.edu ,  http://www.eatright.org
DISH OUT is lovingly served hot and fresh by Manelie Cruz, RND
Manel is Ajinomoto's Senior Specialist in Culinary Nutrition, she ranked 4th in the National Licensure Exam for Nutritionist-Dietitian and graduated with a Bachelor"s degree in Nutrition & Dietetics at the University of Santo Tomas and in Culinary Arts for Nutritionist-Dietitian at the Center for Culinary Arts. She is also an experienced Culinary Nutrition spokesperson who had Food Safety Specialization at ServSafe Foodsafety Manager Certification and is currently pursuing her Master"s degree in Public Health.