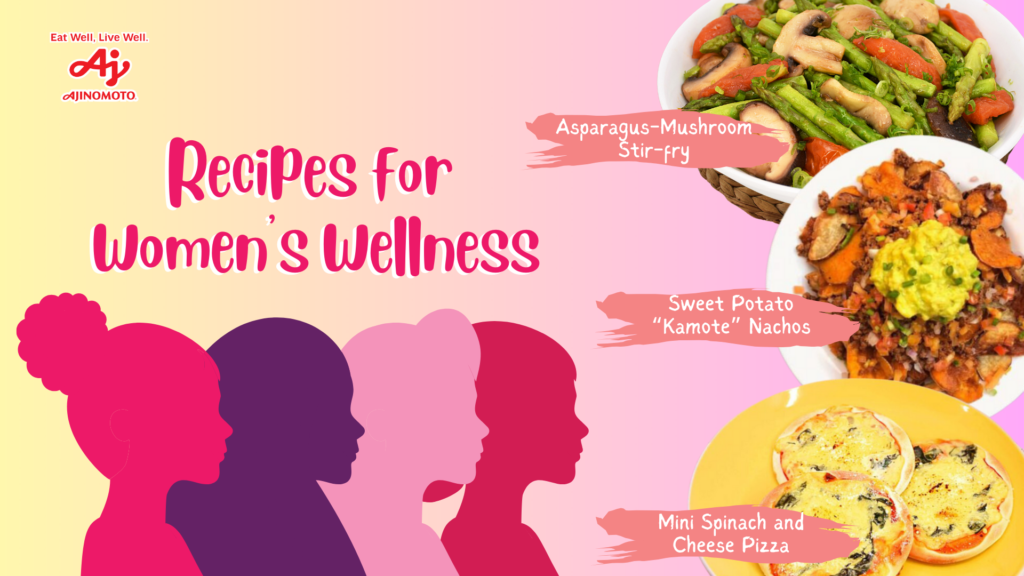 International Women's Month is celebrated every March, but every day is an opportunity to celebrate and express our love to the women in our lives. To strongly cap off the month-long celebration, Ajinomoto Philippines Corporation (APC Group) shares special recipes to better take care of women's health.
Proper nutrition plays a key role to help keep women's overall health. Below are some recipes that women can follow to lead a healthier life:
Asparagus-Mushroom Stir-fry
Asparagus is an excellent source of iron and folate, which is needed for the production and maintenance of healthy red blood cells. It is also rich in bone-building vitamin K.
This recipe features AJI-NO-MOTO® Umami Seasoning, a kitchen staple that brings out the savory-deliciousness of any kind of dish. Good to note that the brand has a new 45g size available in sustainable paper packaging as an option for earth-friendly consumption. Follow the recipe for Asparagus-Mushroom Stir-fry here.
Sweet Potato "Kamote" Nachos
This dish is rich in carbohydrates from sweet potato and protein from beef, beans, and cheese. Carbohydrates are good for energy and physical functions, while protein helps repair the body after injuries.
Sweet potatoes are also perfect for breastfeeding mothers because they are packed with vitamin A, an essential nutrient for infants. It aids newborn development and protects against infections.
The recipe is made ginisarap with AJI-GINISA® Flavor Seasoning Mix that provides meaty gisa deliciousness. See the recipe for Sweet Potato "Kamote" Nachos here.
Mini Spinach and Cheese Pizza
Spinach contains calcium, iron, and vitamin A to maintain bodily functions, including bone and muscle development. Vitamin E also reduces inflammation.
This dish uses PORKSAVOR® All-In-One Seasoning Mix. It is made from real pork extract and is complete with spices and seasonings. Make the Mini Spinach and Cheese Pizza by following the recipe here.
Eat Well, Live Well
"We at Ajinomoto do our best to uphold our Eat Well, Live Well promise. At the core of our mission is to better take care of our consumers' health. Kudos to women who do so much for their families and communities. We hope that through these recipes we help take care of them too so they can continue to be amazing and achieve their goals," says Roann Co, APC Group General Manager for Corporate Planning and Public Relations.
For more delicious and healthy recipes, visit Ajinomoto's Cookmunity website at cookmunitybyajinomoto.com.
***
The Ajinomoto Group is a global company with specialties in the business of food and amino acids, guided by our leading-edge bioscience
and fine chemical technologies.
Based on the corporate message "Eat Well, Live Well.", we have been scientifically pursuing the possibilities of amino acids in supporting the
healthy lives of people all around the world. We aim for future growth and continuous contribution to greater wellness by creating value
through sustainable and innovative solutions for communities and society.
The Ajinomoto Group has offices in 36 countries and regions, and sells products in more than 130 countries and regions. In fiscal 2021, sales were 1.1149 trillion yen (8.73 billion U.S. dollars). To learn more, visit www.ajinomoto.com.