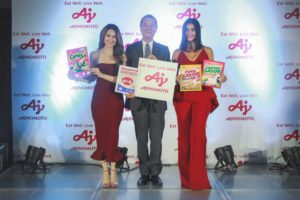 On its 60th year, Ajinomoto Philippines Corporation (APC) unveiled two big developments: the star-studded Aji Seasonings Series Campaign and the new Ajinomoto Group Global Brand Logo (AGB) – at the #AjinomotoBigDay event last May 25, 2018 at Oasis Manila.
The Aji Seasonings Series
The campaign brings together four Ajinomoto seasoning brands – AJI-NO-MOTO® Umami Seasoning, AJI-GINISA®, AJI-PORKSAVOR®, and AJI-CHICKENSAVOR® – and three of the country's biggest stars to provide Filipino families with an Ajinomoto seasoning for whatever kind of deliciousness they need whether in fried, saucy, or soupy dishes.
New AJI-PORKSAVOR® and AJI-CHICKENSAVOR® endorser Anne Curtis and AJI-GINISA® ambassador Marian Rivera made a special joint appearance at the #AjinomotoBigDay to share with media guests their own cooking journeys and encourage Filipinos to #AlwaysChooseAjiSeasonings.
Newlywed Anne said, "Like so many others, I'm a beginner in the kitchen and cooking is such a fun challenge to take on." Even better, she gets to share her new discoveries with her food-loving family and friends.
Devoted wife and mom Marian, on the other hand, has tried her hand on a variety of ginisa-related recipes "mula simpleng ginisang gulay hanggang sa mga recipes na mas bongga at adventurous" as seen on her Instagram food profile, @LutoNiYan.
AJI-NO-MOTO® Umami Seasoning endorser Liza Soberano, through a special video message, reached out to fellow young cooks. "For all of you who like to cook for their family like me, it's helpful to know that there are Ajinomoto Seasonings that can aid you to make each and every meal delicious and enjoyable for your loved ones."
Check out the new The Aji Seasonings Series TV commercials starring Marian and Anne on facebook.com/CookmunitybyAjinomotoPH. Watch out for the release of Liza's this June 2018.
Ajinomoto Group Global Brand Logo (AGB)

APC President Ichiro Sakakura introduced the Ajinomoto Group's new corporate logo inspired by the qualities of originality, innovative spirit, and friendliness. Known as the AGB, it is made up of a continuous red brush stroke which spells the word "Aji."
"A" mimics the infinity symbol and stands for three infinite ambitions: 1) to pursue, master, and popularize the Aji taste; 2) to drive the evolution and develop the value of amino acids; and 3) to promote global sustainability.
The line flowing from "A" to "j" represents a person. It suggests people joined together by the joy of cooking and eating, of lives enriched by taste and amino acids.
The line from the bottom of "j" that extends upward to the right symbolizes the growth and development of the Ajinomoto Group into the future.
To know more about APC, visit www.ajinomoto.com.ph and join our online community at facebook.com/CookmunitybyAjinomotoPH.