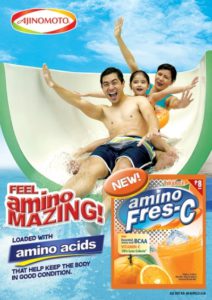 It is always fun to try new things while hanging out with your fambam (slang for family). These are new adventures that can compel you to drop your electronic device and disengage from social media and other computer-generated realities, in lieu of more face-to-face time with your loved ones. It helps if you can turn lazy afternoons at home into opportunities to get the family physically active, like holding an indoor Zumba session or going out for a hike or swim. This way, each one is not only happier but also healthier!
You can also try the new "amino Fres-C" instant drink mix. This is a great fambam find because it is the only powdered juice drink that is packed with Branched Chain Amino Acids (BCAA) with Glutamine and Arginine. These specific amino acids are building blocks of protein that maintain energy levels, support muscle growth and repair, and toughen immune system : making this drink perfect for sustaining "active family lifestyles".
"amino Fres-C" is 70% less calories compared to leading juice brands, so you get to enjoy the real fruit taste of its orange, pineapple and mango variants, without the unnecessary calories. The new "amino Fres-C" is available in your local supermarkets for only PhP 8.00 per 1 liter pack.
Make sure to bring along "amino Fres-C" to keep everyone active and energized in your next fun-filled and exciting fambam adventure!