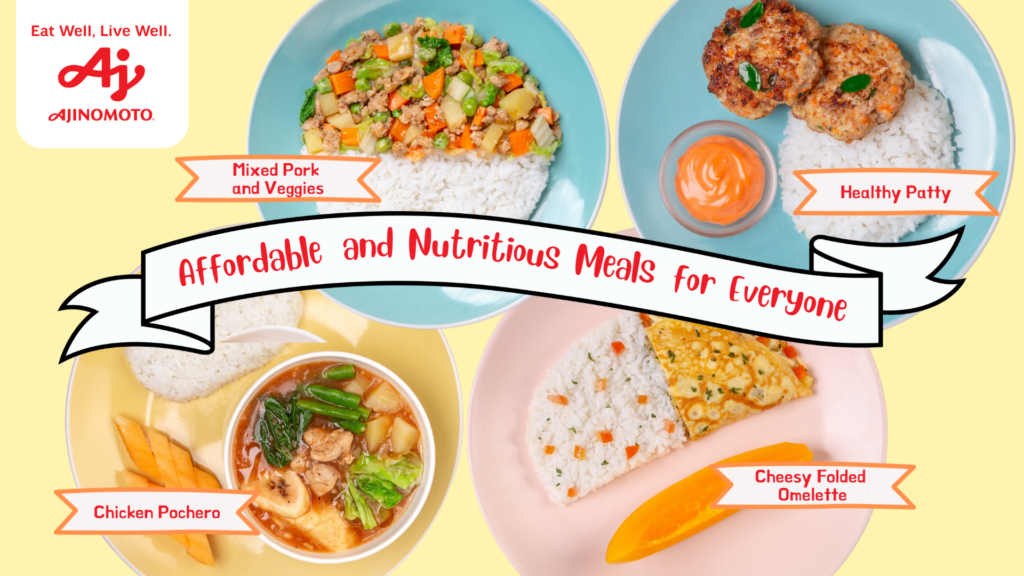 Moms and homecooks faced day-to-day meal preparation ordeal from thinking of recipe ideas and juggling it with food budget while worrying about proper nutrition for the family.
July is National Nutrition Month. For this year's theme Healthy Diet, Gawing Affordable for All Ajinomoto Philippines Corporation (APC) Group shares four well-balanced recipes that Moms and homecooks can try. These are easy to prepare, affordable, delicious and nutritious recipes that are part of APC's Mag-Pinggang Pinoy® Tayo! (MPPT) program that promotes the practice of preparing and serving delicious balanced meals with the right amount of Go, Grow, and Glow food.
Cheesy Folded Omelette
This is perfect breakfast or baon with meaty ginisarap delicious by AJI-GINISA® Flavor Seasoning. Cheese is rich in Calcium that is important for proper growth of children. A slice of fruit and a glass of milk are best to complete this meal. For full recipe, click Cheesy Folded Omelette
Mixed Pork and Veggies
A balanced, varied, and moderate amount of Go, Grow, and Glow food in every meal is key to achieving optimal nutrition. Cabbage is rich in Vitamin C that helps in the fast healing of wounds. This easy to prepare yet nutritious stir-fry dish made tastier with SARSAYA® Oyster Sauce. For full recipe, click Mixed Pork and Veggies
Healthy Patty
Kids need to have Grow foods in their meals for them to have a healthier body. However, it is a challenge to make them eat their veggies. This is the perfect dish to make picky-eater eat vegetables made delicious with AJI-GINISA® Flavor Seasoning. Malunggay leaves are rich in many important nutrients, inlcuding protein, Vitamin B6, Riboflavin and Iron. For full recipe, click Healthy Patty
Chicken Pochero
Enjoy this one pot dish that is complete with meat and vegetables made savory with AJI-NO-MOTO® Umami Seasoning. Chicken is a rich source of protein that functions to help form and repair muscles in the body. It also has Vitamin B12 that is important for red blood cell formation and anemia prevention. For full recipe, click Chicken Pochero
"Serving delicious and nutritious food to our families doesn't need to be heavy on the pocket. We, at Ajinomoto, understand the struggles that homemakers face nowadays. As nutrition ally, we develop and share thoughtful recipes that take into consideration the health and budget of the family," shares APC Manager for Nutrition Advancement of Public Relations Deborah Fajarda. "We aim to provide solution and equip homemakers with knowledge on preparing affordable, delicious and well-balanced meals for their family."
For more delicious and healthy recipes, visit Ajinomoto's Cookmunity website at cookmunitybyajinomoto.com.
To get information about the MPPT program please check ajinomoto.com.ph.
***
The Ajinomoto Group is a global company with specialties in the business of food and amino acids, guided by our leading-edge bioscience and fine chemical technologies.
Based on the corporate message "Eat Well, Live Well.", we have been scientifically pursuing the possibilities of amino acids in supporting the healthy lives of people all around the world. We aim for future growth and continuous contribution to greater wellness by creating value through sustainable and innovative solutions for communities and society.
The Ajinomoto Group has offices in 36 countries and regions, and sells products in more than 130 countries and regions. In fiscal 2021, sales were 1.1149 trillion yen (8.73 billion U.S. dollars). To learn more, visit www.ajinomoto.com.
Media Contacts:
Marge Serrano
Mage.serrano@ideasxmachina.com
+63 917 155 9706