Marian Rivera is one blessed Mom. Her kids love veggies! Both little ones are adventurous eaters who are always ready to try anything their supermom makes for them. Zia, the eldest, is even happy to eat difficult veggies like okra and broccoli! How does she get them to eat up? She makes them delicious of course!
Unfortunately, this is not the norm in most Filipinos household. Based on Department of Science and Technology Food Nutrition Research Institute's (DOST-FNRI) 2018 – 2019 Expanded National Nutrition Survey, many Filipinos are not taking appropriate nutrients because we aren't eating enough vegetables and fruits.
If your kids aren't fond of eating vegetables, there are some techniques to get them to try. Let's learn from celebrity Mom Marian how she does it.
Marian loves veggies. She set a rule in their household that every meal needs to have at least one vegetable dish. Since she's always eating veggies, her kids see them as a part of mealtimes and not a chore to overcome.
Another technique is to incorporate new vegetables or find new ways to cook or flavor them. Kids need to keep trying things many times to get used to new tastes before they accept them. Because of this, it's never a struggle to introduce new vegetables to their diet.
At Marian's house, they cook lots of different dishes and the kids love watching their mom experiment in the kitchen. Marian's secret to making those veggies tasty is Ajinomoto Ginisa Flavor Seasoning Mix.
With AJI-GINISA®, dishes become more meaty ginisarap! Marian's family uses it in everything, from fish to eggplant. With food this good, it's easy to get the kids to eat their veggies! One of Marian's favorite recipes is Creamy Vegetables & Macaroni, check it out here: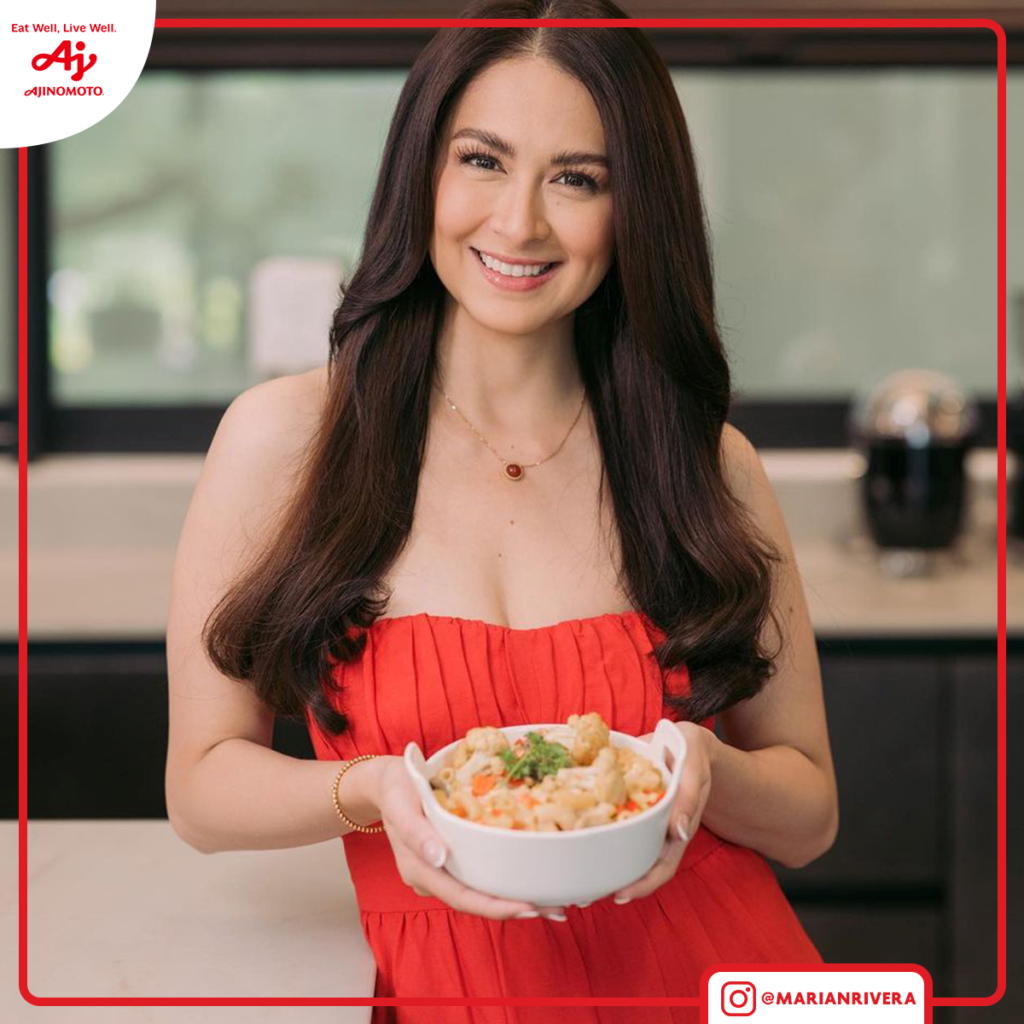 Creamy Vegetables & Macaroni
INGREDIENTS
1 Liter (1000ml) Water
200g Macaroni
1 Tbsp. (15ml) Cooking oil (and a little more for the macaroni)
1/4 cup (25g) Onion, minced
2 1/2 Tbsp. (30g) Garlic, minced
1 cup (75g) Cauliflower, florets
1/2 cup (45g) Shiitake mushrooms, rehydrated, sliced
3/4 cup (75g) Carrot, diced
1/2 cup (100g) Corn kernels
1/2 cup (50g) Red bell pepper, small cube
1 1/2 cups (370ml) Fresh milk
1 pack (8g) AJI-GINISA® Flavor Seasoning Mix
1/4 tsp. (0.5g) Ground black pepper
1/4 tsp. (2g) Salt
1/2 cup (35g) Cheese, shredded
2 tsp. (5g) Parsley (optional)
PROCEDURE
In a pot of boiling water, cook macaroni pasta according to package instructions. Drain, toss in butter or oil to prevent sticking, then set aside.
In a casserole, heat oil. Sauté onion and garlic until fragrant. Add cauliflower, shiitake mushrooms, and carrots. Mix well and cook for 3-5 minutes. Add corn and red bell pepper then cook for 1 minute.
Pour in milk and mix well. Let it simmer for 1 minute.
Add AJI-GINISA®, pepper, salt, and cheese. Mix well, then add the cooked macaroni pasta. Mix until pasta is coated with the sauce.
Transfer to a serving bowl then, if you're feeling fancy, garnish with parsley and serve!
Every day, Marian is hard at work making meals her kids will enjoy while also keeping them healthy. She makes sure to season every dish with love and AJI-GINISA®. Make your family Eat Well, Live Well with delicious and nutritious meals just like Marian!