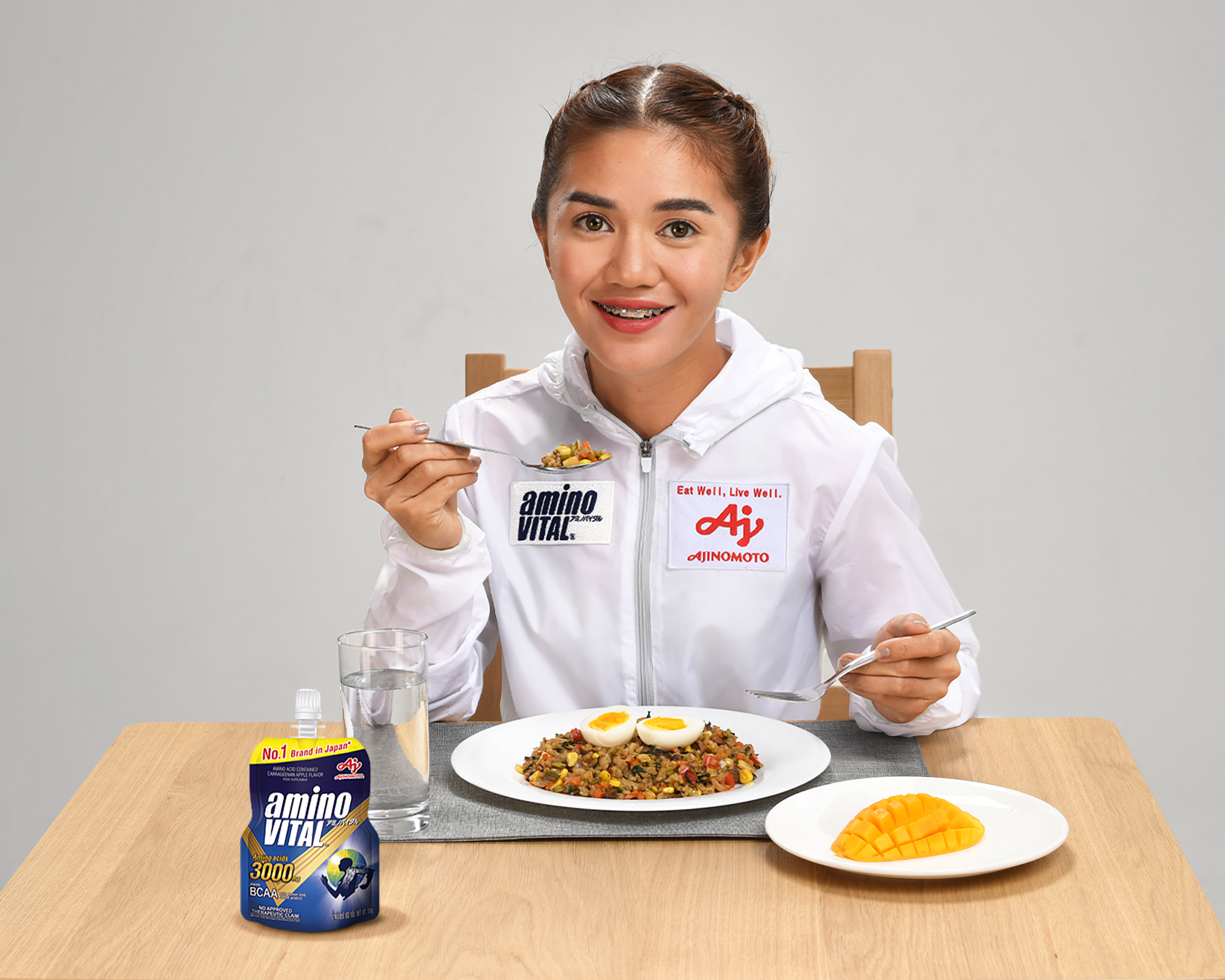 MANILA, February 20, 2022 – Ajinomoto Philippines Corporation (APC) officially signs on Ariana Evangelista, the Philippines' top seed for women's mountain biking as their sponsored athlete as she pursues victory in the 31st Southeast Asian Games ("SEA Games") to be held in Vietnam in May 2022.
Ariana Evangelista, known fondly by fans as the "Queen of Trails," is a three-time national champion and winner of the Under-23 gold at the Asian championships back in 2018. Currently holding rank No. 4 in Asia as well as a constant spot in the Philippine National Cycling Team, Ariana is hoping to deliver a medaled performance in the upcoming 31st SEA Games in Vietnam.
To help Ariana achieve her full potential, APC will support her through the Victory Project®. Ajinomoto Co. Inc. started The Victory Project® in 2003 to support the conditioning of top-level athletes in Japan and conduct nutritional support activities1 utilizing the power of amino acids, including providing products such as aminoVITAL® and promoting the Winning Meals Kachimeshi®2. Ajinomoto's Kachimeshi® ("Winning Meals") concept is shared to support elite athletes in building winning physiques for optimum performance.
From 2018, the Victory Project® was rolled out in 6 Ajinomoto Group Companies in ASEAN region. The contingents involved in this project also went on a winning streak during the 30th SEA Games. In the Philippines, among the 30th SEA Games medalists, Karate athlete Ms. Junna Tsukii and Pole Vault athlete Mr. Ernest John Obiena, both supported by APC, clinched the much-coveted Gold Medals in their specific fields.
"Now, my focus is to train the best that I can. And training won't be complete without the proper nutrition and supplementation. Thanks to Ajinomoto Philippines for the support they are giving me especially for this type of endurance sport" shared Evangelista.
With strong knowledge on culinary nutrition, APC will create a daily menu plan addressing the specific goal of Ariana. APC in-house nutritionist-dietitians and chef will personally assist Ariana to provide guidance in nutrition and supplementation.
According to Ajinomoto Philippines Corporation President Tsutomu Nara, "We are glad about the fact that we could help Filipino athletes achieve their full potential. We are committed to supporting them and hope that Ariana and the rest of the Philippine delegation would soon realize their much-coveted victories not only in SEA Games, but in other world championships."
1 Support activities include guidance on sports nutrition and amino acid conditioning for top-level athletes at international tournaments
2 Ajinomoto Co.'s nutrition program for improving the nutritional environment of athletes.
***
The Ajinomoto Group is a global company with specialties in the business of food and amino acids, guided by our leading-edge bioscience and fine chemical technologies.
Based on the corporate message "Eat Well, Live Well.", we have been scientifically pursuing the possibilities of amino acids in supporting the healthy lives of people all around the world. We aim for future growth and continuous contribution to greater wellness by creating value through sustainable and innovative solutions for communities and society.
The Ajinomoto Group has offices in 35 countries and regions, and sells products in more than 130 countries and regions. In fiscal 2018, sales were 1.1274 trillion yen (10.1 billion U.S. dollars). To learn more, visit www.ajinomoto.com.