On a beautiful day, you might like to venture out to enjoy a picnic on a bench or in a park. Unfortunately, due to the global pandemic, it's probably been a while since you did. But when things return to normal, hopefully soon, why not try orizume, a special kind of bento lunch box packed with a myriad of delicacies? Though a bit time-consuming to prepare, this delicious, healthy, attractive, and well-balanced meal is perfect if you're tired of standard fare like sandwiches, salad and hard-boiled eggs.
Orizume represents not only the pinnacle of Japanese cuisine on-the-go but also an opportunity to showcase the country's diverse regional food cultures. Ryohei Hayashi, chef-owner of Tenoshima, a one-star Michelin restaurant in Tokyo, has a special approach to orizume. As an expert in local cuisine, he creates seasonal menus based on the idea of goshiki-gomi-goho: "five colors" (black, white, red, green and yellow), "five flavors" (sweet, sour, bitter, salty and umami), and "five methods" (grilled, simmered, fried, raw and pickled). This gives the meal harmony, balance and variety, resulting in a rich palette of flavors, colors, and textures.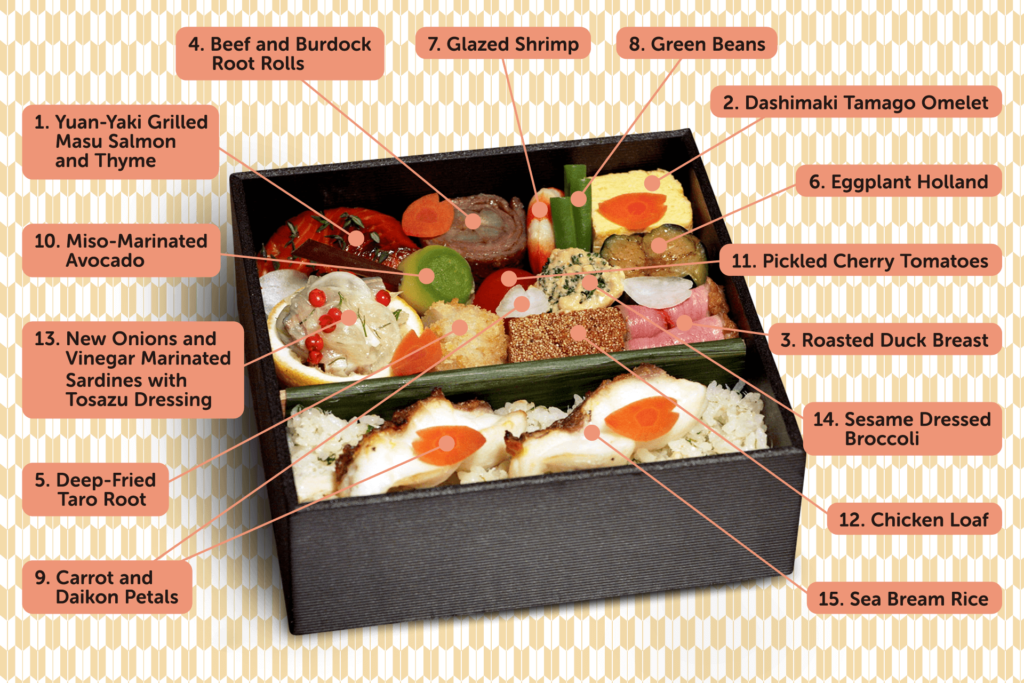 A passionate advocate of heritage-inspired cuisine, Hayashi opened his own restaurant to create someplace "more enjoyable and relaxed, approachable to people of all ages from around the world." He is always delighted to share his knowledge and love of orizume and regional flavors with young aspiring chefs like Amanda Lee, a student at the Institute of Culinary Education in New York City and winner of the 2019 United States of Umami Culinary Competition.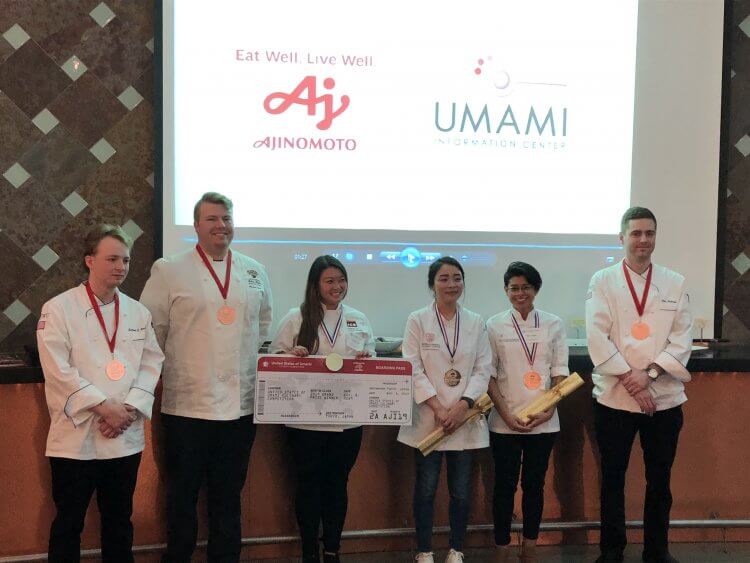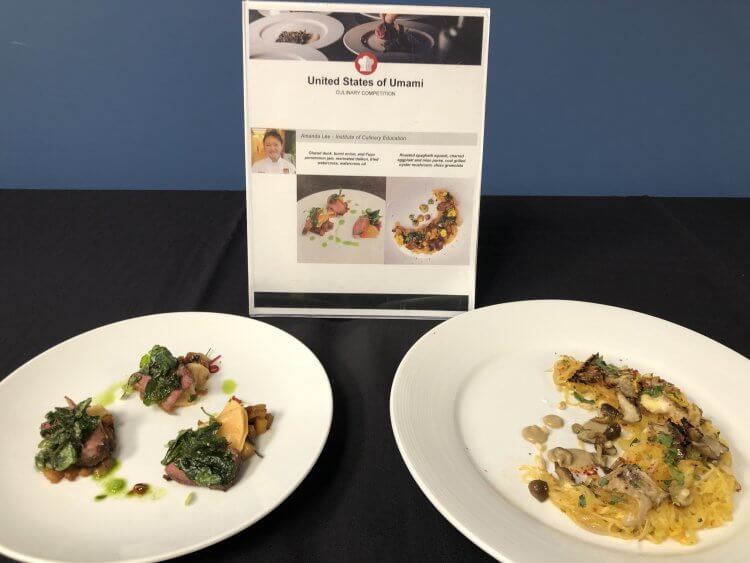 Inspired by personal favorites like spaghetti squash, mushrooms, eggplant, sesame and shiso, Amanda, who is of Chinese and Korean heritage, crafted her winning entrée––Roasted Spaghetti Squash with Charred Eggplant and Miso Puree––using umami-rich foods she grew up eating at home "to extract as much umami as possible and highlight how vegetables can stand on their own as the stars, not just as an accompaniment to meat."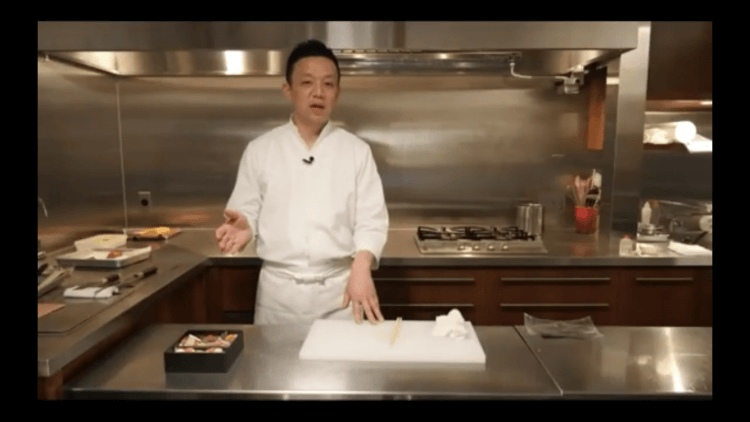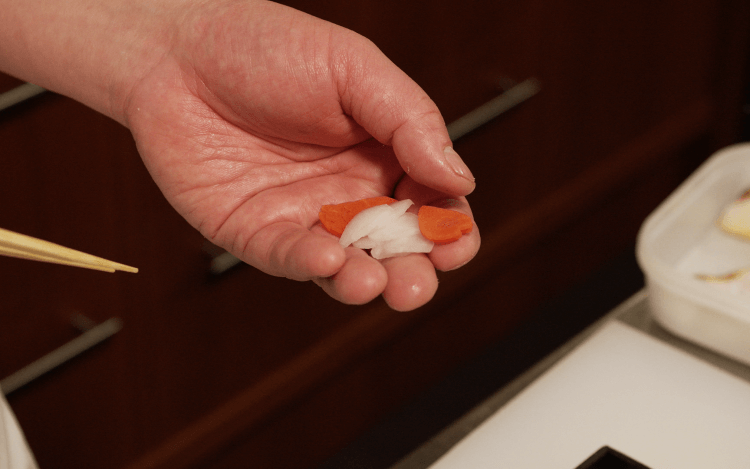 Though her prize for winning the competition was to have been a culinary immersion trip to Japan to tour food markets, restaurants and koji shops to learn how umami is used in Japanese cuisine, due to the global pandemic, Amanda was offered a one-on-one cooking webinar with Chef Hayashi. The competition sponsors, the Ajinomoto Group and the Umami Information Center, decided that the Michelin-starred, 17-year veteran of the Kyoto culinary scene was the perfect person to show Amanda the limitless possibilities of cooking with umami.
Chef Hayashi demonstrated his original orizume menu of over a dozen dishes, most cooked with some form dashi or marinade, key to making orizume taste delicious with low sodium. In addition to expressing the idea of goshiki-gomi-goho, it highlights different colors depending on the season, featuring subtle touches like marinated carrot and pickled daikon slices in the shape of pink and white cherry blossom petals to represent spring. Amanda was fascinated with how Chef Hayashi has refined his signature umami-rich broth recipes—some with non-traditional ingredients such as chicken, cured ham, and sundried tomatoes—using different dashi broths to complement certain foods through "a process of trial and error" over the years. For example, he has found that the acidity of sundried tomatoes prevents fat and protein from lingering on the palate, creating a cleaner finish. He also gave Lee tips on modifying recipes for use in orizume, like substituting a fattier fish when grilling, adding potato starch to omelets, or pouring a dash of hot oil over rice so it doesn't clump together as it cools.
With dreams of opening her own restaurant someday, Amanda was impressed by Hayashi's ingenuity and attention to detail, even in simple dishes. She is eager to put her newly acquired umami knowledge and cooking techniques to work in the kitchen and as an "umami ambassador." "Everything I've learned today on this virtual journey is valuable information that I'll take with me," she said. "I hope I can help advocate for umami and MSG, because it's a wonderful new world to explore—people in the United States are only beginning to understand that."
You can also try orizume on your own with Chef Hayashi's umami-rich recipes. See all of the recipes here.
Find out more: