Every parent of a teenager knows how hard it is to get young people to eat well, what with schoolwork, social pressures and the demands of their busy lives. And yet a healthy and balanced diet is crucial at this key life stage, especially for physically active teens and those competing in elite-level sports in developing countries where malnutrition affects a larger proportion of children. That's why Ajinomoto (Malaysia) Berhad, or AMB—local producer of AJI-NO-MOTO® umami seasoning—teamed up with Bukit Jalil Sports School (BJSS) to launch an awareness project that urges student athletes to take sports nutrition seriously, a lesson many athletes unfortunately don't learn until they are sidelined by injury.
The oldest and most prestigious national sports school in Malaysia, BJSS has a mission of developing world-class student athletes through quality education and sports training. Located in Kuala Lumpur's sprawling state-of-the-art national sports complex, the school offers 24 sports programs for some 400 promising youngsters, with over 90 instructors and coaches. BJSS's long roster of nationally and internationally successful graduates includes diver Pandelela Rinong Pamg, a five-time FINA World Championships medalist and the first-ever Malaysian woman to win an Olympic medal, as well as track cyclist Azizulhasni Awang, the first Malaysian cyclist to medal at either the UCI Track Cycling World Championships or the Summer Olympics.
Today, BJSS students hoping to imitate Pamg and Awang's success are learning early on about the importance of good nutrition for healthy growth, peak performance, recovery and injury avoidance through AMB's Sports Nutrition Awareness Project. The project was launched in October 2019 in collaboration with Malaysia's Ministry of Education through the Ajinomoto Group's ASEAN Victory Project, modeled on its Victory Project® ongoing in Japan since 2003. It features periodic educational talks from a sports nutritionist, customized balanced set lunches based on the Winning Meals "Kachimeshi®" concept, and an information corridor outside the school cafeteria aimed at maintaining awareness and promoting knowledge of sports nutrition through posters, buntings, signboards and digital portals that feature nutrition information.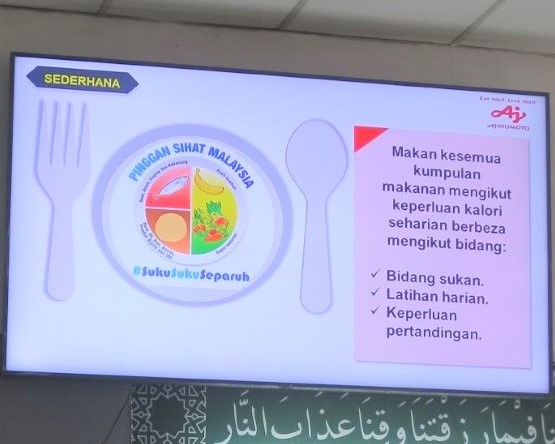 One key lesson is the "four factors of healthy eating," namely moderation, balance, variety and frequency. "The balanced daily meal consists of one quarter protein, one quarter carbohydrate, and half vegetables and fruits," explains BJSS Senior Sports Assistant Teh Weng Chang. "This provides an important guideline, so students get sufficient nutrients for their daily training." The young athletes seem to agree. Student Sachinu Hettige describes the set lunch as "interesting and colorful" and says it gives him plenty of energy for both training and other activities. The nutritional message also appears to be getting through, with student Kok Hui Ying commenting that the "colorful and creative posters" helped her to better understand sports nutrition and raise her performance.
Founded in 1961 as one of the very first Japan-originated companies in Malaysia, AMB has since grown into a dynamic and responsible food and seasoning manufacturer trusted by millions of consumers. In addition to a range of retail products, the company produces functional savory seasoning products used widely in the local and overseas food processing industry. As part of the Ajinomoto Group Creating Shared Value (ASV) initiatives, this project serves to contribute to the health and well-being of Malaysian society in line with the Group's slogan, 'Eat Well, Live Well.'