Less Sodium Recipes
By Dish Type
By Ingredient
Less Sodium Recipes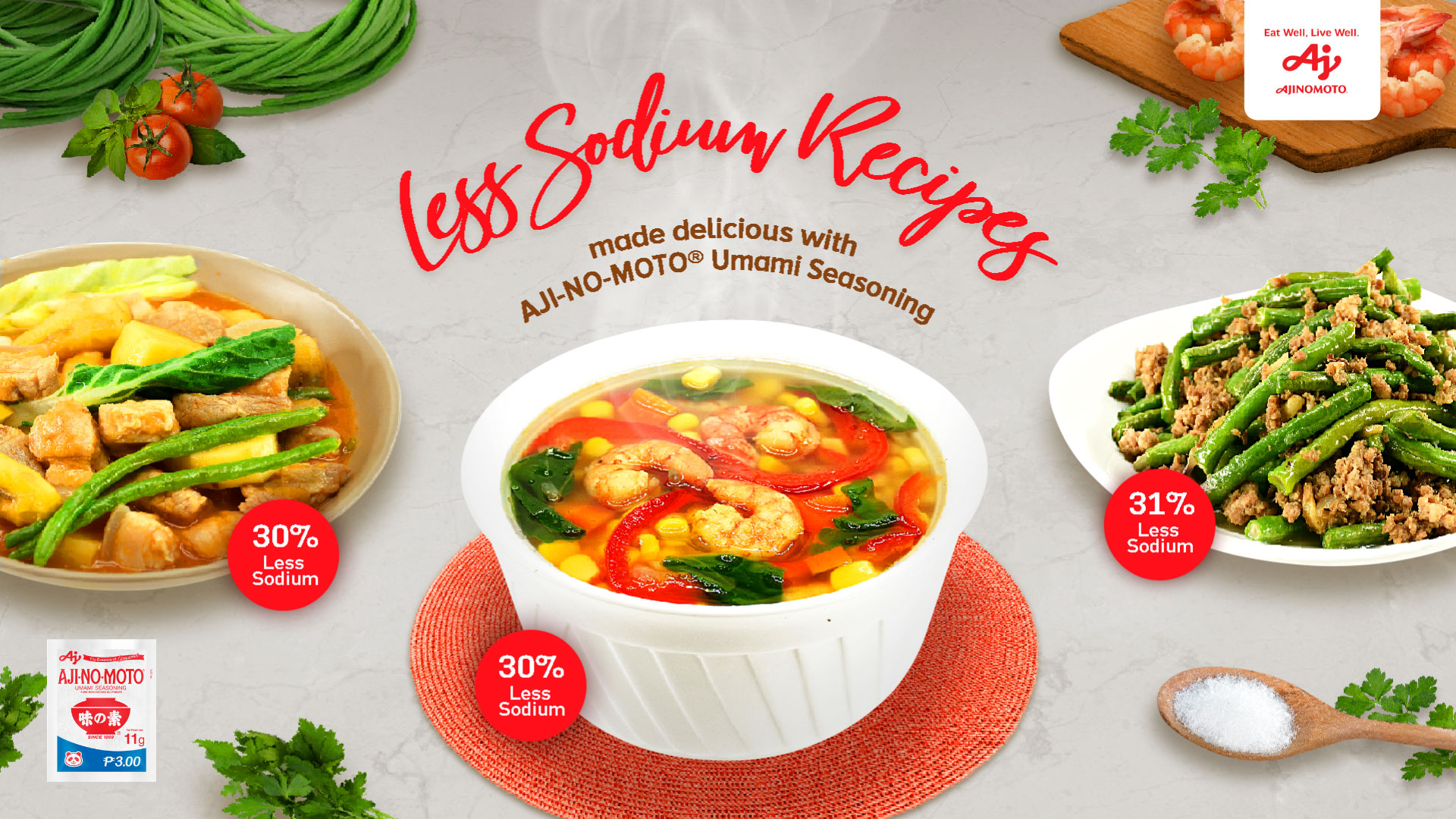 Benefits of cutting salt: How MSG helps reduce sodium content in your favorite ulam
Throughout history, the world has used salt to preserve meat and make dishes tastier. It remains a valuable mineral and can be found in all cuisines. For instance, in the Philippines, the majority of delicacies are made richer with sodium-rich condiments or sawsawan (dips) like patis  (fish sauce) and bagoong  (fish paste).
Salt is so popular locally that the UN Interagency Task Force found that a Filipino's daily intake averages 11 grams, more than double the World Health Organization's recommendation of five grams. Excessive intake of sodium has been found to be one of the risk factors for non-communicable illnesses like cancer, cardiovascular and chronic respiratory diseases, and diabetes.
"With the risks that come with excessive sodium intake, it is recommended that we reduce our salt consumption," says Deborah Sales, Ajinomoto's Science Communication Executive. "While it may seem difficult to maintain the palatability of dishes as we cut salt, there is an ingredient that allows us not only to boost the flavor of your favorite dish, but also lessen the need for salt."
The use of monosodium glutamate (MSG), which is often mistaken to be high in sodium, is actually an effective means of reducing the sodium level of low-salted dishes since it only contains 1/3 the amount of sodium as table salt. Table salt contains 39% sodium (39 grams of sodium per 100 grams of salt), while MSG only contains 12% sodium (12 grams sodium per 100 grams MSG).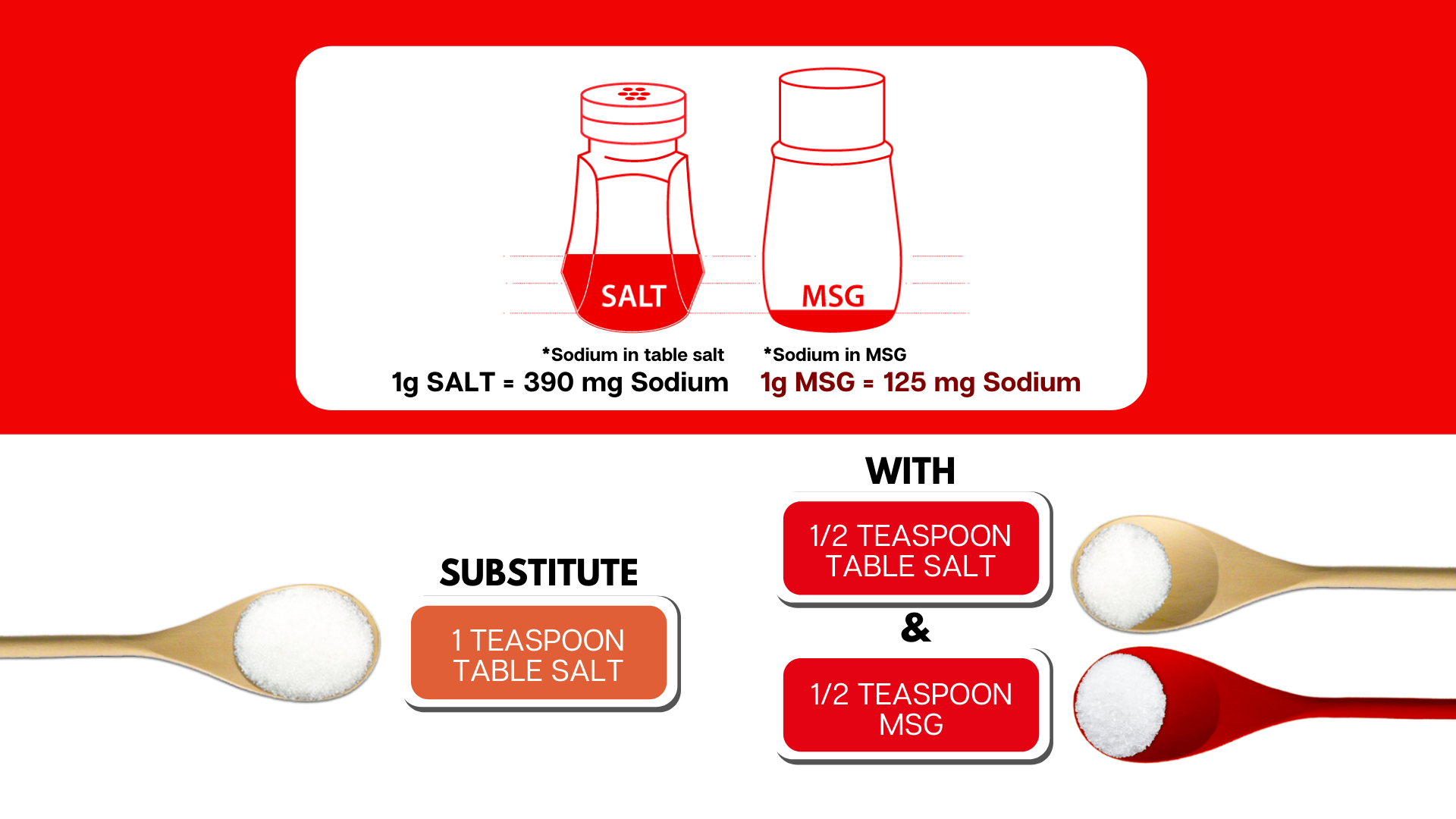 In fact, extensive scientific research has revealed that MSG can boost the flavor of dishes while reducing sodium content by up to 40%. Only a small amount is needed to enhance the taste, as the additive has a self-limiting characteristic, which means that adding MSG can actually make healthy eating more enjoyable even with reduced salt.
Ajinomoto produces the leading brand of MSG called AJI-NO-MOTO® Umami Seasoning, named after the Japanese Scientist and chemistry professor Kikunae Ikeda, who discovered the additive in 1908. Today, Ajinomoto is continuing its advocacy of Eat Well, Live Well— a promise to contribute to the greater wellness of Filipinos by using the power of umami. Through umami, also known as the "fifth taste", Ajinomoto promotes delicious meals for proper nutrition.
"It is challenging to lead a healthy lifestyle while we are mostly at home due to the quarantine. However, Ajinomoto believes that a few easy adjustments in the kitchen, together with healthy eating habits, adequate exercise and rest, can lead to overall health," adds Sales.
To discover less sodium versions of your favorite ulam, visit the Ajinomoto website at ajinomoto.com.ph and the Cookmunity by Ajinomoto Philippines at facebook.com/CookmunitybyAjinomotoPH.
By Dish Type
By Ingredient